| | | |
| --- | --- | --- |
| | Serving Bills Fans Since 1998 | Home |
---
Jackson Arrested; Three Players Released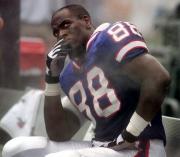 There were only two noteworthy news items related to the Bills this week, TE Sheldon Jackson was arrested on a drug charge and driving with a suspended license. The team also released three players as they start paring dow the roster for training camp. We have all the news from the week complete with our take on the issues:

Sheldon Jackson was arrested on Wednesday in Illinois after a routine traffic stop showed the suspended license and over 2 grams of Marijuana was found in his possession. The Bills are aware of the arrest and are looking into it. Jackson will also most likely face disciplinary action from the league since he may be in violation of the league's substance abuse policy. Our Take: With the logjam at tight end, expect this to hurt Jackson's already tenuous position with the club.



The Bills released there players this week as WR Ed Dangerfield, Long snapper Chip Mattingly, and TE Scott Osborne were all let go. Our Take: These three players had no chance of making the roster, so it will give more talented players extra reps in training camp.



The team kicked off the Summer reading program in conjunction with UPS this week. Sammy Morris is the team spokesman for the program. He read to kids in Buffalo and Rochester. The program is designed to get kids to read during their vacation and they get a raffle entry for each book they read that is good for 300 game tickets being given out by the Bills. Our Take: Another good community project for the team.



Jim Kelly unveiled his new Kelly Krunch cereal on Friday. It is made by the same people that make Flutie Flakes. Proceeds will benefit Hunter's Hope. They will be available at all Tops Markets starting July 7th. They will also be available online at plbsports.com or vpsport.com. Our Take: Another memorabilia cereal for Bills fans!



In the speculation department, the Bills are still being rumored as interested in free agent defensive end Chidi Ahanotu. The Bills were reportedly interested in him after the draft but his name keeps surfacing as a connection to the Bills. The Falcons are also reportedly interested in him. Our Take: The Bills could use his experience and veteran leadership at a very young end position.



---
Talk about it on The Stadium Wall
Week in Review index
Latest News Section
Archives Library
Back to Bills Daily Homepage