| | | |
| --- | --- | --- |
| | Serving Bills Fans Since 1998 | Home |
---
Bills Add Wide Reciever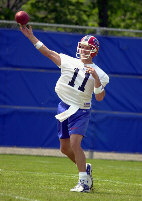 It was a quiet week at One Bills Drive until Friday when the team signed free agent WR Charles Johnson to give Drew Bledsoe another weapon. The team also signed the first of their 10 draft picks. We have all the news from the week complete with our take on the issues:

The signing of Johnson bolsters in already strong point of the Bills depth chart. Johnson signed a one year deal worth $650,000 but will count only $450,000 against the salary cap. He played for New England lat year and with Philadelphia and Pittsburgh before that. He was a first round pick of the Steelers in 1994 and has ties to both Tom Donahoe and Tom Modrak. He has started 90 games in his career. Our Take: He will add more experience near the bottom of the depth chart. He will probably be slotted as the fourth wideout and put oft-injured Reggie Germany and Jeremy McDaniel on notice.



The Bills also signed the first of their 10 draft picks. Justin Bannan signed a four year deal worth $1.54 Million including a $160,000 signing bonus. Our Take: The Bills are obviously committed to Bannan as a four year deal for a fifth round pick is unusual. Look for other draft picks to begin signing after the 4th of July.



The Bills are saying that they have 36,000 season ticket holders for this coming season and their goal is for 40,000 by the beginning of the season. Ticket sales are going very well for the opener against the Jets, the Sept. 29th game against Chicago and the Oct. 8th game with Oakland. Of course tickets are flying out for the revenge game against New England. Ticket sales aren't going nearly as well for the four late season games that includes grudge matchups with Miami and San Diego. Ticket sales for individual games don't go on sale until next month but group sales and extra tickets bought by season ticket holders make up the current sales totals. Our Take: So much for the Miami and Doug Flutie rivalries, December games only draw well if the team is in contention.



The Bills announced that Steve Tasker will team up with Marv Levy for the two locally televised preseason games. Tasker will move over from his usual CBS analyst chair and do the play by play while Levy will add the color. Levy was let go from his current assignment at Fox SportsNet earlier this year. The former play by play man, Dave Pasch took a job with the Arizona Cardinals. Our Take: This will make for an interesting commentary team for meaningless games.



Bills Daily learned exclusively this week that David Dinkins was hospitalized in Germany for an undisclosed illness. He was released late in the week and was going to undergo more tests back in the states. Our Take: We will have to watch his condition as it may effect his status for the coming season.



In other news tidbits from the week, the Shawn Bryson trade rumors continue as Tom Donahoe told him to be ready to come to camp and fight for a job, he also said the rumors are unfair to the player. Other speculation says the talks with the Eagles have backed off and Bryson may remain a Bill. Tom Donahoe also said this week that he likes his young defensive line and feels there is a lot of talent there. Our Take: Bryson will probably be traded later rather than sooner as the Bills will wait to see who needs a back during training camp. The young defensive line may not get any help but what was interesting is that Donahoe never mentioned Erik Flowers or Bryce Fisher who seem to have moved further down the depth chart.



---
Talk about it on The Stadium Wall
Week in Review index
Latest News Section
Archives Library
Back to Bills Daily Homepage