| | | |
| --- | --- | --- |
| | Serving Bills Fans Since 1998 | Home |
---
Mini-Camp Wraps Up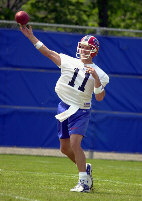 The Bills wrapped up their final mini-camp this past week and the players now have five weeks off to finish their conditioning and to be ready for training camp. There were no major injuries in a camp that was deemed successful. We have all the news from the week complete with our take on the issues:

The final four days of mini-camp went well as Coach Williams was happy with the way camp turned out. He said the team still has a lot of work to be done but he saw the classroom work come to fruition on the field as the communication was much improved. He said the players have a busy five weeks before training camp as this is an important part of the conditioning phase. The offense has more bright spots than in the first week of camp. They won two 2-minute drills as Drew Bledsoe hooked up five times with Josh Reed and Alex Van Pelt hit a 70 yard bomb to Charlie Rodger to close a successful camp. Our Take: It's nice to see the offense starting to gel, the camp went a long way in getting the team ready for training camp.



Other mini camp notes, Trey Teague made the long anticipated move to center on Tuesday, one day later than originally planned. Marques Sullivan saw a lot of work at right guard during the second week of camp while Jonas Jennings got some brush up work at left tackle. Tyrone Robertson has appeared to move into the number one spot on the depth chart at under tackle and got reps last week at left end as well. Shawn Bryson lost some reps at running back on Monday to Richard Huntley but got them back on Tuesday. Our Take: Robertson is penciled in to start right now but if Shawn Price can successfully come back from his surgery, he will be signed and will challenge for the job. He practiced a bit with the Bills despite not having a contract. The coaches are high on Robertson though. Sullivan appears to be the number one backup to Jerry Ostroski at this point. Teague will be the starting left tackle and Jennings will start at center. The Bryson rumors are running rampant as the Saints and Eagles are said to be interested, expect him to be traded once camp rolls around.



Jerry Ostroski and Reggie Germany each had minor knee surgery this week and missed the entire week of workouts. They are both expected to be 100% by training camp. Jamarei Bryant missed the whole week with a shoulder strain and Jeremy McDaniel also remained out with his nagging hamstring injury. Ruben Brown bruised his knee on Wednesday and Ron Edwards sprained his right ankle. Neither injury is serious. The final day of workouts on Thursday saw many veterans off resting minor bumps and bruises. Our Take: Getting out of camp without any major injuries is the key, and they were successful. Ostroski's situation deserves a close eye, he has been pretty banged up over the last year, if he can't come all the way back, the depth of the line will be tested.



The Bills promoted Tom Modrak to assistant general manager and gave him a new multi-year contract. Modrak is credited with helping the Bills draft successfully this year and he immediately re-organized the scouting staff. Our Take: The deal will keep Modrak from pursuing any general manager openings and settles his situation in Buffalo. The Bills are lucky to be holding on to him.



Eric Moulds cut his ties with MuscleTech Research and Development since it was in violation of NFL Policy. The product he endorsed, NITRO-tech is not on the NFL banned list of substances but other products made by the company are. Our Take: Moulds had no choice but end his relationship so he doesn't feel the wrath of the league. We don't know what is wrong with him endorsing a product that isn't banned.



In NFL Europe news, Curtis Alexander was held to 49 yards on just 12 carries while gaining 23 more on 4 receptions as his team lost for the second straight week. David Dinkins did not touch the ball in his team's win. Our Take: Alexander isn't getting the touches he was earlier in the year as Frankfurt is struggling.



---
Talk about it on The Stadium Wall
Week in Review index
Latest News Section
Archives Library
Back to Bills Daily Homepage