| | | |
| --- | --- | --- |
| | Serving Bills Fans Since 1998 | Home |
---
Slow Week At One Bills Drive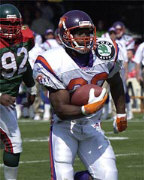 A week after welcoming Drew Bledsoe to Buffalo and the first off season mini camp, not too much happened in Buffalo. In Europe however, it was a different story, as the NFL Europe season heated up with Curtis Alexander proving to be a star. Here's all the news from the past week complete with our take on the issues:

Curtis Alexander added to his NFL Europe leading rushing total by gaining 97 yards on 22 carries this week against Scotland. Reggie Allen and David Dinkins helped Amsterdam in their loss to Berlin. Allen caught 5 passes for 25 yards while Dinkins returned a kickoff for 19 yards. Allen is frustrated by not having more balls thrown his way, while Dinkins would love to get some time under center. Both players vented their frustration in an interview with the Bills Backers of Germany. Alexander told media this past week that his main goal is to stay healthy and is looking forward to showing the team what he can do when he arrives for training camp. Our Take: Alexander and Allen have truly helped themselves on the Bills depth chart. We've been saying that Alexander may beat out Sammy Morris for the third running back spot. Allen is definitely ahead of the undrafted free agents signed and may have a leg up on a roster spot over some of the holdovers like Jeremy McDaniel.



Tom Donahoe is very pleased by Alexander's play as well as the play of Allen, DT DeVonte Peterson and LB Jimmy Robinson. He said Amsterdam is having the same trouble with Dinkins that the Bills are, they can't find a place for him. He does feel the extra instruction time is helping him though. Our Take: While Allen and Alexander have helped their standing, Dinkins doesn't have much of a chance at making the club this year.



In the rumor mill, it appears that the Eagles may look in Buffalo's direction to fill their running back needs. Corey Buckhalter tore his ACL in their mini camp and the team doesn't think Duce Staley is the answer. One of the players they are supposedly interested in is Shawn Bryson. Since no team made an offer to him before a league imposed deadline the Bills own exclusive negotiating rights with the exclusive rights free agent. Our Take: The running back situation in Buffalo is a bit intriguing. Rumblings are that the Bills aren't happy with it as rumors have surfaced that the team is interested in Staley and Jamal Anderson. Both of these players may be released on June 1st. If that is the case, the team may think about trading Bryson but it is not likely since he showed so much promise late last year. Expect Bryson to be on the Bills and seriously challenging Travis Henry for the starting tailback job. Henry may have fallen out of favor with the coaching staff late last year.



Unrestricted free agent Shawn Price is reportedly way ahead of schedule in his rehab from surgery to repair a torn ACL and to fix an old PCL injury. He tore his ACL against San Francisco week 12, while he was there he fixed the other pre-existing injury. His agent feels he will be able to do full drills by mini camp in May. Right now he doesn't have a team to go to camp with. He was at Ralph Wilson Stadium on the last day of the orientation camp last week. Price would like to return to Buffalo if possible. Our Take: Price is very well respected in the locker room and by the coaching staff. The team is very thin along the defensive line, especially at tackle where he plays and has experience as a starter. He would also probably sign for the veteran minimum making him a low priced starter. The team is not expected to sign another defensive tackle anytime soon and it doesn't appear like there will be one available after June 1st. That all adds up to Price being a Buffalo Bill next year if he can pass a team physical.



In scheduling notes, it appears that the Bills are tied with the Chargers for the toughest schedule next year. Their opponents had a combined record of 131-109 last year. Ralph Wilson appears to have pull with the league office. It is reported that he requested the Chargers game in December to hopefully draw a bigger crowd to a late season game that normally doesn't draw well. Our Take: The toughest schedule on paper doesn't mean much since teams go up and down drastically in today's NFL. Wilson of course has pull since he's been around forever, who can blame him for wanting a new hot rivalry game in December. If Doug Flutie doesn't play though, it may not give him the draw he wants.



The Bills and Browns have decided to scrimmage each other again. It will take place on Saturday August 3rd with combined workouts on the 2nd. The two teams scrimmaged each other last year in Pennsylvania, this year the scrimmage will be held at St. Johns Fisher. Our Take: The scrimmage was helpful to both teams last year and it should be even more helpful to the Bills this year since they don't have to travel to participate in it.



Coach Williams seemed pleased that the offense was ahead of the defense in the recently completed orientation camp. He gave some of the credit to first round pick Mike Williams who is a force in the running game. Williams' endurance was another story however. He was huffing and puffing a bit during the camp and he left with Rusty Jones supplying him with an in-depth conditioning program. Our Take: Williams wants to succeed and Jones is the best at his craft. Look for Williams to be in much better shape by the next mini camp.



The Bills set their TV lineup for the year as Gregg Williams' show will be seen at 11:30am on Sunday mornings on WIVB-TV, which is the new television partner of the Bills in Western New York. WIXT is the Syracuse partner and WOKR is the partner in Rochester. The team also announced that Dave Pasch and Steve Tasker will once again announce the two road preseason games. Our Take: The coach's show will get more exposure on channel 4 in Buffalo then it did on channel 29 last year.



This week it was discovered that the Bills have the second highest rookie pool at $5.139 Million. This is the amount they are allowed to spend on signing all 10 draft picks and the undrafted free agents, that total is 12 at this point. This number is part of the $71.01 Million salary cap. Our Take: That's the price the Bills pay for the high draft picks and extra second rounder.



Other tidbits from the week, Dwight Adams will be honored as a distinguished alumnus from his alma mater Henderson State University during commencement ceremonies on May 11th. The coaching staff held their second annual clinic for local high school and college coaches this weekend. It was designed to maximize the potential of players with drills and techniques training for coaches. Our Take: Adams deserves this honor, especially since his role is somewhat diminished with the Bills. Coach Williams showed where his roots are by holding this clinic, it was a nice thing to do.



---
Talk about it on The Stadium Wall
Week in Review index
Latest News Section
Archives Library
Back to Bills Daily Homepage