| | | |
| --- | --- | --- |
| | Serving Bills Fans Since 1998 | Home |
---
Bills Reach Partnership Agreement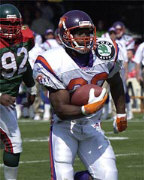 It was another slow week at One Bills Drive as players continue to participate in the off season conditioning program and the team gears up for their first mini camp. The big news was a partnership agreement with Bausch & Lomb for training camp and the date for the unveiling of the new uniforms has been set. Meanwhile, Curtis Alexander played only one play this week in NFL Europe and left with apparent food poisoning. Here's all the news from the past week complete with our take on the issues:

The Bills announced on Thursday that they reached a partnership agreement with Bausch & Lomb for them to sponsor training camp. Tom Donahoe said the team is privileged to be working with the company and it opens up exciting new marketing and community opportunities. Rookies will report to camp on Wed. July 24th, with veterans coming in the following Saturday. The first full practice is scheduled for Sunday July 28th with night practices on the first two Mondays of camp. Our Take: It seems like the partnership will work well for both organizations. The camp schedule seems to be in line with last year's schedule and the night practices are returning because of their immense popularity last year.



The team will once again scrimmage the Cleveland Browns this year. The Browns will come to St. Johns Fisher on Friday August 2nd and the two teams will scrimmage on Saturday at 10am. It will be held on the grass practice fields and the team will bring in portable bleachers to accommodate the fans. They are expecting less than 10,000 people and will keep the number down by charging for it. Adults will pay $6, while kids under 14 will pay $2. All money made will go the Ralph C. Wilson Jr. Scholar-Athlete Scholarship Fund. The Bills are expected to travel to Cleveland to scrimmage the Browns next year. Our Take: Scrimmages are very good to get a jump start on the regular preseason schedule. Charging a nominal fee is not a big deal, and giving the proceeds to charity is even better.



Curtis Alexander played only two plays in his game against the Rhein Fire before leaving what is being speculated as food poisoning. David Dinkins got on the field at quarterback for a few plays and completed his only pass for one yard while scrambling for 12 more on the ground. Our Take: As long as Alexander's situation isn't more serious he will be able to help himself further as the Europe season continues. Dinkins doesn't seem to be getting the same chance.



The team announced this week that they will unveil the new uniforms on June 8th at a special ceremony at the Stadium. Numerous players will model the new uniforms and sign autographs. A musical act is also expected to be on the agenda. Tickets will be issued to the event that starts at 1:30pm but it is free to the public. Speculation says that the jerseys will be a darker blue, with some gray or silver and red. A secondary logo is expected on the jerseys but the helmet isn't expected to be changed. Our Take: The new uniforms will bring in extra marketing money, hopefully that will translate to more money spent on quality players. We are glad that they will probably leave the helmets and the main logo the same.



One Bill being talked about constantly is Jay Riemersma. Tom Donahoe said this week that the rumors about him being cut as a cap casualty are over blown. He said that Riemersma is very much in the team's plans for next season. Donahoe does admit that cap room needs to be made to sign all the draft picks and to possibly bring in more free agents. Our Take: It is debatable that Riemersma needs to be cut to create cap room to sign players, especially with John Fina on his way out of town. Donahoe however, may rather cut him, than restructure his deal since he doesn't like putting money off to the future. Dave Moore is on record as saying he wants Riemersma to stay. The team will need to get rid of three players by training camp to get under the maximum players allowed in camp.



The team held their annual select-a-seat program this past Friday and Saturday. Fans had a chance to walk around the stadium and pick where they want their season tickets. In other ticket news, the team announced that the preseason game on August 15th against Minnesota will be the second annual kids day. All children 14 or younger will get discounted tickets. $8 or $6 for season ticket account holders. Other events will take place also for kids, like face painting and giveaways. Our Take: The select a seat event is a great idea that gives consumers a great chance to decide actually where they want to sit. The kids day program is also a nice way to fill seats and give back to the community.



In other news, the Bills re-signed Shawn Bryson who accepted his one year offer sheet at $563,000. Eddie Robinson meanwhile spoke to reporters as he took place in the off season conditioning program. He said he knows the playbook very well since he played it for 7 years in Tennessee and Houston. The coaches like how Robinson is another coach on the field. Our Take: The Bryson signing was a mere formality. Robinson will bring so much to the team as far as leadership on and off the field.



Drew Bledsoe held his third annual golf outing for his charity, "Parenting with Dignity". It will most likely be the last one in the Boston area and will probably move to Buffalo next year. Our Take: It will be nice for a charity event to end up in Buffalo.



Former Bill offensive lineman Reggie McKenzie is one of 13 people being inducted in the College Football Hall of Fame. He was a key ingredient in the "Electric Company" that paved the way for O.J. Simpson to run for all those yards. Our Take: It's nice to see a former Bill get some accolades.



---
Talk about it on The Stadium Wall
Week in Review index
Latest News Section
Archives Library
Back to Bills Daily Homepage