| | | |
| --- | --- | --- |
| | Serving Bills Fans Since 1998 | Home |
---
Bills Reach Partnership Agreement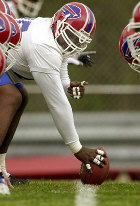 The past week heated up when the rookies along with the first and second year players started two days of mini-camp. The big news from camp was the move of Jonas Jennings from tackle to center. It is the first experiment of many along the offensive line. Here's all the news from the past week complete with our take on the issues:

All eyes were on the offensive line when the group of 59 players hit the field for the beginning of two days of practice. Jonas Jennings was lined up at center where Kevin Gilbride feels he will excel. The team is also expected to give incumbent Bill Conaty a look as well as tackle Trey Teague. Our Take: It appears that Jennings is the odds on favorite to make the switch to center, leaving Teague at left tackle and rookie Mike Williams at right tackle. This may be the best move as Jennings should be well suited for that position. He seems enthusiastic about the move and played the position briefly in college.



In other mini-camp news, Gilbride also said that he plans to use both tight ends, Dave Moore and Jay Riemersma in similar capacities this year. Moore is known more for his blocking abilities while Riemersma is known for his receiving skills. Gilbride feels they both can do both things and that it will keep defenses guessing. Our Take: In theory, we agree with Gilbride, in practice it may not work. Riemersma is not a good blocker, and Moore is not a downfield receiving threat. So teams will know that, and scheme accordingly.



There seemed to be interesting depth chart moves already in camp. Kendrick Office was ahead of Erik Flowers at left end and Tyrone Robertson backed up Ron Edwards at nose tackle in place of the missing Pat Williams. Williams will not practice when the complete team gets together this coming week because he is recovering from surgery on both his ankles. Drew Bledsoe, London Fletcher, and Billy Jenkins were among the veterans who were practicing with the rookies and young players. Mike Williams and Ryan Denney continued their good battles. Travis Henry lined up with the first team at running back and showed no ill effects of his knee injury from last year. Jeremy McDaniel will be held out the rest of camp after injuring a groin in the April camp. Reggie Germany missed practice today but should return on Monday despite having a sprained knee. Our Take: Mini camp is shaping up nicely as the coaches got to look at the young players and experiment with position changes and depth chart placings. Flowers still appears to be in the doghouse and the coach seems impressed with Edwards conditioning and the play of rookie Justin Bannan.



Gregg Williams said this week that players with 10 or more years experience do not have to attend the full squad camp this week. Five players fall into that category John Fina, Larry Centers, Dave Moore, Drew Bledsoe and Eddie Robinson. Our Take: Williams didn't seem to have this rule last year, it seems that he is giving players like Fina and Centers an out. Both players are rumored to be on the chopping block on June 1st. Fina is almost certain to go, while Centers has grumbled about wanting more money. Don't expect either player in camp, especially Fina, why show up when you will be cut in 10 days?



The Bills announced over the weekend that Kent Hull will be the 19th member of the Wall of Fame. The ceremony will take place before a game to be determined this year. He called it the most prestigious honor he ever received and he's surprised he went in before other great players from the Bills glory days. Finalists this year included Jim Richter, Steve Tasker, and Darryl Talley. Our Take: No player was more important and more overlooked than Hull. He was almost as important as Jim Kelly was in getting the no huddle attack to work.



In other alumni news, Jim Kelly and Dan Marino will go head to head one more time. They will face off in a charity flag football game on July 21st at UB. Tickets for the game and entrance to a hall of fame park will cost $25.50 or $32.50 and will benefit Hunter's Hope, the Ilio Diapolo Scholarship Fund, and the UB Athletic Scholarship Fund. Kelly's team will be coached by Marv Levy and will include former Bills' greats Thurman Thomas, Andre Reed, Don Beebe, Daryl Talley, Steve Tasker, Fred Smerlas, Chris Spielman, Kent Hull, Shane Conlan, Pete Metzelaars, and Bill Brooks. Marino's team will include Mark Duper, Everson Walls, Keith Byars, Tony Dorsett, Roger Craig, and William Perry. Our Take: Can't think of a more entertaining event for charity. If you are in Buffalo on July 21st, this is a must see event.



In other news and rumors, Tom Donahoe said it is likely that the club will re-sign Shawn Price if he comes back healthy from his ACL injury. The agent for Jamal Anderson said that the running back would be very interested in playing for Buffalo if he is released on June 1st. Former kicker Shayne Graham has signed a two year deal with Seattle. Two Bills injured in NFL Europe, Chad Sears and Scott Keys are no longer on the roster. Our Take: Price is a warrior that the coaches love and with a huge hole at defensive tackle, expect him back. Anderson is not needed by this team, I don't see why they would be interested unless another rumor comes true. That is the possibly trading of Shawn Bryson. We wish Graham, Sears, and Keys good luck!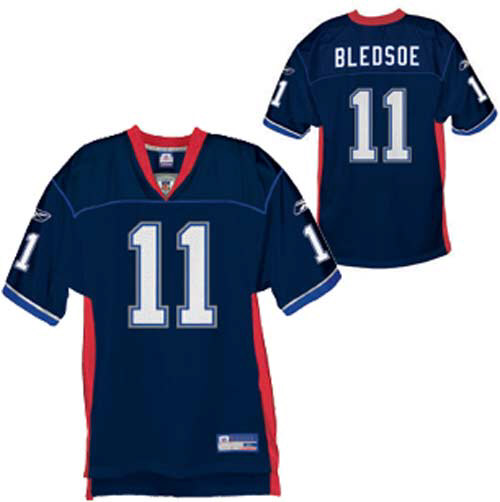 In what could be a major blunder, CBS Sportsline for a few minutes released these jerseys that appear to be the new uniforms the Bills are scheduled to release on June 8th. It was quickly taken off their site. Our Take: If these are the new jerseys than we think they are pretty good.



Curtis Alexander recovered from his bout with food poisoning to lead Frankfurt to a victory with 160 yards in total offense. He rushed for 109 yards and added 51 receiving as he made three big plays to setup scores. Our Take: The more he plays well, the more rumors about a Bryson trade will continue.



Various off the field tidbits include tryouts for the Buffalo Jills took place on Sunday as various Bills took part in celebrating National Nursing Home Week. Jerry Ostroski meanwhile served as the chairperson for the "Gift of Life" walk at the stadium on Sunday. Citadel communications announced they will be bringing back Van Miller as the radio play by play man for the team for his 36th year. The Bills announced that the express train will be going again for three games this year. Our Take: The community work is always a necessity and it is nice to see it happening. Miller may be getting old and may miss calls but he IS the voice of the Bills and should remain so. The express train is a nice way to get fans from all over N.Y. State to get the games. It is nice that they chose three big games to run the trains, the Jets, Patriots, and Raiders home games.



---
Talk about it on The Stadium Wall
Week in Review index
Latest News Section
Archives Library
Back to Bills Daily Homepage