| | | |
| --- | --- | --- |
| | Serving Bills Fans Since 1998 | Home |
---
Bills Finish Productive Mini-Camp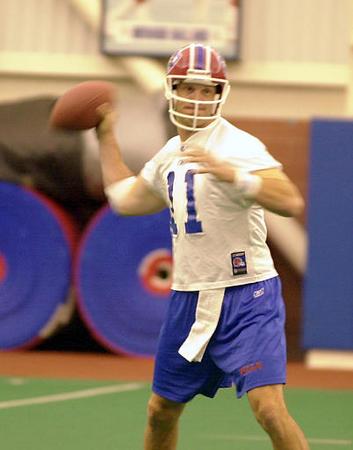 The Bills held a four day full squad mini-camp this past week that Coach Williams called very productive. The full squad got together for the first time and they have a long way to go before team chemistry is developed. Here's all the news from the past week complete with our take on the issues:

Coach Williams was very happy with the camp as he said the players understood tempo and the systems. Drew Bledsoe showed a commanding presence on the field that even made Eric Moulds feel like a rookie at some points. The two are very excited about hooking up this year. Bledsoe is optimistic about this team reaching the playoffs. All the players including the 10 year veterans that were excused were at camp with the exception of John Fina. Sheldon Jackson also missed camp as his wife was giving birth to their first child. There were no serious injuries during the camp, although Reggie Germany, Pat Williams, Jeremy McDaniel, Jay Riemersma and Ruben Brown all missed all or most of camp with minor ailments. Several rookies also missed some time because of school obligations including Josh Reed who will be staying in Buffalo to catch up. Mike Williams missed an extra day because of flight problems coming back from an NFL event in LA. Larry Centers left a day early and Bledsoe left a little early because of family commitments. Our Take: It seemed to be a successful camp with the players very enthusiastic and excited about the coming season.



Larry Centers said early in the off-season that he would not return to Buffalo if the team didn't improve and if he wasn't taken care of. The team has certainly improved and now he has been taken care of. He has agreed to a contract extension through at least the 2003 season. Terms have not been disclosed but it should have more guaranteed money and a slightly lower cap figure this year. He was due to make $800,000 this season. Our Take: The Williams/Donahoe era takes care of the players they have brought in and Centers is a good example of that. He is a leader and it is good to keep him happy but does his role diminish in the new offense? Bledsoe seems happy that Centers will be around next year calling him a charasmatic figure.



In other camp news, the Jonas Jennings experiment continued at Center while Trey Teague split time with Marques Sullivan at left tackle. Teague came out saying that he wanted to stay at tackle but would move to center if it would help the team win. He feels he is more comfortable at tackle and it wouldn't be as productive to switch when starting with a new team. Teague will experiment at center in the June mini-camp. Bledsoe praised Teague in a mid-week press conference saying that his experience on the blind side will be helpful. Bledsoe also feels that the right combination along the line will happen and it isn't something he needs to be concerned about. The odd man out right now is Bill Conaty but he is being a team player saying that the competition at center is good and will only make the team better. Our Take: Jennings seems more willing and a better fit to move to center. Expect him to be there when the season starts with Teague starting at left tackle. The line needs time to gel and should be set after the next mini-camp according to Kevin Gilbride. That is a good thing except his line coach Ronnie Vinklarek disagrees saying you won't know for sure who will play where until they are in pads.



At the linebacker spot, Brandon Spoon is an odd man out at linebacker but he hopes for some playing time and may get it in a special 4-4-3 formation. Keith Newman signed his one year tender offer of $563,000. He was hoping the team would offer him a long term deal but when that didn't happen, he signed his tender. He hopes to be able to rush the passer more this year and may even line up at defensive end in certain passing situations. Jeremy McDaniel also signed his tender offer of $375,000 this week. Our Take: Spoon was an improving talent last year, it would be a shame to stunt his growth, so it will be nice to get him on the field in specialized situations. Giving Newman a long term deal isn't Donahoe's style, he will take the wait and see approach and take his chances when Newman becomes an unrestricted free agent next off-season.



Coach Williams decided to change two coaches assignments and responsibilities this year. Steve Jackson was the assistant defensive backs coach and third down specialist last year, he will now concentrate on working with the safeties. Pat Thomas, who was the defensive backs coach last year, will now work with the cornerbacks. Our Take: This is a good move to be more detailed in the teaching, especially on defense which has more question marks than the offense.



Those question marks include free safety, defensive end, and defensive tackle. One answer at the under tackle position may be Shawn Price who is working out at the Bills facilities trying to recover from ACL and PCL surgery. At defensive end the position is very much up for grabs with Erik Flowers, Ryan Denney, Bryce Fisher, and Kendrick Office all vying for playing time opposite Aaron Schobel. The free safety position is a two player battle right now between Preston Prioleau and Travares Tillman. Prioleau is moving from strong safety but played the position before. Our Take: We look for Denney to get the majority of the playing time at left defensive end and Price to be re-signed and start if healthy. Prioleau will win the battle at free safety unless Damon Moore gets signed after he heals from his ACL surgery. He seems to be deciding between the Bills and Redskins. The Bills have the upper hand since he visited the team for the second time this week and has a good relationship with Tom Modrak.



Jay Riemersma is still on the bubble for a June 1st cut, but he cleared the air on a possible contract restructuring this week. He said he is willing to work with the team on re-doing his deal because he wants to play his entire career in Buffalo. He feels something will happen either way over the next week or so but his agent has talked to the Bills. Our Take: Riemermsa will re-do his deal and remain with the Bills. He is excited about playing with Bledsoe and feels he could become his next Ben Coates.



Ralph Wilson took in mini-camp action this week and came away very enthusiastic about the future of the club. He all but guaranteed the team will win more than three games this year. He revealed that Coach Williams contract is for four years instead of three and that his job isn't contingent on a good season. Our Take: Wilson should be excited and Williams needs more than two years to prove himself.



In off the field news, the team announced that tickets for the new uniform unveiling will be distributed at all Tops Friendly Markets beginning Friday May 31st. Season ticket holders can pick up their tickets on Thursday at the stadium box office or the Rochester ticket office. Tickets are free and there is a four ticket limit. It also appears almost certain that Kent Hull will go up on the Wall of Fame during the Raiders game on October 6th. Our Take: These should both be exciting events.



In NFL Europe, Curtis Alexander did not get a chance to run too much as his team was routed but he did gain 51 yards on only 8 carries and added 27 yards on two receptions. David Dinkins saw some action at running back and ran for 63 yards on 5 carries while catching a pass. Devonte Peterson had three tackles and Junior Robinson added two tackles. Our Take: Good experience for these players, it is nice to see Dinkins get involved but frustrating that he can't find a position.



---
Talk about it on The Stadium Wall
Week in Review index
Latest News Section
Archives Library
Back to Bills Daily Homepage