| | | |
| --- | --- | --- |
| | Serving Bills Fans Since 1998 | Home |
---
Gash Agees To Contract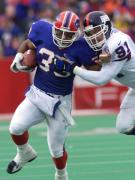 In one of the lighter off season weeks the Bills did add one player as they signed Sam Gash to an undisclosed deal. The other big news from the week was the release of the NFL Schedule. Here is our take on all the issues from the week:

Gash agreed to a deal on Monday and signed it on Thursday. He will battle Phillip Crosby for the top spot on the depth chart at fullback. Terms of the deal have not been disclosed but it is believed to be a one year deal. Our Take: The Gash signing will be very cap friendly if it is a one year deal with no signing bonus. In that case, the Bills get the 10 year veteran break on the cap figure. It is worth it at that price for the locker room presence and leadership skills alone. Gash will help replace those skills that were lost when Larry Centers was cut. We don't think he was necessarily needed on the field. We like Crosby and think he could fill the blocking back roll admirably.



The Bills schedule is out and it features two primetime games on ESPN against Miami and Kansas City. They open at home against New England and close on a Saturday afternoon national game in New England. The schedule is broken down evenly, with eight games before the bye and eight after, with four home and four road games in each half. The back to back Florida games in September will be tough but Miami has to come to Buffalo for the second straight year in December. Our Take: The schedule opens and ends tough, but has a soft spot in the middle. Of course, that is going by how teams finished last year, we know it will be different this year so who knows how tough the schedule is?



In other free agent news, Mike Hollis found a new job as he signed with the Giants. Meanwhile, the Bills are still interested in bringing Charlie Rogers back but he is also meeting with Miami. The Bills have shown interest in former Bill Corbin Lacina to help fill depth on the offensive line. They are also interested in Olandis Gary after he finishes his free agent tour. He visited with the Lions and the Jaguars are also interested in him. The team also would like to lock up Brian Moorman to a long term deal but the two sides are far apart. Our Take: Hollis got less money to go to the Giants then the Bills gave Rian Lindell. We rather have a cheaper Hollis instead of Lindell. Rogers could go to Miami, the Bills don't need him. Lacina would be a good signing to add depth at guard but Bill Conaty would be just as cheap and he can back up at center and long snapping. We want Gary, he would be the perfect complement to Travis Henry. We hole heartedly agree that the Bills should use some cap money to lock up Moorman for the long term. He will be a hot commodity next year in free agency, even as a restricted free agent.



Newly signed Sam Adams is in the off season conditioning program, that is part of his contract. What isn't part of the deal, is a weight clause, so the Bills must believe he will keep his weight under control on his own with the help of conditioning coach Rusty Jones. Defensive coordinator Jerry Gray said that Adams and Pat Williams will start but the Bills will rotate linemen this year. He feels keeping them fresh will keep them from allowing big plays. Ron Edwards, Ryan Denney, and Justin Bannan all will get playing time. Our Take: We agree a rotation works, but Adams and Williams need to get two-thirds of the playing time. Adams has something to prove, he will keep his weight down.



Owner Ralph Wilson received an honor this week. He was named this year's honoree for the Seymour H. Knox III Humanitarian Award. It is given in recognition for achievements in the Western New York Community. It is given by WBEN radio and the Amherst Chamber of Commerce and he will receive it at a dinner on Thursday April 24th. Our Take: Another well deserved honor from one of the classiest owner in sports.



---
Talk about it on The Stadium Wall
Week in Review index
Latest News Section
Archives Library
Back to Bills Daily Homepage