| | | |
| --- | --- | --- |
| | Serving Bills Fans Since 1998 | Home |
---
Three Big Visits Cap Week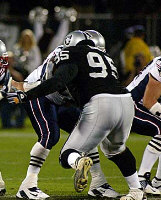 The busy off season continued this week as the team officially signed Sam Adams and added Rian Lindell after the Seahawks officially decided not to match the offer sheet. They topped off the week with three free agent visits. Here is our take on all the issues from the week:

The Sam Adams saga officially ended. As we reported in our updated week in review last week, Adams agreed to a verbal agreement. He officially signed that agreement on Friday and now is officially a Bill. Adams' agent said after looking at the Bills offer again (that he originally turned down), he realized it was a good deal after all. Our Take: As we've been saying the past few weeks, he is the missing piece of the puzzle. Since Tom Donahoe won the contract battle and he signed an incentive laden deal, he will probably work harder to get into shape so he can have the kind of year he is capable of having.



As we also reported in our late edition of week in review last week, the Seahawks decided not to match the offer for Lindell. They made that official on Monday. Lindell signed for more money than was being offered to Mike Hollis who now will definitely not return to Buffalo. Our Take: Tom Donahoe obviously thinks more highly of the younger, bigger Lindell than he does of Hollis. Otherwise, he would have given that same contract to Hollis and kept him in Buffalo. We think higher of Hollis but Lindell may just be an up and coming kicking star but the jury is still out on him.



The Bills saved all their free agent visits for the week until Friday. Olandis Gary, Sam Gash, and Qadry Ismail were all in town then as the Bills look to add depth to the offense. Gary said that he doesn't mind being a backup to Travis Henry but he would expect to get 30% or so of the plays. He said he rather be a backup on a super bowl caliber team then a starter on a losing team. He feels that is possible in Buffalo. He would like to be part of a long term solution. Ismail told reporters that he is impressed with the Bills and he feels he can add a lot to the team as a veteran receiver. He would also like to work with Drew Bledsoe and compete for the number two receiver slot. Our Take: Obviously the Bills acknowledge that they need to fill the depth chart with some more experienced players at the skill positions. The ex-Bill Gash would be perfect for the type of offense Kevin Gilbride wants to run. We wouldn't pay more than veteran minimum for him though since Phillip Crosby looks like he can fill the role himself. Ismail would add some experience and explosiveness to the receiving corp but he would face a fierce battle for playing time from Josh Reed and Bobby Shaw. If the Bills are looking for a fourth receiver they are better off getting one in the draft. Gary would be the perfect backup to Henry. The team needs an experienced backup with good skills off the bench and Gary fits the bill. He won't get the 30% of the playing time here, as Henry gets about 80-85% of the playing time. That may deter him from signing with the Bills.



The Bills added some depth already to the receiving corps by signing Antonio Brown. He last played for Winnipeg of the CFL. Our Take: He will battle for the fourth receiving spot if the Bills don't sign Ismail or draft a receiver fairly high in the draft. Otherwise, he is just training camp fodder.



In other free agent news, the Bills officially lost Shawn Bryson as a backup possibility to Henry. He signed with Detroit and had a deal on the table from Kansas City but chose the Lions one year deal. Greg Favors also officially left the fold this week when he signed with Carolina. Two other unrestricted free agents may return. The Bills have offered Charlie Rogers a contract and both sides show mutual interest in his return. They have not responded to the Bills offer at this time. The Bills have also shown minimal interest in bringing Bill Conaty back to Buffalo. Dallas, Tampa Bay, Tennessee, and a New York team have shown interest in him. It also came out this week that the Bills were one of three teams that showed some interest in Emmitt Smith before he signed with Arizona. No visit was ever planned though. Our Take: Why bring Rogers back? His punt return duties have been replaced by Shaw and would you even pay him veteran minimum just to return kicks when he didn't do that well last year? Draft a receiver that can return kicks and maybe play a little receiver too. The loss of Bryson will be big if they don't replace him with a veteran like Gary. Smith would have been a perfect fit but somehow I don't think he was interested in coming to Buffalo to back up Henry. Favors is not a big loss with the upgrades at linebacker. We would bring Conaty back for much needed depth in the interior of the offensive line.



The Bills introduced one of their off season acquisitions this week. Newly acquired TE Mark Campbell talked to the media on Monday. He said he's very happy to be here and he is excited to play for the amazing fans of the Bills. He is looking forward to learning from veteran Dave Moore since he has never had the opportunity to learn from a veteran tight end. He also plans on making Cleveland pay for their mistake in trading him. Our Take: We like this guy. He has a chip on his shoulder about being traded but seems excited about being in Buffalo. He wants to do it all, block, and receive. We think he'll be a good addition and his battle with Moore in training camp will be one to watch.



The preseason schedule was finalized this week and the list of possible opening day opponents was narrowed down by the announcement of the national games for opening day. On Aug. 9th at 8pm the Bills will play at Baltimore, they will play in Tennessee the following Saturday at 8pm on ESPN. They will close the preseason at home against St. Louis on Sat. Aug. 23rd at 7pm and Detroit on Thursday Aug. 28th at 7pm. The Bills possible opening day opponents if they open at home are: Miami, New England, Houston, or Cincinnati. If they open on the road they will be at either: Miami, New England, N.Y. Giants, Jacksonville, or Kansas City. The entire schedule could be announced as early as this coming week. Our Take: It's nice that the final two preseason games are at home and that one of them are on ESPN so we can get a look at the players. It seems like whoever the Bills open with, will be a formidable opponent. Opening at home against Cincinnati would be intriguing with Spikes now a Bill.



The NFL announced the compensatory picks for this year, this week. The Bills for the first time in a long time get no comp picks since they didn't lose any more free agents than they gained last off season. The way it is going the Bills will probably not get any comp picks next year. That means, barring any trades, the Bills will have seven picks in this year's draft, one in each round. Our Take: It's nice to get extra picks but we rather get solid free agent signings than extra picks in the later rounds.



---
Talk about it on The Stadium Wall
Week in Review index
Latest News Section
Archives Library
Back to Bills Daily Homepage