| | | |
| --- | --- | --- |
| | Serving Bills Fans Since 1998 | Home |
---
Four New Bills Added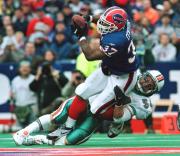 Another busy off season week saw the Bills release two players, Larry Centers and Eddie Robinson. They signed three free agents, Sam Adams, Bobby Shaw and Izell Reese. They also signed Rian Lindell to an offer sheet that the Seahawks won't be matching. Here is our take on all the issues from the week:

The Sam Adams watch continued this week and late Sunday he agreed to a four year deal. Both sides wanted to get a deal done but earlier in the week Adams turned down an offer that was big on incentives and small on signing bonus (less than $2 Million). The hold up was that Adams wanted a $5 Million bonus. Both sides gave it until the end of the weekend before they would look at other options but they came together to make a deal. The deal is an incentive laden contract which is what the Bills were shooting for. Our Take: Adams wanted to be here, and the Bills wanted him here. A compromise was reached (although I bet Donahoe got his way more). Adams now becomes a huge cog in the defense. He makes Pat Williams immediately better and the linebackers now will be free to roam and make plays. A very impressive defense on paper has been built in less than a month.



The Bills cut ties with two veterans in a cost cutting move. Centers and Robinson's release saved the Bills $2 Million in salary cap space. Robinson's release was expected as the Bills replaced him with the signing of Takeo Spikes. Centers was a bit less expected as the team doesn't have too much depth at the fullback position. Kevin Gilbride likes more of a blocking fullback and Phillip Crosby fits that Bill. Centers may go back to Washington to play for the Redskins. Our Take: Robinson's release was a no brainer, we would have kept Centers around. He was a leader and an excellent third down receiver. If they needed the cap room it would be one thing, but they don't need it. Coach Williams loved both players and said at the end of the season that Centers could play for him as long as he wanted to. We get the feeling Williams is losing any say he has in keeping players.



Two gone, two added. The Bills signed two unrestricted free agents this week. Shaw adds depth to the wide receiver spot and gives the Bills one of the best punt returners in the league. H caught 44 passes last year for Jacksonville and averaged 12.4 yards on 25 punt returns. Tom Donahoe calls Shaw a very under rated player. He signed a three year deal worth $2.7 Million. Reese is a very versatile defensive back who can play corner or both safety positions. During his visit to Buffalo early in the week he called the organization first class and was hoping it would work out. The Bills outbid Atlanta for his services. He signed a two year deal. Our Take: Shaw fills two roles, he will be the automatic punt returner and may battle Josh Reed for the starting job. Expect him to be the third receiver though as Reed is destined for the number two slot. Reese will bring valuable depth to both safety positions. He told reporters the Bills were looking at him mainly at free safety which is his natural position. Expect him to challenge Pierson Prioleau for that starting job but most likely he'll back up Prioleau and Coy Wire. If the team struggles again in nickel situations he may also see time as the third corner. Two excellent signings that add depth at more than one position each.



The Bills also signed Lindell to an offer sheet. The restricted free agent kicker will become a Bill on Monday as the Seahawks will not match the offer. The offer is a four year deal worth $4.2 Million including a $1.2 Million signing bonus and $600,000 in incentives. Our Take: Lindell is bigger and stronger than Hollis but he's not as good or experienced. This offer surely would have been good enough to re-sign Hollis, so why didn't they just do that? Reports say the Bills tried once again to re-sign Hollis before submitting the offer sheet to Lindell. Donahoe says Lindell will help with longer kickoffs but this is one of his shortcomings in Seattle. He is expected to add stability to the position.



In other free agent news, the Bills will not make an offer To Alex Molden who visited last week, especially with the signing of Reese. They also likely will let Chidi Ahanotu go. Donahoe said since they signed Keith McKenzie they likely won't bring Ahanotu back. Another visited player won't be coming, MarTay Jenkins cut off talks because the offer was too low. Kevin Dyson also isn't coming as he signed with Carolina. Jay Riemersma landed on his feet in Pittsburgh with the Steelers. Our Take: We liked Jenkins, he would have been a nice addition but not at a steep price. We are glad Riemersma didn't stay in the division. Ahanotu is expendable if the Bills draft a defensive end early in the draft.



---
Talk about it on The Stadium Wall
Week in Review index
Latest News Section
Archives Library
Back to Bills Daily Homepage