| | | |
| --- | --- | --- |
| | Serving Bills Fans Since 1998 | Home |
---
Spikes Becomes A Bill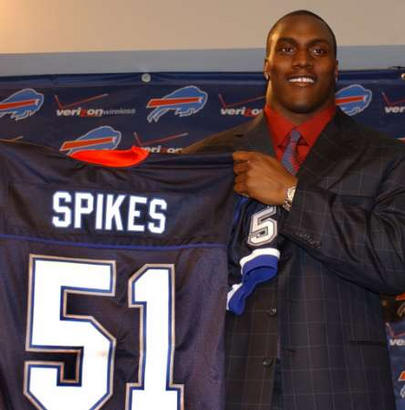 The Bills officially acquired Takeo Spikes on Monday when the Bengals announced they would not match the offer sheet. In other news, the team hosted five more free agent visits but there were no more signings as the club continues to negotiate with Sam Adams. Check out where we stand on all the issues:

The Bills officially introduced Spikes at a press conference on Wednesday. He arrived in town and visited a children's hospital before coming to the stadium. In his press conference, Spikes said he is excited to be in Buffalo and is looking forward to building camarederie with his teammates. He also said he would be very disappointed if the Bills don't make a run at the Super Bowl. Gregg Williams said Spikes will help the overall team speed and the fact he plays every down is huge. Dick LeBeau called him a very instinctive player with leadership abilities Our Take: It seems like the Bills are getting the total package in Spikes.



The Bills also introduced Dick LeBeau as the newest member of the coaching staff on Monday. He will be the assistant head coach and will be very involved in the gameplan. He will also work with the secondary on zone blitz techniques, and the offense on how to recognize and defend zone blitzes. LeBeau said his job is to do whatever the coach asks him to do. Our Take: LeBeau's 44 years of experience is a huge coup for the Bills. The fact that Gregg Williams had to re-iterate that Jerry Gray is still the defensive coordinator and will still call the plays is a red flag that he is already looking over his shoulder at LeBeau. To his credit LeBeau acted humble and knows his role on the team.



The Sam Adams watch continued this week as the Bills haven't signed him yet. His agent says that the Bills are their number one choice and Adams has stopped visiting other teams while they negotiate with Buffalo. The sides are far apart however and the Ravens may come knocking on his door shortly and he may turn his attention towards going back to Baltimore. Spikes referred to a player the Bills were going to sign during his press conference and Adams' agent said that player is indeed Adams. Our Take: Adams is the missing piece of the puzzle and Donahoe seems to be playing the waiting game with him. I wouldn't wait too long or he may lose him over a few measly dollars.



The Bills had several players in for visits this week especially at the wide receiver position where they look to fill the hole left by the departure of Peerless Price. Bobby Shaw, Kevin Dyson, and MarTay Jenkins all visited. Shaw said he felt comfortable with the visit and has a history with Tom Donahoe and Kevin Gilbride in Pittsburgh. Dyson has a history with Gregg Williams in Tennessee and wide receiver coach Fred Graves, who he was very close to at the University of Utah. Jenkins would fill two roles, a receiver and a return man, he is one of the fastest players in the league. Jenkins said he likes the direction the club is taking and like the other receivers said playing with Drew Bledsoe would be a great opportunity. Our Take: The Bills may want to sign Jenkins for his return abilities and someone like Dyson for his receiving abilities. Dyson has offers on the table from Washington and Carolina but probably could be wooed to Buffalo because of his close relationship with Graves. Shaw is not a good option in our opinion. The upside is better with Jenkins and Dyson.



The Bills also had visits this week from CB Alex Molden, DT Henry Ford, and RB Moe Williams. Molden is a former 1st round pick that has been a starter most of his career. Here he would be a nickel back. Ford is another Tennessee Titans product. He plays both end and tackle. The Bills were very interested in Williams but he re-signed with the Vikings after his visit. Our Take: Molden would be a very nice addition but he may not want to be the third corner. Ford is a poor man's version of Adams, they should sign Adams. Even though Williams didn't sign here, the team needs an experienced backup at running back.



In ex-Bills free agent news, Keith Newman found a new home with his old head coach in Atlanta. Jay Riemersma is rumored to be interested in going to Miami to back up Randy McMichael. Our Take: Newman has a good chance at resurrecting his career with Wade Phillips as his defensive coordinator in Atlanta. We said it all along, he got a raw deal in Buffalo and was never used right by this coaching staff. We don't want to see Riemersma in the aqua and white colors of the Dolphins. I get the feeling he would come back to haunt the Bills.



In other news, the Bills released David Dinkins and Jarett Ferguson this past week. They also set this year's scrimmage with the Browns. It will take place in Cleveland on Sat. Aug. 2nd at 11am. Our Take: Dinkins and Ferguson's release was just a formality neither had a future in Buffalo. This year's scrimmage will take place inside the Browns stadium, which means plenty of tickets will be available.



---
Talk about it on The Stadium Wall
Week in Review index
Latest News Section
Archives Library
Back to Bills Daily Homepage