| | | |
| --- | --- | --- |
| | Serving Bills Fans Since 1998 | Home |
---
Bills Work Overtime In Very Busy Week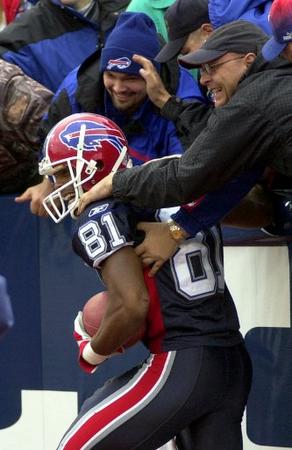 Wow! Talk about your busy weeks. The Bills traded Peerless Price, signed Takeo Spikes to an offer sheet, entertained three other NFL free agents, added 44 years of coaching experience to their staff and recovered the first round draft pick they lost last off season. Grab a cup of coffee and settle in to the busiest off season week in review we ever had. Check out where we stand on all the issues:

Where do we start? How about the deal that made everything happen. The Bills on Friday, (perhaps the busiest off season day in club history), traded Peerless Price to Atlanta for their number one pick in this year's draft, the 23rd overall selection. Price agreed to a seven year deal worth $42 Million and a signing bonus of $10 Million. Price said he is excited to be a Falcon and looks forward to winning a championship in Atlanta, his hometown. He credited Drew Bledsoe with being a huge factor in the jump in his numbers last year but he's excited to work with Mike Vick. Tom Donahoe said the move is a good one for everyone concerned. Price will be happy to be the number one guy, Atlanta gets a great player in Price, and the Bills now have a first round pick in April's draft. Donahoe said Price is a good young guy that will be missed. He feels the offense won't suffer because of the development of Josh Reed saying he didn't draft him to be a number three receiver. Eric Moulds said he's happy for his friend but disappointed he won't return. He did say that Reed will step into his shoes well, he expects him to catch 70 or 80 balls this year. Our Take: This move proved once again what a shrewd General Manager Donahoe is. The team had no intention of paying Price to be a number one receiver. Price had no intention of coming back but because Donahoe has got the salary cap under control he was able to franchise tag Price and get the first round pick he coveted in a trade. Atlanta was hoping to get away with only giving the Bills a second round pick but Donahoe held firm and got what he wanted. He knew Price and Atlanta was a good fit, which is why he contacted the Falcons before free agency started. Atlanta wanted a pick back in 2004 from Buffalo but didn't get their way there either. So let's see, Donahoe ended up trading Price a year later for Bledsoe and in the process only move down 9 slots in the first round (The Bills would have picked 14th overall if they still had their number one pick). Who wouldn't take that deal? The Bills get their franchise tag back and the $5.01 Million in cap space. That tag may come in handy next off season when Antoine Winfield hits the open market. The cap money freed up helped with the Spikes offer sheet, but it also frees up money to keep shopping for defensive help, and a third receiver.



Only hours after trading Price, Donahoe presented Takeo Spikes with an offer sheet that he promptly signed. Details are sketchy but reports say it is a six year deal worth $32 Million with a $9 Million signing bonus and a base salary of $1 Million this year plus a $1.5 Million roster bonus after this season. The Bengals have seven days to match it but aren't expected to take that long to say they won't. They immediately signed LB Kevin Hardy to take Spikes place. Spikes called Marvin Lewis to tell him not to match it, as he desperately wants to join the Bills. Spikes was in town for three days this week and was wined and dined by Eric Moulds, Pat Williams and childhood friend Jonas Jennings. Owner Ralph Wilson even flew in from Detroit to greet Spikes, something he never does for free agent visits. Spikes was immediately impressed with the organization saying they do the little things right. He also likes how the veterans are called upon to work with the younger players. Our Take: We keep calling Spikes, the crown jewel of defensive players in free agency and we are keeping our fingers crossed that he will be a Bill by the end of the week. All signs point towards that being the case since the Bengals seem to be going in a different direction but until they official decline to match the offer we will feel a bit uneasy. Donahoe deserves kudos here also, he identified what he wanted, went after it despite the risks involved dealing with a transitional free agent. The contract is cap friendly leaving the Bills more room to shop while they wait for Cincinnati's answer. Spikes teamed with Jeff Posey and London Fletcher would give the Bills a very formidable linebacking corps.



The next piece in the defensive puzzle may be run stuffing defensive tackle Sam Adams. In the middle of the crazy day Friday, Adams was also in town visiting the Bills. He joined Spikes, Moulds, Williams, and Ruben Brown for dinner on Thursday night, visited with the team on Friday, and then stayed the weekend while terms of a deal were trying to be hammered out but as of this writing they were moving slowly. Adams was also impressed with the organization and he would love to play next to Williams whom he knows because they share the same agent and alma mater. Adams did indicate that money matters a lot to it saying this is business but when he does sign with a team, then he it is all about football. The Bills are the strongest suitors for Adams. The Bengals were also very interested in him but they have since signed DT James Thornton. Our Take: Adams definitely would be a huge piece of the defensive puzzle. He would fit in perfectly in the middle reminding fans of the days of Ted Washington and Williams. That would free up the rebuilt linebacking corp to make plays. Adams may be all about the money and that may be hindering negotiations, as Donahoe is definitely a tough negotiator. Buffalo is the best fit for him now and he knows it, but since it is about business that can make him coming here not a lock by any means.



One other factor in the Takeo Spikes offer sheet, is that his head coach is coming with him. The Dick LeBeau watch is over, he has decided to join the Bills coaching staff as an assistant head coach and is already at work. He will help in the game planning and getting the defense to do better with zone blitzes. He perfected that technique in his long illustrious career. He will also help the secondary and the offense in recognizing defensive schemes of the Bills opponents. Our Take: Another big coup by Tom Donahoe. LeBeau is a huge asset to this young coaching staff that gained an immense amount of experience this off season.



In other free agent news, the Bills had visits this week from two other players, Mike Peterson on Monday and Rian Lindell on Wednesday. Lindell is a restricted free agent and the Bills brought him in because talks with their own free agent kicker, Mike Hollis have broken down. The Bills haven't shut the door on re-signing Hollis but Donahoe admitted talks are going nowhere. He gave them what he thought was a fair offer, Hollis wants to be paid like a top 10 kicker and rejected that offer early in the week. Lindell loved the facilities in Buffalo and liked the small town feel. He said kicking in the Buffalo weather is not a problem since he kicked outside in college for Washington St. He did admit to loving it in Seattle who would have the right to match any offer he receives. Our Take: Peterson will no longer be an option if the Bengals don't match the offer sheet for Spikes. We will disagree with Donahoe a bit when it comes to the kicker situation. He always underestimates the value of a solid kicker and it burned him in the 2001 season. Hollis was a clutch kicker last year and deserves top 10 kicker money. Lindell won't come here, even if he signed an offer sheet, Seattle would match it and there aren't many options in free agency when it comes to kickers.



The Bills will now turn their free agent attention towards helping the offense, specifically the wide receiver spot. They now need to replace Price, with a number three receiver. They were interested in Jacksonville's Derrius Thompson and had a visit planned but he signed with Miami. They may also have interest in released Charger Curtis Conway. They have scheduled visits for this coming week with Kevin Dyson and Cardinal free agent MarTay Jenkins. Our Take: Dyson would be a perfect number three option and he has connections with both Gregg Williams from his days in Tennessee and WR coach Fred Graves who coached him in Utah. Dyson has contract offers on the table from Carolina and Washington and was planning on making a decision until the Buffalo situation opened up. Conway is an intriguing option, he would probably come in ahead of Reed on the depth chart. He is definitely a number two guy, a number one guy in some situations. The problem is, he may command a higher salary. Jenkins is a young, up and coming player who has been the number three guy in Arizona.



In other news, Shawn Bryson is one of the Bills free agents gaining some attention around the league. He has visited with Houston and Jacksonville and plans to visit Carolina this week. He is recovering from knee surgery and is looking to catch on as a backup somewhere. Our Take: It's nice to see that Bryson is gathering interest despite his knee injury but it is surprising. That says something about the quality of free agents at the running back position. The Bills also need a backup to Travis Henry. We'd like to think the situation in Buffalo is better for Bryson then elsewhere but we expect Bryson to move on.



The Bills did take care of one of their own free agents this week. They re-signed Charles Johnson to a one year deal worth the veteran minimum of $650,000. Since Johnson is a 10 year veteran it will only count $450,000 against the salary cap. Johnson only caught three balls as the number four receiver last year but may play a bigger role in the offense this year with Price gone. His special teams play was also outstanding. Our Take: Johnson's signing was very cheap and very worth it for his leadership presence and locker room skills alone. Plus he is a nice insurance policy to have around especially since the receiving corps is weaker right now then it was last year. A rookie would cost more against the cap then he does, so why not re-sign him?



---
Talk about it on The Stadium Wall
Week in Review index
Latest News Section
Archives Library
Back to Bills Daily Homepage