| | | |
| --- | --- | --- |
| | Serving Bills Fans Since 1998 | Home |
---
Bills Make Early Splash In Free Agent Market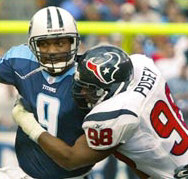 The free agency period began on Friday and the Bills hit the market running. They signed Jeff Posey hours after free agency started on Friday. They were also busy making a trade, signing a veteran defensive end, and tendering contracts to seven exclusive rights or restricted free agents and cut two veterans. All that, while rumors continue to swirl around the future of Peerless Price. We breakdown all the news from the week complete with our take on all the issues:

The Bills were the first team to sign an unrestricted free agent as hours after the market opened they inked Posey to a contract. The Bills are very high on the up and coming linebacker who recorded eight sacks last year for Houston. He has been a journeyman player who is coming into his own and it didn't cost them a fortune to get him. The deal is a four year deal, worth $6.425 Million and cap figure of just over $1 Million. Posey told the media he is very excited to be in Buffalo and he loves the fact that he was the first free agent signed. Coach Williams said that they got him for his pass rushing abilities although he is known as a stout run stopper. Our Take: As a secondary type of move, this is a no brainer. He can't be, and won't be the premier free agent signing for the Bills this offseason but he is a good signing. Tom Donahoe and Tom Modrak have a history of unearthing linebacking talent, and if they hit their mark again, Posey will be a real bargain.



The Bills let go of two players this week also as they released Jay Riemersma and Billy Jenkins on the eve of free agency to open up some more cap room. The moves cleared more than $4 Million in cap space. Riemersma said he is sad to leave Buffalo but certainly not surprised. Tom Donahoe had said that Riemersma needed to take a significant pay cut to stay, but the TE says he was never offered one. Our Take: We are sorry to see Riemersma go, but everyone knew it was coming and his cap money will look nice on the defensive side of the ball. Jenkins was a rare bust of a signing but the Donahoe regime and letting him go is a no brainer as well. Of course, the Bills will need to get some depth at safety in a low level free agent.



With two players released, the Bills also added two more players besides Posey. They replaced Riemersma immediately by trading for Mark Campbell. The Bills gave up a conditional pick in the 2004 draft to Cleveland for their starting tight end. The pick is rumored to be anywhere between a fifth and a seventh rounder. Campbell had career highs in catches, yards, and touchdowns last year although he is known more as a blocker. The team also signed veteran defensive end Keith McKenzie. He was signed before the free agency period began because he was released during the playoffs last year. He has 29.5 career sacks but after an injury in 2001, he struggled with Chicago and Green Bay in 2002. Our Take: Campbell comes cheaply but he doesn't replace Riemersma. He gives the Bills to almost identical tight ends with Dave Moore. Do they need that? McKenzie is a low risk gamble that has a chance at paying big dividends like the signing of Marcus Jones.



The Bills tendered contract offers to seven of nine restricted and exclusive right free agents. The only two that they cut ties with was Leif Larsen and Kendrick Office. The others now are committed to the Bills unless other teams want to compensate the Bills to sign them. Our Take: The seven tenders were good moves. Getting rid of Larsen was totally expected and right. The non tender of Office is a surprise he has shown flashes of solid play over two years but was hampered by a wrist injury last year.



The saga continues regarding the future of Peerless Price. His agent said his client will probably sign the Bills one year tender to protect them against the Bills removing it down the line. Price met with the Falcons over the weekend who opened trade talks with the Bills about Price. The meeting with Atlanta went well for Price. The Falcons won't open negotiations with him until they agree to trade terms with the Bills. Our Take: If the Falcons owner Arthur Blank really want Price he will likely meet the Bills trade demands. Price and the Falcons are a perfect fit since he lives there and would work well with Michael Vick. Donahoe has no intentions of paying him, Eric Moulds type of money. A trade seems to be the most likely scenario with the Bills recouping the first round pick they lost in the Drew Bledsoe trade and most likely another lower round pick. If that does happen, then Donahoe did a masterful move by tagging Price and getting something instead of nothing.



In other free agent news, the Bills priority is definitely on the defensive side of the ball as visits are possible with top linebackers Mike Peterson, Shawn Barber, and Takeo Spikes as well as defensive tackle Sam Adams. They also want to keep some of their own, that is why talks are underway to re-sign Mike Hollis. The Jets are also interested in him but he is waiting to see how talks with the Bills go. He wants to be one of the top 10 paid kickers in the game, and so far the Bills haven't offered him that kind of deal. Other Bills free agents are talking to other teams, Keith Newman has had interest from Houston, Jacksonville, and New England. Charlie Rogers has heard from Miami. Our Take: Donahoe has a history of not placing enough value on kickers (remember Jake Arians and Shayne Graham?) He appears to be low balling Hollis and may lose him. Paying him like a top 10 kicker is not unreasonable. He should sign him now. Spikes would be great to have but the transition tag would take the Bills out of the market while the Bengals discussed matching any offer so it is a tricky situation. Newman is no longer in the plans of the Bills with the signing of Posey.



In other news, the Bills will play on national TV for one preseason game. They will play in Tennessee on Aug 16th at 8pm on ESPN. It will be the first nationally televised primetime game for the Bills since the 2001 season. Meanwhile, Shawn Bryson is recovering from his knee surgery but he has a long way to go in his rehabilitation. Our Take: It will be nice to see a preseason game on national TV for the real diehards, that should open up the way for at least two primetime games in the regular season. Bryson will do his best to recover, but he is an unrestricted free agent that won't be in any team's plans until he is healthy.



---
Talk about it on The Stadium Wall
Week in Review index
Latest News Section
Archives Library
Back to Bills Daily Homepage