| | | |
| --- | --- | --- |
| | Serving Bills Fans Since 1998 | Home |
---
Price Tag Is Big News Of The Week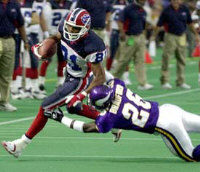 The Bills use of the franchise tag on Peerless Price was the one big news story for the week regarding the Bills. It created quite the stir with fans and media as it seemed to be a surprising move. We let you know what we think on that and other issues regarding the Bills the past week:

The Bills used their franchise tag this week on Price. It was a non exclusive tag that gives him a chance to check out outside offers. If another team offers Price a deal the Bills would have a chance to match it, or recieve two first round picks. Price was not happy with being tagged especially since he found out through the media and not the Bills. Tom Donahoe said he used the tag as a last resort and it is a way for the Bills to ensure they will have the chance to continue negotiations on a long term deal. Price rejected a deal on Tuesday that would have paid him approximately $3 Million a year with a bonus in the $5 Million range. Negotiations started up again on Friday. Our Take: The tag was a shocking move that doesn't make much sense on the surface since the Bills didn't want to lock up too much of the salary cap on one position, especially since they need to improve their defense and want to go to a power running attack. Of course, Price is a charasmatic player who helps put fannies in the seats. His cap figure doesn't preclude the Bills from making a splash on the defensive side of the ball in free agency, they just won't be able to make a huge wave.



There are many different scenarios that are being bantered about since the tag was placed. The one we can almost guarantee won't happen is that Price can play out the tag, a one year deal worth $5.01 million all against this year's salary cap. That scenario is bad for both the team and Price and won't happen. Another option that won't happen is a team signing him and handing two number one picks to the Bills. What possibly may happen is a trade. Many teams that were going to bid on him in free agency may approach the Bills (Atlanta, Washington, Detroit, etc.). The Bills may apt to do a sign and trade deal with one of these teams. Under the complex franchise tag rules a trade would not hurt the Bills salary cap. The Bills may be intrigued about the possibility of recouping the first round pick they lost in the Drew Bledsoe trade. The most likely option is a long term deal being struck between the two sides. A deal made between Feb. 28th and July 15th however, leaves the tag on him for the life of the contract. Our Take: We think that a long term deal will likely be reached but it is important for it to happen before free agency starts. Donahoe wants that tag back for future free agents that include young stars, Antoine Winfield, Travis Henry, Marques Sullivan, and more. If it drags out, negotiations could get ugly making a trade more likely. We like Price and welcome him back, but it still goes against the strategy Donahoe has had since he's been in Buffalo. That makes this situation still very peculiar.



The Dick LeBeau watch continued for a fourth straight week. The Bills are still waiting for LeBeau and Tom Donahoe is confident he will eventually come to Buffalo when he is ready. Jerry Gray says he welcomes LeBeau to the staff and feels he would help him learn and grow as a coach. Our Take: There is no rush here, but this situation has dragged on too long.



Jay Riemersma this week stated again how he wants to stay in Buffalo but knows that may not happen. He feels Ralph Wilson is a great owner. Donahoe says Riemersma has to take a major pay cut to stay. Our Take: Riemersma is a talent that was underused last year but his $3.5 Million cap figure can't happen like Donahoe said. He will likely get cut to save the Bills the cap room which they need after tagging Price. I think Donahoe has a bad taste in his mouth when it comes to Riemersma after last offseason when he didn't re-negotiate his contract. I think his mind his made up to cut the big TE.



---
Talk about it on The Stadium Wall
Week in Review index
Latest News Section
Archives Library
Back to Bills Daily Homepage