| | | |
| --- | --- | --- |
| | Serving Bills Fans Since 1998 | Home |
---
Henry Gets New Deal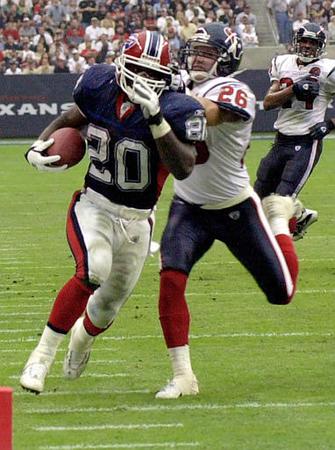 It was a relatively quiet week at One Bills Drive as the brass prepares for the draft. The big news would be the contract extension signed by Travis Henry. Here is our take on all the issues from the week:

The Bills were busy dealing with their running back situation this week and it started with the man that leads the depth chart. Henry signed a one year contract extension that should pay him $1.3 Million in the added season. The extension will keep Henry in a Bills uniform through the 2005 season. He had two years left on his original four year $2.29 Million deal. It is expected that he will get more up front money with the extension. Our Take: This was a wise move for the team to use some cap money to extend Henry's contract. We just wished they could have extended it another year or two. Henry didn't want that, since he still expects a big free agent payday a year later than expected. Since the Bills acted in good faith by giving him the extra year and money he wanted, it is likely that he will return the faith when it is time to make a big deal down the road.



The question remains who will be Henry's backup? Sammy Morris signed his one year tender worth $605,000 and remains his backup at this point. Morris also can play fullback and is the special teams captain. Our Take: Morris is a valuable special teams player who has proven he can carry the rock when he needs to. He may just do that more this year if the club doesn't come up with an experienced backup to Henry.



The experienced backup they seek won't be Olandis Gary. The team had begun negotiations with him but when Gary continued visiting other teams the Bills balked, and backed out of the running for his services. Our Take: Gary would have been a perfect option for a backup to Henry, but it seems like he was trying to start a bidding war, and he's not worth one.



Now that Henry is locked up, it would be nice if the club would try to lock up next year's big free agent. Antoine Winfield is in the final year of his contract and the Bills have begun talks with his agent but they aren't going anywhere at this point. ESPN.com speculates that the Bills will pick a cornerback with their first pick since they figure they will lose Winfield next off season. Our Take: Winfield is too valuable to lose, with the salary cap in fine shape, this would be the time to get a new deal done before this season starts. If not, it could get ugly. Look for the Bills to use that franchise tag on Winfield next off season.



The draft is the big news of the week as the club prepares for the big weekend coming up. On Thursday, Tom Donahoe and Tom Modrak held a luncheon for the media where they talked about the draft. They both said the Bills will take the best players regardless of position but acknowledged that they are looking for big men, and depth at WR, DB, and RB. They did emphasize how this may be the best defensive line crop ever. Our Take: We think they will go for a defensive end. Check out our draft page for the latest draft news and our mock draft for who we think the Bills will pick.



It was a sad week as John Butler was laid to rest on Wednesday. Marv Levy and Jim Kelly were in attendance at the funeral. Levy said Butler was beloved for all reasons calling him "a man to be admired and emulated." Our Take: Once again, our condolences go out to the Butler family.



In other news, the latest free agent signee, Danion Sidney officially signed his one year deal. The Bills took a look at one arena football player. Corey Sawyer was in town, he is a defensive specialist for the Tampa Bay Storm. Our Take: Sidney will challenge for the third cornerback spot and Sawyer may get a look during training camp if the Bills try to sign him. They will probably wait until after the draft though.



---
Talk about it on The Stadium Wall
Week in Review index
Latest News Section
Archives Library
Back to Bills Daily Homepage