| | | |
| --- | --- | --- |
| | Serving Bills Fans Since 1998 | Home |
---
Butler's Death Saddens Organization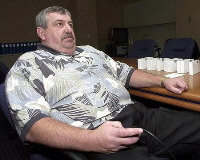 The untimely loss of John Butler to lymphoma leaves a hole in the heart of many at One Bills Drive. It saddened the week that was, that included a free agent signing. Here is our take on all the issues from the week:

Butler lost his battle with cancer on Friday and many former players spoke out on how he will be missed. Jim Kelly called it one of the saddest days in Bills history. Ralph Wilson spoke to Butler the night before his death and they mended fences so he could die in peace. Steve Tasker was shocked but not surprise by his passing. He called him a player that was universally respected by everyone. Tom Donahoe said that Butler left a legacy in Buffalo that set the standard high for the people that are there now. Our Take: It is truly a sad loss for the organization but it is nice to see he and Wilson made up. Butler was very loyal to his players and he loved his family and football with a passion not seen by many. He will missed, our condolences to his family.



In other news, the Bills signed free agent CB Danion Sidney. He was a third round draft pick by the Titans in 1998 and played well before missing most of the last two seasons with injuries. In Buffalo, he is reunited with Coach Williams, Jerry Gray, and Steve Jackson. He signed a one year deal worth the veteran minimum of $530,000 with a $25,000 signing bonus. Our Take: Sidney was coming along before injuries set him back, he needed a change of scenery and has one with a team that he knows many of the faces on the coaching staff. This may be a good fit. If he can stay healthy he can challenge for the third cornerback spot.



The Bills announced this week that restricted free agent LB Dashon Polk accepted his one year tender and will remain with the Bills this year. Our Take: Polk is a solid special teams player and gives the Bills depth at all three linebacker positions. It was a no brainer keeping him.



In other free agent news, Charlie Rogers left Buffalo for division rival Miami, as he signed with the Dolphins this week. The Dolphins beat the Jets and Bills out for his services as the Bills did have an offer on the table for him. The Bills also looked at restricted free agent guard and center Shaun O'Hara but Tom Donahoe admitted he wasn't a fit for the Bills since he's looking for a starting job. Meanwhile, the battle for Olandis Gary is heating up. The Bills exchanged offers with his agent but other teams are interested including, Detroit, Jacksonville, Kansas City, and Dallas. Our Take: Rogers leaving is a godsend, he was awful last year and not needed this year. A kick returner could be found in the draft, and the new punt returner is already on the roster, Bobby Shaw. O'Hara is a good football player but he wouldn't be happy in Buffalo as a backup. Gary would be a great fit but with many teams involved, Donahoe won't get into a bidding war and probably won't end up with the player.



NFL Europe kicked off last week, and one Bill was a star. Allocated RB Ken Simonton scored a league record tying six touchdowns and was named Offensive Player Of The Week. He had 94 yards rushing and 45 yards receiving. Our Take: This doesn't mean much, remember last year, Curtis Alexander was a star but barely got off the bench in training camp.



The off season lull is now in full swing as the team prepares for the draft. Bills Brass will spend the next two weeks fine tuning and tweaking their draft board. Our Take: You can follow the draft on our newly released draft page. Also look at one fan's perspective of how the Bills stack up after a successful early offseason.



---
Talk about it on The Stadium Wall
Week in Review index
Latest News Section
Archives Library
Back to Bills Daily Homepage