| | | |
| --- | --- | --- |
| | Serving Bills Fans Since 1998 | Home |
---
Bills Get First Win Over Jaguars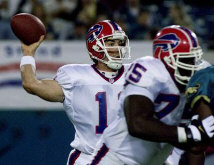 AFC East Race: If the Jets lose to the favored Rams today the Bills will remain just two games back of first place which will be occupied by idle Miami and possibly Indianapolis who will go to 3-2 if they beat the Patriots. If that happens the Pats will only be a half a game ahead of the Bills as the team tries to climb out of the cellar next week against San Diego. The team gets to watch football for a second straight Sunday and will return to work tomorrow.
Saturday October 20, 2001


Players Get Weekend Off: Gregg Williams didn't hold his usual day after a game press conference yesterday as he gave the players the weekend off after getting his first coaching win. They will begin preparing for the Chargers on Monday as they resume a regular work week schedule. Since they had a Thursday night game after the bye and then 10 more days between games, the bye week was basically broken in half over the three week period.


Friday October 19, 2001


Depth Chart Shuffling: It seems the depth chart shuffling done over the bye helped the Bills to their first win. Nate Clements got the start for Ken Irvin and neutralized Jimmy Smith. Irvin played in the nickel defense and had a big interception. Jon Carman came on for Marques Sullivan who came on when Jonas Jennings got hurt. Carman did a nice job at left tackle and now appears to be Jennings primary backup. Another position battle is at right defensive end as Aaron Schobel played almost half the plays in place of Erik Flowers and may be poised to take over the starting job as the rookies continue to make a big impact on this team. Depth Chart.

Phillips Must Be Paid: The NFL finally came to a decision on the last May's hearing regarding the final season of Wade Phillips' salary. The league ruled that Ralph Wilson must pay Phillips for the final year worth just under a million dollars. Wilson contended that Phillips effectively resigned when he refused to fire special teams coach Ronnie Jones. The owner thinks the NFL has set a bad precedence by ruling in Phillips' favor.

Charges For Henry: The Buffalo News is reporting that criminal charges may be brought against Travis Henry next week for a sexual incident involving a 15 year old girl in his home. Sources say Henry met two girls in a chance encounter and admits to having sex with one of them but he thought she was 18. Leniency may happen since the girl admittingly lied about her age and said the sex was consensual.

Bills Overcome Missed Opportunities: The Bills played a solid, fundamentally sound game and came away with a hard fought victory on the road in prime time. Their were many missed opportunities in the first half that may have come back to haunt them, but they were able to pull the game out with solid defense and a good game from Rob Johnson. Complete Review.

Solid Effort Leaves Solid Grades: This was the best performance by a Bills secondary in a long time and it showed in our position by position grades. That unit led a solid, inspired effort from the much maligned, and injured defense. The offense didn't score that much but they did move the ball effectively. Gameday Grades.

Injury Bug Slows Down: It appears the Bills only suffered one more injury in this game, as we reported yesterday, Jonas Jennings left in the first series with an undisclosed injury possibly a reaggravation of a past foot or hip injury. Phil Hansen, Leif Larsen, Tony Driver, and Jeremy McDaniel were all inactive nursing their injuries. They will have another 9 days to get healthy before the next game. Bill Conaty appeared to be the only other player shaken up in this game as he left briefly in the first half. Injury Page.


Thursday October 18, 2001


Bills Get First Win: Jake Arians kicked a 46 yard field goal with just over a minute left to lift the Bills to their first win of the year 13-10. The Bills dominated the game in the first half but went to the locker room at halftime with just a 3-0 lead as Arians missed two field goals. Rob Johnson had a solid game and the defense played inspired football ending the game on a Travares Tillman interception after Arians had given the Bills the lead. Johnson drove the Bills 48 yards on 10 plays to the winning kick after Mike Hollis had tied it for the Jaguars with a 41 yard field goal. Both teams scored their only touchdowns in the third quarter. Mark Brunell hit Kyle Brady for a 20 yard score and Johnson countered by hitting Eric Moulds with a 27 yard touchdown pass.

Injury Woes: Marques Sullivan came on after the first series as Jonas Jennings went out with a foot injury. Jon Carman then came on for Sullivan. Phil Hansen was unable to go with his elbow injury.

Clements Starts: Nate Clements got his first career start tonight in place of Ken Irvin. This move was a bit surprising but not totally unexpected as it was just a matter of time before he was placed in the starting lineup.

Henry To Have Surgery: Travis Henry will have surgery in the off season for tendinitis he has in both knees. He is not expected to miss any time during the season with this but he is in some discomfort. He had a similar problem last year in Tennessee.

Gameday Weather: It will be a typical Northern Florida fall night for the game tonight. It will be partly cloudy with a low of around 57°. Winds will not be a factor as they will be at about 5mph.


Wednesday October 17, 2001


Walkthrough: The Bills will hold a final walkthrough practice at the stadium today before leaving for Jacksonville and tomorrow night's game with the Jaguars. We will hopefully get more word on whether or not some of the injured players will play before gametime tomorrow night.


Tuesday October 16, 2001


Injury Report: The NFL has released the injury report for Thursday's game and it looks much better for the Bills than it did before the bye week. There is only one player listed as out, two are listed as doubtful, questionable, and probable. The Jaguars have three starters listed as out. Phil Hansen is listed as questionable and says he may wait until Wednesday before deciding on if he can play, he may try to use a small knee brace on his injured elbow to keep it from extending fully. Hansen re-aggravated the injury in practice on Sunday but practiced at about 75% yesterday. Jeremy McDaniel will play. Injury Report.


Monday October 15, 2001


Injury Update: Gregg Williams put a rosy picture on the injury situation during his press conference today. He said everyone has a chance to play besides Jerry Ostroski who is obviously still very much out. He did mention that is was less likely that Leif Larsen and Jeremy McDaniel will play. Injury Page.

Williams On The Team: Coach Williams said that the team has had some very upbeat and up tempo practices since their three days off last week. He feels the team is still alive in the division based on yesterday's results. He stressed that the team needs to avoid turnovers and get the fundamental problems corrected. The coach also feels that is quarterback has played well in spurts and needs to develop consistency but that the whole team needs to play better. He did acknowledge that he has expected the team to play much better than they have so far this year.

Coach Challenges Riemersma: One of the players that needs to play better, according to the Coach, is Jay Riemersma. He said that he has to produce and he has had more drops this year than in the past. One of the problems is that he has been kept in to block but he was in protection much less last week and caught four passes. If he can start making big plays it would be a huge lift for the offense.

Special Teams Bright: The coach admitted one of the only things going right is special teams, specifically Brain Moorman and Jake Arians. Both players have proven they can handle the pressures of an NFL game and have worked on areas needing improvement. The coach also gave credit to the teaching of fundamentals by coordinator Danny Smith.

Johnson And The Jaguars: Rob Johnson is looking forward to this game against his former team. He spoke fondly about his time in Jacksonville during this morning's media day press conference. He expects the Jaguars to blitz a lot since that has worked against him this year. He says everyone is frustrated that they haven't got a win yet. This is a big game for Johnson because they haven't won yet, not because it Jacksonville.

Johnson Looks Ready: Rob Johnson practiced again yesterday and appears ready to go on Thursday against Jacksonville. The other injured players including Phil Hansen and Leif Larsen do not seem to be making as much progress and may not be available. Injury Page.

Media Day Today: We should get an update on how the injured players are healing after the bye week today. The game week media day that is usually on Wednesday is today this week because of the Thursday night game.

Last Week's News Archives
---
News Archives Index
Archives Library
Latest News Main Page
Back to Bills Daily Homepage