| | | |
| --- | --- | --- |
| | Serving Bills Fans Since 1998 | Home |
---
Bills Lose Thriller To Chargers 27-24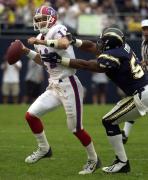 Bills Lose Thriller: It was a lot of deja vu in San Diego today. The old Flutie magic gave the Chargers the lead with a beautiful Flutie-esque 13 yard touchdown scamper. In between the Bills would allow a big kickoff return and then have Jake Arians have a 44 yard kick blocked as time expired giving the Chargers a wild 27-24 victory. Rob Johnson had 377 yards in total offense while battling through an apparent ankle injury that briefly forced him to the locker room in the third quarter. He came back in and led the Bills back from 10 points down in the final quarter to give them the lead before the special teams meltdowns and Flutie took control in the final 90 seconds. Complete Review.

Special Teams Cost Bills: It was a game that lived up to the billing of the grudge match. Both teams wanted to win the game and both controversial quarterbacks lived up to their end of the battle. Unfortunately the special teams undid the Bills like it did many times last season. That was the difference in giving the Chargers the victory in a very enteraining football game. Gameday Grades.

Gameday Weather: Typical southern California weather for this one. Partly cloudy with a high of 67°. Winds will be light from the west at about 5-10mph.


Saturday October 27, 2001


Moulds Added To Report: Eric Moulds has been added to the injury report and is listed as probable with a sore ankle. He slightly turned it during Thursday's practice but went through yesterday's workouts without any problem and is expected to be fine. Updated Injury Report.

James May Miss Game: As the Bills are concentrating on the upcoming battle with San Diego, they may get a break next week. They host the Colts next Sunday who may without one of their three offensive stars. Edgerrin James sprained his knee in Thursday night's win over Kansas City and will be 50/50 for next week's game.


Friday October 26, 2001


Henry Pleads: Travis Henry pleaded guilty today to a sexual misdemeanor. He will be sentenced Nov. 9th and will likely receive a sentence of community service. He can face up to 90 days in prision but that is not likely since the sex was consensual

Injury Update: Phil Hansen continues to practice and looks like he will start on Sunday. Jeremy McDaniel is also practicing but still not 100 percent, he may be held out another week. On the Chargers side, Junior Seau is likely to be a gametime decision with his injured groin. If he can't go, Gerald Dixon will slide into his spot and former Bill Sam Rogers will get the start on the strong side. Injury Page.


Thursday October 18, 2001


Ostroski To Return? X-rays on the fractured leg of Jerry Ostroski shows that it has healed. He has begun conditioning and says he thinks he can return within 2 to 3 weeks. There is even a small chance he could play next week against Indianapolis. Ostroski broke his leg two months ago in an August 18th preseason game against Philadelphia. Injury Page.


Wednesday October 24, 2001


Flutie Talks: In his conference call with the Western New York media, Doug Flutie said that his time in Buffalo is history and he is a Charger now and is looking forward. He called the supporters he still has in Buffalo very nice and flattering, he said it is similar to what it is like in New England. He said he doesnt' go against Rob Johnson and Butler doesn't go against Wilson, so it is a regular game that he can't prepare harder for than any other game. He said the atmosphere during his time in Buffalo would have been better if he had a better relationship with Rob.

Johnson's Comments: Rob Johnson said that he is more worried about the Chargers defense than he is about the hype of this game. In talking to reporters he said he doesn't care about the Flutie supporters and that this game won't change anything regarding who supports Doug or himself. He feels the controversy got beyond ridiculous a long time ago.

Players Getting Healthy: Phil Hansen and Jeremy McDaniel are listed as questionable on the injury report and may be ready to play this week as they are going to work more this week in practice. Jonas Jennings and Leif Larsen are listed as doubtful and may not be able to go. Injury Report.

Right Tackle Spot: Jon Carman and Marques Sullivan both have to be ready to get some reps if Jenning remains out this week. The coach said that Carman is more of a natural right tackle since Sullivan has played mostly at left tackle in his career. Expect Carman to get the majority of the reps but the Bills may roll the protection to help them out against former Bill Marcellus Wiley.

The Grudge Match: Coach Wiliams downplayed the grude match aspect of this game. He is emphasizing that the team can't beat themselves instead of worrying too much about the Chargers. He said Owner Ralph Wilson isn't making a bigger deal about this game despite his preseason claim that this is bigger than the Super Bowl. He said every team that they have played this year had some sort of connection to Buffalo and this week isn't any different. On Doug Flutie, the coach said they need to contain him with contained pressure and to try and occupy the throwing lanes.


Tuesday October 23, 2001


Flutie Wants Grudge Match: Rob Johnson may be taking this game in his usual Southern California stride but you can bet Doug Flutie wants to prove something. One of the things that has made Flutie so good over the years as that he has a huge chip on his shoulder and always likes to prove teams wrong when they let him go. That used to be good news for the Bills, this week it may be bad news for them. Complete Preview.

Johnson Ready For Battle: Rob Johnson appears mentally ready for this Sunday's "grudge" match against Doug Flutie's San Diego Chargers. Johnson said he is looking forward to the college like atmosphere and talk associated with the game. He said he is more looking forward to it because he will be playing in front of a lot of family and against close family friend, Chargers head coach Mike Riley.


Monday October 22, 2001


Injury Update: Gregg Williams updated the media on the injury situation during his press conference today. Bill Conaty will be held out of practice today but should return to practice on Wednesday. Jonas Jennings is nursing a foot sprain suffered in the Jaguars game. He will not practice and will be re-evaluated on Wednesday. Jeremy McDaniel will practice today and should be able to play this week. Phil Hansen also is expected back at practice but Leif Larsen is still limited in what he can do. Injury Page.

Defensive Line Situation: Coach Williams said Aaron Schobel will continue to get more playing time as he is improving. He raved at the play of Erik Flowers in the last quarter and a half of the Jaguars game. He said Flowers will continue to get work at both end positions.

Williams on Clements: The coach felt that Nate Clements played very well and at no time was the game to big for him. He said Clements matched Jimmy Smith the whole game and he plans on continuing to use Clements more as a starter.

Bills Prepare For Chargers: The players were given three days off after the win over Jacksonville and now begin a normal schedule that should last the rest of the season. The unusual Thursday game after the bye week forced an unusual practice schedule but things are now back to normal. Gregg Williams will address the media today for the first time since the win and will likely update us on the injury situation as well as answer a couple of Flutie vs. Johnson questions as the Bills prepare for the game everyone has been talking about all year. There will be many familiar faces on the opposite sidelines this week and Ralph Wilson has built this up as his Super Bowl since he desperately wants to beat former Bills GM John Butler.

Last Week's News Archives
---
News Archives Index
Archives Library
Latest News Main Page
Back to Bills Daily Homepage