| | | |
| --- | --- | --- |
| | Serving Bills Fans Since 1998 | Home |
---
Kelly's Number Retired In Loss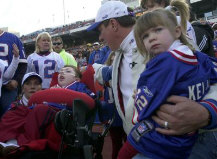 Bills Lose 23-20: The Bills lost another tough game and fell to an AFC-worst 1-8 record. On a day when Bills great Jim Kelly had his number retired and was enshrined on the Wall of Fame, the Bills got a strong performance from quaterback Alex Van Pelt. Van Pelt looked comfortable running the offense and was only sacked twice. In the end, a costly holding penalty against Eric Moulds wiped out a 1st and goal situation. Kicker Jake Arians missed a 45 yard field goal attempt wide right that could have made the difference. For the second consecutive week the game ended when the Bills failed to recover an onside kick. Complete game analysis and gameday grades will be available on Monday - please check back with us! Complete Review.

Important Emotionl Game For Bills: Today's game is particularly important for the Bills on an emotional level. Jim Kelly and a number of his former teammates will be on hand as Kelly is honored at halftime. Quarterback Alex Van Pelt was once Kelly's backup and the two are close friends. A win at home today would be a huge lift for the club and bridge a symbolic gap between the great Bills teams in the Kelly era and the current young squad of the next generation. Look for this intangible to factor into the game today.

New Quarterback Will Not Play: Newly acquired thrird string quarterback Scott Dreisbach will be inactive for today's game against Seattle. The coaching staff feels that Driesbach has not been able to learn enough of the Bills offense since being signed on Wednesday and does not warrant an active roster spot for the game. The situation means that Bills tight end Jay Riemersma will be the emergency quarterback - an appropriate title should he be pressed into service.

Bills to Use No-Huddle?: In fitting tribute to Jim Kelly, the Bills may use the no-huddle offense periodically against the Seahawks today. Bills coaches want to leverage Alex Van Pelt's experience and rhythm in the West Coast offense and keep the Seattle defense from making frequent substitutions.

Centers Goes for Record: Buffalo fullback Larry Centers is just 50 yards shy of setting the NFL all-time receiving yardage mark at the running back position. Centers currently trails Lenny Moore and former Buffalo Bill Ronnie Harmon.

Gameday Weather: Conditions in Orchard Park are unseasonably warm today. The temperatures are in the low 60s under bright blue skies. Wind is blowing at 5 mph and should not be much of a factor in the game.


Saturday November 17, 2001


Injury Update: Bills strong safety Raion Hill has a sore shoulder and has been added to the injury report as questionable for Sunday's game against Seattle. Lance Brown and Keion Carpenter will share duties at strong safety and Travares Tillman will play free safety. In other injury news, Phil Hansen is expected to be a game-time decision. Updated Injury Page

"Emergency" Quarterback: Jay Riemersma could be the emergency quarterback on Sunday if the Bills activate only two quarterbacks. Alex Van Pelt will start at quarterback and will be backed up by Travis Brown. On Wednesday the Bills signed Scott Dreisbach to be the third string quarterback, but it is unclear whether he has learned enough of the offense this week to be active for the game. If Driesbach is inactive for the game the Bills will look to their tight end to take the helm in the unlikely event two quarterbacks are injured.

Bills to Simplify Play Calls: In light of recent problems calling plays and lining up correctly in a timely manner, the Bills have decided to simplify their play call terminology this week. In the past few weeks the Bills have been forced to take timeouts because plays came in late from the sidelines or players were confused about their formations and assignments. The Bills coaching staff feels that the complex play terminology was a factor. Look for the Bills to use less shifting and motion this week so that play calls will use less terminology.


Friday November 16, 2001


Bills Sign Long Snapper: The Bills have made an expected move by signing center/long snapper Mo Unutoa to a contract. To make room for him on the roster they cut center Michael Early who was never active for a game this year. He has snapped in 76 games over five years for Philadelphia and Tampa Bay.

Gray Wanted? Bills defensive coordinator was being considered for the head coaching job at the University of California-Berkeley. He has decided to withdrawl his name from that list since he said there is still much work to be done in Buffalo. There is also a report that Bills RB coach Steve Fairchild is being considered for the head job at San Diego State.

Long Snapper May Be Needed: The Bills have looked at several long snappers this week and may have to sign one today if Dan O'Leary is unable to go because of his wrist injury. Another option is using Bill Conaty to snap for field goals and Jay Riemersma to snap for punts. If the Bills do sign someone they will have to release a player which will probably negate them from activating a third quarterback. In other injury news, Tyrone Robertson hurt his ribs in practice yesterday but he is expected to be ok. Phil Hansen is still not practicing with his calf muscle strain. Updated Injury Page.


Thursday November 15, 2001


Kelly Game Not Sold Out: It appears the only way people in Western New York will be able to watch the Jim Kelly halftime ceremony on Sunday will be to be at the game. As of yesterday some 15,000 tickets remained for Sunday's game meaning it will become blacked out at 1pm today. The Bills were given a two minute extension by the league for Sunday's halftime ceremonies. The usual 12 minute break will be 14 minutes.

Injury Update: Besides Rob Johnson being out on Sunday, the Bills have four players listed as questionable and Keion Carpenter is now probable with his rib injury. One of the questionable players is long snapper Dan O'Leary who suffered ligament damage in his snapping wrist. He was unable to snap in practice yesterday, if he can't go on Sunday Bill Conaty will be the long snapper. Injury Report.


Wednesday November 14, 2001


2002 Preseason Opponents: The NFL announced today that the Bills will play four exhibition games. Their first two games will be at home against Cincinnati and Minnesota. Their last two games will be on the road at Indianapolis and Detroit.

Bills Sign QB: The Bills have added QB Scott Dreisbach to the practice squad. To make room for him they released defensive back Tim Carter off of the squad. Dreisbach is a former University of Michigan quarterback who spent the last two years injured on the Oakland Raiders. He made the team in 1999 as an undrafted free agent but was on injured reserve last year. Coach Williams said he may activate him towards the end of the week if he gets ready enough in an offensive package. Practice Squad.

Williams Comments: Coach Williams knows Alex Van Pelt will play as hard as he could play and said the team has a "pep in their step" as they help get him ready to play. The coach talked about his third wide receiver spot and reading in between the lines it appears that Reggie Germany has moved ahead of Jeremy McDaniel on the depth chart. He said Germany has put production on the board and is comfortable with the quarterbacks and they are comfortable with him. He praised his performance against New England. McDaniel has been completely released to play but the coach said they will have to see how he fits in to special teams. The coach hopes McDaniel will be ready to go if he has a good week in practice.

Seahawks Preview: The Bills head back home on Sunday to take on a strong Seahawks team. On the surface the Bills are severly overmatched. The emotions of Jim Kelly Day may be enough to help put the Bills into the game. Complete Preview.


Tuesday November 13, 2001


Should Johnson Stay? Everybody appears to be weighing in on whether or not Rob Johnson should stay after this year so we decided to put in our two sense. Correspondent Tony Bogyo takes a look at the history of the Rob Johnson debate and all sides of the argument whether he should stay or go. Johnson Dilemma.

Wilson Endorses Johnson: It appears the one man that really counts is still on the Rob Johnson bandwagon. Ralph Wilson said he has not given up on Rob and that when he is completely recovered he will be the team's quarterback. He also indicated to the Rochester D&C that Rob will be supported beyond this year with a restructured contract. Wilson acknowledged the obvious by saying they need to get more help for Johnson on the offensive line.

Bills Season Gets Worse: With the Bills now at 1-7 and Rob Johnson lost for most of the second half of the season if not all of it the Bills season is now officially a nightmare. Bills Thunder Report.


Monday November 12, 2001


Donahoe On Johnson: Tom Donahoe said that the injury to Rob Johnson doesn't change anything. He said they will evaluate him at the end of the season like they will evaluate all the players. The coach said he doesn't know if a third quarterback will be brought in yet, he may bring one to the practice squad or start using practice squadder David Dinkins at QB.

Johnson Injury Update: Coach Williams spoke about the injuries in his usual Monday press conference. As feared and speculated Rob Johnson broke his collarbone. It is a midshaft fracture and it is one break that needs to heal. He said he won't put a timetable on how long Johnson will be out. They will take a look at him later in the week. The coach said everybody heals differently and it is usually a four to five week thing to heal and then the player needs to get back into playing shape. It appears that if Johnson can return it would be for the last game or two if that. He did say the club is looking at all other available options and should know more later in the week on what they will do. Injury Page.

Johnson Loses Family Member: Rob Johnson had more bad news, as his grandfather passed away over the weekend, he has left the team to join his family today. He will return to Buffalo later in the week. Our sympathies go out to his family.

Williams Talks About Loss: The coach felt the team had a chance to win the game as the defense got the club back in the game with the big turnover in the final minutes. He felt the onside kick was scripted and executed perfectly but the ball did not bounce the right way. On Smith's 42 yard touchdown run the Bills were trying to strip the ball making them miss tackles. He felt a critical problem was not converting third downs offensively and giving up third and long conversions to the Patriots. On the punting, he feels the club needs to get better at punting in bad weather and he thinks Brian Moorman will bounce back. He admitted the team needs to get better at saving timeouts as they continue to burn critical timeouts because of a number of problems getting the plays in. He blames the commmunication and aligment problems that are causing them to burn timeouts a problem for everyone, coaches, quarterback, linemen, and receivers. He went on to say that the club believes in Alex Van Pelt.

Johnson's Season Appears To Be Over: The Bills aren't saying anything official yet but media reports say that Rob Johnson broke his clavicle in four places ending his season. This makes Alex Van Pelt the starting quarterback for the second half of the season. It may be fitting that Van Pelt will lead the team on Jim Kelly day next week since he is close friends and was the backup to the legendary former quarterback. The next question will be, what will the Bills do about Johnson next year? This year was his tryout and he gets an incomplete grade.

Bills Lose Another One: It was a game played under very windy conditions and it showed as both teams struggled offensively but the Patriots put enough together to gain the 21-11 victory in the Bills last appearance at Foxboro Stadium. Rob Johnson threw for 167 yards before leaving the game with a shoulder injury late in the game. The running game could not get untracked as the Bills trailed 14-3 until the final minutes. Alex Van Pelt hit Peerless Price for the lone Bills touchdown to pull them within three. Antowain Smith then got the ultimate revenge by breaking tackles on his way to a 41 yard game clinching touchdown. Complete Review.

Offensive Woes Continue: The Bills offense took another step back this week as the defensive played perhaps their most impressive game of the season. The front seven of the defense gatheried seven sacks, held Tom Brady to 107 yards passing, and forced three turnovers. The offense couldn't get into the end zone until late in the fourth quarter to waste the fine effort of the defense. The discrepency between the two units are laid out in our weekly grades. Gameday Grades.

Last Week's News Archives
---
News Archives Index
Archives Library
Latest News Main Page
Back to Bills Daily Homepage