| | | |
| --- | --- | --- |
| | Serving Bills Fans Since 1998 | Home |
---
Bills Pick Up Huge Win 38-21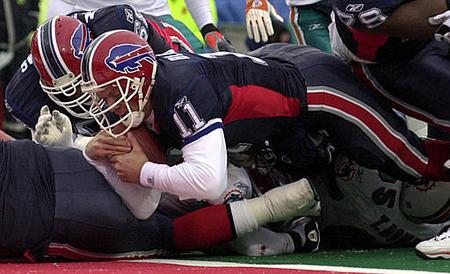 Big Plays Overcomes Williams: Ricky Williams ran for more yards in one game than any runner ever has against the Bills. Buffalo still won the game thanks to a return of the big play as Drew Bledsoe averaged over 20 yards a pass completion including hitting two bombs to Eric Moulds and one to Peerless Price. It was a great day for a resurgent offense and a split day for the defense as they totally shutdown the passing game but couldn't stop Williams. We break it down position by position. Gameday Grades.

Bills Win Wild Game: Drew Bledsoe threw for 306 yards and three touchdowns as the big plays returned for the Bills. Peerless Price caught two passes both for scores and Eric Moulds caught two long passes one for a touchdown. Travis Henry ran for 151 yards and a score as the big plays overcame a 228 yard performance by Ricky Williams. Complete Review.

No Major Injuries: The Bills escaped without any major injuries in the snow and sleet of Ralph Wilson Stadium. Jonas Jennings seemed to hurt his leg but he gutted through it. Antoine Winfield played without any hinderance from his lower leg strain. Injury Page.

Gameday Weather: It will be a wintry day at Ralph Wilson Stadium today. The high temperature is only expected to top out at 24°. The winds will be out of the west at a whopping 21mph making it feel like 9°. There will also be some snow showers, but if the lake effect snow band drifts north a bit more than expected heavy snow is possible.

Covington Killed: Former Bill LB Damien Covington was killed by robbers during a party on Friday night in New Jersey. Covington tried to fight off the assailant but was shot several times and died at the scene.


Saturday November 30, 2002


Marion Might Not Pay: The Dolphins were delivered a blow for tomorrow's game when S Brock Marion came down with back spams in practice on Thursday. He did not practice on Friday and he has been added to the injury report as questionable and is availability is up in the air at this point. The Dolphins also added defensive tackle Larry Chester to the report as probable with a hamstring injury. Injury Page.


Friday November 29, 2002


Weather A Factor: Weather may be a huge factor in the game Sunday, that could be good news for the Bills as Miami has to come north in what will seem like the dead of winter. Temperatures are expected to hover in the 20's with typical Western New York winds and snow in the forecast. The weather could meant he game will come down to Travis Henry vs. Ricky Williams. The Bills practiced in the fieldhouse yesterday but left all the doors open to simulate the wind and cold weather.

Fiedler To Dress: The Dolphins are going to dress QB Jay Fiedler and Coach Wannstedt will decide today whether or not he will be the backup or the emergency third QB. Cris Carter will also be a gametime decision for the Dolphins but it is unlikely that he will play. For the Bills, Antoine Winfield practiced yesterday and should be fine for the game. Injury Page.


Thursday November 28, 2002


Receivers Frustrated: Eric Moulds and Peerless Price finally talked to reporters after practice yesterday and acknowledged their frustration over their diminishing stats during the three game losing streak. They both want the ball more and Drew Bledsoe wants to throw it to them more. Moulds says the Bills need to get teams to come out of the cover two defense my challenging them deep. This week they may not face that defense much as Miami's lockdown corners will likely be in one on one coverage against Moulds and Price which may open up some big play opportunities.


Wednesday November 27, 2002


Bledsoe Says Team Needs To Get Back On Track: Drew Bledsoe spoke about the Bills troubles in his media day press conference. He said the team is disappointed at what has transpired over the last month but the team is moving forward and trying to do everything they can to get things back on track. He praised the veteran leadership of the club but they now need to step it up on the field to lead by example. One of the things that needs to be done is executing better since the team now has to march it down the field in small gains since team's are taking the big play away. The offense needs to do a few things differently to free up Eric Moulds and Peerless Price to get them the football. The answer to the offensive woes is simple according to Bledsoe, it is just executing each and every play. On a positive note, Bledsoe praised the offensive line saying the have improved to a point that they have become a dominant group. He said it will help the offense if they get the ball to Jay Riemersma more. He admitted that he and Jay were not on the same page last week when they struggled getting the ball to him, one play resulting in an interception. Scoring on the first drive would do wonders for the offense the quarterback said.

Bledsoe Expects Same Dolphins Defense: Drew Bledsoe said he doesn't expect the Dolphins to change their defensive philosophy much since they usually play the same way. He expects them to do man to man coverage since they have excellent corners. He knows the team needs to be sharper to put points on the board against one of the league's best defenses.

Williams On The Dolphins: Coach Williams had his usual media day press conference and talked about how the Dolphins are tough to play when Ricky Williams gets running. It also helps them that Ray Lucas has executed very well recently and that the receivers are getting healthy. One thing to watch out for with the Dolphins offense is their effective use of play action.

Bills Expected To Bounce Back: On the Bills' receiving problems, Coach Williams said that Eric Moulds and Peerless Price will bounce back and that they may need to get them inside some more. The coach talked about how the Bills are the 19th team to go on a three game losing streak and it can turn around quickly and it needs to start this week. He feels the veteran leadership, especially Drew Bledsoe will help lead the Bills down the stretch out of this tough time.

Winfield Sole Player On Report: The Bills only report one player on this week's injury report. Antoine Winfield is listed as probable with his lower leg muscle strain but he is expected to play on Sunday. He will not practice today just to rest it but he is fine. Miami has both Jay Fiedler and Cris Carter listed as questionable but neither will most likely play. They also have three players listed as probable. Injury Page.

Coach Talks To University: The Bills have granted permission for the University of Houston to talk with assistant special teams coach Tommy Kaiser. Coach Williams said Kaiser would be a tremendous asset to the university. He is a candidate for their head coaching job and is an alumni of the school.


Tuesday November 26, 2002


Bills Look To End Slide: The Bills will look to end a three game losing streak against the division leading Dolphins on Sunday. Miami will try to avenge the loss to the Bills in week 7 while the Bills look to just get back on track and save any hope of reaching the playoffs.Complete Preview.

Fiedler Won't Play: It appears that Jay Fiedler will begin practicing with Miami this week but won't return until next week. That means the Bills will see Ray Lucas for the second time this year. Lucas has played much better since the Bills win in Miami. The Dolphins have won two straight.


Monday November 25, 2002


Winfield Injury Minor: The Bills re-evaluated the injury to Antoine Winfield today and they said his lower leg strain is minor. He is expected to rest it some this week but he is expected to be ready to go on Sunday. Injury Page.

Beebe To Get Award: The Bills announced today that Don Beebe will receive the Ralph C. Wilson Jr. Distinguished Service Award in a ceremony before the Miami game on Sunday. Thurman Thomas and Pete Metzelaars were also scheduled to receive the award but can't make it to the game on Sunday. They will receive the award at another time. Beebe played for the Bills from 1989-1994 and is best known for swatting the ball away from Leon Lett in Super Bowl XXVII as Lett was going in for the Cowboys 59th point with a fumble recovery. The award honors a player's long and meritorious service to the club.

Favors Sees Action: Greg Favors saw his first action for the Bills yesterday and made one special teams tackle. He also saw a few snaps on defense. He said after the game that he wants to help this team and he felt ok out there but admitted he was a bit rusty.

Henry Shows Heart: It was amazing the best player on the field for the Bills in yesterday's debacle was Travis Henry. What is amazing about that is that he wasn't with the team from Friday night until late Saturday night because he had to fly to Alabama to attend the funeral of his grandmother. After scoring the Bills lone touchdown he seemed to do a symoblic gesture to his grandmother who is was very close with.

Adjustments Need To Be Made: The coaches need to make adjustments quicker. Coach Gilbride needs to adjust to the fact that defensive coordinators have caught up with a Bills offense that has now scored 36 points in the last three games. Coach Williams and the rest of the coaching staff must make adjustments on the fly during games when things aren't working on the field. I really believe that Jerry Gray will suffer the same fate Mike Sheppard did last year. Is the poor play of the defense all his fault? Probably not, but he will be the scapegoat.





Last Week's News Archives
---
News Archives Index
Archives Library
Latest News Main Page
Back to Bills Daily Homepage