| | | |
| --- | --- | --- |
| | Serving Bills Fans Since 1998 | Home |
---
Defense Leads Bills To Victory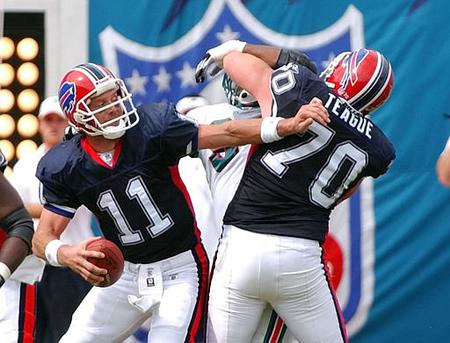 Bills Beat Dolphins: The Bills forced six turnovers as they went down to Miami and defeated the Dolphins 23-10. The win pulls the Bills to within one game of Miami for the AFC East lead and gives Coach Gregg Williams his first above .500 record as a head coach. The Bills used an interception return for a touchdown by Nate Clements and a 70 yard bomb from Drew Bledsoe to Eric Moulds to power the victory. Clements picked off three passes in the game. Complete Story.

Defense Does The Job: For the first time all year the defense picked up the slack for the offense. While the Bills sputtered in the passing game, they ran the ball well and the defense did the rest. Four interceptions and two fumble recoveries were just what the doctor ordered as the Bills pulled off the upset in Miami.Gameday Grades.

Injury Update: The Bills made it out of Miami without any new injuries. Mike Williams, Antoine Winfield, Tony Driver and Dave Moore all sat out with their injuries. Injury Page.

Teague, Moulds To Play: Trey Teague and Eric Moulds both participated in walkthroughs on Saturday and will play today. Moulds is suffering from back spasms and Teague has a sprained ankle.

Winfield Has Cartilage Damage: The news was good after surgery for Antoine Winfield. It was just cartilage damage and not a ligament tear. That means he should be back on the field in a couple of weeks. Most likely he will not return until after the bye week, meaning he would miss three games starting with today's matchup with Miami. There is an outside chance he could return before the bye.

Gameday Weather: It will be a typical Southern Florida day when the Bills face the Dolphins. The temperature should top out at about 85° but the humidity will make it feel like it is in the 90's. There is a 20% chance of a thundershower.


Saturday October 19, 2002


Winfield Update: The Bills believe Antoine Winfield has torn cartilage, not a ligament tear. They also believed Shawn Bryson had a cartilage tear also. Until the Bills get the results of the arthroscopic surgery we won't know for sure. Torn Cartilage may get him back on the field after the bye week which is in two weeks. A torn ligament would end his season like it did to Bryson.

Bostic To Get Playing Time: The Bills need to replace Antoine Winfield in two places. His regular outside corner position in regular defensive schemes and his slot spot in the nickel and dime packages. Kevin Thomas will likely backup Chris Watson outside and Jason Bostic will play the slot in nickel and dime packages. Depth Chart.

Winfield Out Sunday: The injuries are piling up at a record pace for the Bills after being free of them the first month of the season. In the biggest blow yet, Antoine Winfield will miss Sunday's game after undergoing arthroscopic surgery on his knee yesterday. He injured it in practice on Thursday and it wasn't believed to be serious at first. It is unknown how long he will be out. Of course, the injury to Shawn Bryson wasn't believed to be serious either. Bryson is now on injured reserve and his roster spot has been filled by Ahmad Brooks who will be a backup cornerback this week. The much maligned Chris Watson moves into the starting role and will be backed up by Kevin Thomas, Jason Bostic and Brooks. Injury Report.


Friday October 18, 2002


Bryson Lost For The Year: The injury to Shawn Bryson is worse than originally feared. During authroscopic surgery on Wednesday it was determined that he tore knee ligaments, not just cartilage as originally thought. He was placed on injured reserve today and is out for the year.

Winfield, Moulds Miss Practice: Eric Moulds and Antoine Winfield both missed practice again on Friday. Moulds is now listed as probable on the injury report with back spasms and Winfield is getting tests done on the knee he injured in yesterday's practice.

Injury Update: Dave Moore practiced fully on Thursday and has a good chance of plalying on Sunday. Eric Moulds, Antoine Winfield and Chidi Ahanotu left practice early on Thursday. Moulds was suffering from back spasms while Winfield was suffering from a sore knee. Ahanotu was also resting his ankle that he hurt two weeks ago. All three of those players should be ready to go on Sunday. Injury Report.

Teague Probable: As expected the Bills have added Trey Teague to the injury report as probable with a sprained ankle. He is expected to play. The Dolphins it appears will be without Oronde Gadsden because of his wrist injury. If he can't go, and Chris Chambers can't go, the Dolphins will be without their two starting receivers.


Thursday October 17, 2002


Teague Rolls Ankle: The Bills injury situation got a little bit worse yesterday. Trey Teague rolled an ankle in practice and is expected to be added to the injury report. He was walking ok after practice and should be able to play on Sunday. Injury Report.


Wednesday October 16, 2002


Henry Earns Honors: Travis Henry has been named the AFC Offensive Player Of The Week for his 159 yard effort against Houston last week. He becomes the second Bill to receive that honor this year as Drew Bledsoe won it earlier in the year against Minnesota. Mike Hollis also won the special teams honor that same week.

Bryson Out This Week: The Bills injury report is now resembling a team in the middle of the season. Shawn Bryson is out with his knee injury. He is having surgery today and has a cartilage tear. Mike Williams is doubtful with what is being called a significant strained hamstring. Marcus Price may make his first career start in the NFL on Sunday but Williams has not been ruled out yet. Dave Moore is listed as questionable once again with his broken left hand, he will practice today. Moore was inactive last week against Oakland. Reserve safety Tony Driver is also listed as questionable with a quad strain, he is day to day. The Dolphins report has 11 names on it as QB Jay Fiedler is out, both starting wide receivers are listed as questionable and another is listed as probable. Injury Report.

Williams Feels Dolphins A Good Test: Coach Williams talked about the Dolphins in his Wednesday press conference saying they have a great middle linebacker and excellent corners who cover well and are aggressive. He feels the team will be able to measure their improvement against a quality opponent this week. The veterans keep talking up the rivalry against Miami and how important it is. Talking about Chris Watson, Williams emphasized that he played very well in the second half and he needs to keep that confidence. Williams feels Ray Lucas is an effective quarterback who played a lot and well in the preseason. He expects the Dolphins offense to remain strong and put a little more burden on Ricky Williams. They know they will have to play pure techinique to not let Williams beat them. The coach feels the offensive line is playing very well especially Marques Sullivan who has had more dominating blocks than any other linemen.

Bledsoe Calls It A Big Week: In his weekly Wednesday press conference Drew Bledsoe feels the club is making strides towards becoming a group that can be physically dominate. He says the key is not to be predictable and to be consistent. He feels the club needs to do everything well to be successful and effective offensively. What has allowed the team to be productive offensively is because everyone has been successful making plays. He feels the Dolphins are playing as well as anyone in the league and this is an important week for the team to show that they belong in the top part of the race for the AFC East.

Bills In For A Battle: Despite missing their starting QB the Miami Dolphins will be a tough battle as the Bills desperately need a win if they are going to be considered possible contenders for a playoff spot. This game will show fans where the Bills are at. A win they are contenders, a loss they are just pretenders. Game Preview.


Tuesday October 15, 2002


Offensive Numbers Impressive: The Bills continue to put up staggering numbers offensively. Eric Moulds and Peerless Price are on pace for over 1,500 yards receiving and more than 110 receptions. Moulds leads the league in receptions, while Price leads in receiving yards. Drew Bledsoe continues to lead the league in passing yards and is second in completions, attempts, and touchdowns. We have much more on our did you know section of our gameday homepage.


Monday October 14, 2002


Williams Not Out Yet: Coach Williams called the injury to Mike Williams a strain again today. He said they will do a few things with the injury tomorrow and re-evaluate him on Wednesday. He did not rule out the possibility of the big man playing on Sunday.

Bills Look To Dolphins: The Bills were hoping they would get a chance to play for a share of first place next week in Miami but that won't happen. Miami's win over Denver yesterday gives them a two game lead over Buffalo heading into next week's showdown. The Dolphins will be without starting QB Jay Fiedler who fractured his thumb in the closing minutes of yesterday's game. Ray Lucas will start in his place.

Williams Injury May Be Serious: The hamstring injury to Mike Williams is being called a strain by the Bills. It appears like it is more serious however, he left the stadium on crutches and will have an MRI today to determine the extent of the injury. Shawn Bryson suffered a sprained right knee in the game and will also have an MRI today. Injury Page.


Wednesday October 9, 2002


Bills Guard Against Looking Ahead: Drew Bledsoe joked in his press conference when asked about looking past the Texans, when do we play the Dolphins? He feels this game is a big enough challenge to stay focued on the Texans and not look ahead to next week since the team isn't good enough to do that.

Bledsoe Needs To Limit Mistakes: Drew Bledsoe has a quandry that he talked about in his Wednesday press conference. He admits he needs to be a little more careful when throwing the ball not to make mistakes but it can't be at the expense of the aggressiveness he has in the passing game. He feels the duo of Peerless Price and Eric Moulds are as good as any in the league and he needs to let them make plays by putting the ball out there. He feels the Texans have a complicated defensive scheme that will test the Bills. They will make some plays but the Bills offense needs to bounce back when that happens without any real negative effects. Bledsoe knows his weakness is throwing on the run and he continues to work on it so he doesn't make any big mistakes without losing his aggressiveness. It's a balance between making big plays in broken situations and throwing the ball away to not make a big mistake.

Extensive Injury Report: The Bills have three players listed as questionable on the injury report this week. Pat Williams, Chidi Ahanotu, and Dave Moore are all on the list. Ahanotu suffered a sprained ankle against the Raiders and Moore broke his left hand. Williams is a surprise on the report with a chest injury. Despite coming off a bye, the Texans have seven players on the report including two players out for the game. Injury Report.

Bills Look At Snappers: The Bills took a look at two long snappers yesterday because of the injury to Dave Moore. Both players brought in yesterday were from the Vikings organization and were in for a look a few weeks back. It's unlikely the Bills will sign one of them, they will probably give Jay Riemersma a shot this week. He snapped in the fourth quarter against the Raiders and was flawless in two snaps.


Tuesday October 8, 2002


Texans Come At Good Time: With the Bills defense reeling from last Sunday's loss to the Raiders and inept performances every other week this season, the expansion Texans may be just what the doctor ordered. The Texans are the worst offensive team in the league, so even the Bills porous defense should have some success this week. We have our preview on our gameday homepage. Complete Preview.

Ratings Remain High: The local ratings for Sunday's game against the Raiders was 37.5 and a whopping 68 share. That topped all other NFL cities in a market to market comparison. The share was the highest in Buffalo under new measuring meters put into place two years ago.

Offensive Numbers Staggering: The Bills continue to put up offensive numbers at a record pace. Drew Bledsoe leads the league in yards, completions, and attempts. He is second in the league in completion percentage and touchdown passes. He also is responsible for 82.6% of the offense. With the passing game in high gear Eric Moulds and Peerless Price is one and two in the NFL in receiving yards and 1 and 3 in receptions respectively. Moulds has eight or more catches in an NFL record five straight games to start a season. There are more Bills tidbits on the left side of our gameday homepage in our did you know section.

Charity Events: Drew Bledsoe, his father Mac, the the team mascot were at the Blue Cross/Blue Shield event this morning for the fourth annual Rush for Reading Challenge. This evening several players are expected at a Cerebral Plasy event for the Visually Impaired, Child and Adolescent Treatment Services, Boys and Girls club and Prevention Focus. Among the players expected to attend the 4:30-6:00 event are London Fletcher, Ruben Brown, Eddie Robinson, DaShon Polk, Pat Williams, Pierson Prioleau, Kendrick Office, Dominique Stevenson, Ahmad Brooks and Rodney Wright.


Monday October 7, 2002


Moore Breaks Hand: An injury that was not immediately known yesterday was to TE Dave Moore. He broke his left hand and is now wearing a soft cast on it. He will be re-evaluated tomorrow to see if he can play in this weekend's game but he will not be able to handle the long snapping duties. Jay Riemersma will take on those responsibilities. Chidi Ahanotu was re-evaluated today and he is listed as day to day with his sprained ankle. It was heavily taped after the game. Injury Page.

No Injuries Reported: One good thing to come out of the loss was the lack of injuries once again. Chidi Ahanotu was the lone Bill shaken up in the game. He suffered a sprained left ankle but did return.





Last Week's News Archives
---
News Archives Index
Archives Library
Latest News Main Page
Back to Bills Daily Homepage