Whitner Signs As 1st Week Ends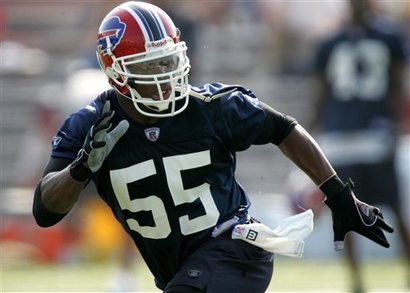 Some Contract Details: The deal signed by Donte Whitner is the second largest rookie contract in team history behind Mike Williams's deal. It is for five years, instead of the six allowed by the collective barganing agreement. He is expected to earn around $29 Million with more than $13 Million of that guaranteed. He will get 15 percent more than last year's no. 8 pick and $12 Million more than the no. 9 pick in this year's draft.

Whitner Working To Catch Up: The players have the day off today as the CBA requires that they get 24 hours off. They were dismissed after yesterday's practice on don't have to return to camp until dinner tonight. One player staying around St. John Fisher College is Donte Whitner. He had extra meetings with DB coach George Catavolos last night and today. He is spending the rest of the time watching films of all 14 practices and walk throughs he missed. Whitner is known as a film rat and is expected to work hard trying to catch up.


Saturday August 5, 2006


Evans Remains Out: Either the injury to Lee Evans is worse than the club leads us to believe or they are just being extra cautious. Last year paranoia set in and you would have said they were hiding something. This year I'll give the coaching staff the benefit of the doubt. Evans has a minor shoulder injury and he dressed Friday and took part in some individual drills but did not practice again today. Ashton Youboty, Dylan McFarland and Craig Nall remain out. Youboty and Nall with their hamstring injuries, McFarland with a knee injury. Terrence Pennington missed yesterday and today's workouts when he was excused for personal reasons. Injury Page.

Whitner Looks To Catch Up: Donte Whitner told the media he thinks he can catch up but admitted he is a little behind. It helps him that the defense is similar to the one they ran in Ohio State and he has been in contact with the other defensive backs. He will have some meetings with coaches this weekend to help him get caught up.

Controlled Scrimmage: Part of today's practice had the young guys go at it in a controlled scrimmage. It was a 16 play scrimmage. Fred Jackson got a lot of reps running the ball with mixed success. Kliff Kingsbury was the only QB to take part in the scrimmage and threw completions to Jon Goldsberry, Chris Denney, and Kevin Everett according to the team's website.

Offense Rebounds: The offense rebounded today from their terrible performance during Friday's practice. It was one of their better outings of camp. Kelly Holcomb appears to be getting more reps than J.P. Losman. He had a majority of the reps on Friday and the first 10 snaps during 11-on-11 drills today. Losman was sharp hitting two long bombs when he did get on the field. He had more time to throw and more passing plays called for him than Holcomb. Losman did have the only two minute drill of the day and he led the team to a score. Peerless Price led the way for the resurgent offense.

Brazen Released: The Bills made room for Donte Whitner on the 80 man roster by releasing punter Josh Brazen. He had no chance of making the team but did help keep Brian Moorman's leg fresh.

Whitner Signs: The Bills finally have their top pick in the fold. This morning Donte Whitner hopped a plane to Rochester and signed a contract with the Bills just an hour before today's practice. Dick Jauron did not want to rush him on the field since had to get fitted for his gear so he did not participate today. Jaruon said "he's significantly behind" but the signing is good news. While the coach is confident in Whitner's abilities they don't have the time to devotet to him to get him caught up. Front Office Page.

"Scrimmage" Today: The Bills workout today at 1pm will feature a controlled workout that Dick Jauron stops just short of calling an intrasquad scrimmage. It will feature the backup players that are fighting for a roster spot and it will give the young players a chance at extra reps to impress the coaching staff.

Evans Dresses: Lee Evans was back on the practice field yesterday for the afternoon workout but only took part in individual drills but was fully dressed in pads. They are being conservative with his shoulder injury and taking it slowly. Ashton Youboty was in pads for the first time yesterday as he is recovering from the hamstring strain he suffered last weekend. Injury Page.

Defense Dominates Again: The defense shined once again during yesterday afternoon's lone workout. It got so bad that Kelly Holcomb called the receivers together for a meeting shortly after practice with J.P. Losman right next to him. The offense was sluggish as the defense dominated in all areas according to reports.

Whitner Update: Marv Levy updated the contract negotiations with Donte Whitner yesterday. He talked to Whitner's agent and told him the team is going to have to move forward without Whitner. The only glimmer of hope Levy said was that Whitner told his agent he wants to get in camp.


Friday August 4, 2006


Rainy Practice: The Bills practiced in on and off heavy rain last night. The big news was the return of Takeo Spikes to 11-on-11 drills. He took a few reps and made a good sideline to sideline play to cut off a run. The next step for him is to work into 9-on-7 drills.

Evans Injury Update: The injury to Lee Evans is to his shoulder not his wrist as previously thought. He is day to day and did not practice yesterday. Also missing the session was Ashton Youboty, Dylan McFarland, and Craig Nall. McFarland had his knee wrapped on the sidelines. Injury Page.


Thursday August 3, 2006


Evans Held Out Of Walk Through: The Bills held a walk through workout this morning in anticipation of tonight's full night practice. Lee Evans was held out of the workout with a sore wrist. He hurt in the waning moments of yesterday's practice. He continues to insist he's fine. Also missing the workout was Ashton Youboty who is recovering from a hamstring injury as is Craig Nall who remains out. Takeo Spikes also took the walk through off. Injury Page.


Wednesday August 2, 2006


Bills, Whitner $1 Mil Apart: A report by AP sheds more details on the contract negotiations between the Bills and Donte Whitner. The report says Whitner wants $14 Million in guaranteed money and the Bills are offering only $12.9 Million guaranteed. The 7th overall pick got $15 Million guaranteed and the 9th overall pick got $12.1 Million guaranteed. Whitner wants closer to the money Michael Huff got at number 7 because they play the same position. Wouldn't a compromise of $13.5 Million guaranteed get this thing done?

Heat Hurts Offense: The heat of today's practice session took its toll on the offense. They struggled after having a goog practice last night. The team had moved the practice to the morning and to the grass field to try and combat some of the heat of a torrid heatwave in the Northeast. Lee Evans missed the final ten minutes of the practice after hurting his wrist. He said afterwards that he was fine it just popped in and out of place. Two players that performed very well today and are having good camps overall are Peerless Price and Jabari Greer.

Bills, Whitner Far Apart: The Bills and Donte Whitner are reportedly several million dollars apart in guaranteed money and Marv Levy said a deal is not imminent. He finally spoke to Whitner after several unsuccessful attempts to reach him by phone. Whitner is working out at Ohio State and fellow Buckeye alumni Ashton Youboty said he's keeping Whitner up to date on the going at camp. Whitner has called Youboty every night for a recap of that day's events. Youboty admits it will take time for Whitner to catch up once he signs.

Throwback Uniforms: The Bills official website is reporting in their blog that the team will wear their throwback jerseys again this year for two games. One of the games will be the opener the other one is to be determined.

Offense Shines In Heat: J.P. Losman called last night's practice the best one so far for the offense as both quarterbacks and the receivers were very sharp. As we reported yesterday, the practice was moved to the grass field because of the heat. That field has no lights and they were rushing to get all their work in before darkness settled in. Larry Tripplett shined on defense. Ashton Youboty was dressed but did not participate. The team wore their throwback helmets during the practice. The team hits the field today for a morning practice to beat the heat.


Tuesday August 1, 2006


Tonight's Practice Moved: In another effort to fight the extreme heat the Bills have moved tonight's practice to the grass fields instead of the turf field they normally workout on. The grass field is a cooler surface.

Practice Time Changed: The Bills have changed practice time for tomorrow's session because of the intense heat wave in the Northeast. Instead of a 1:10pm practice time they will hit the field in the morning instead. They will workout 10:15am - 12:20pm. This way they don't practice in the hosttest part of the day. They do have a quick turnaround after tonight's practice ends around 9:15pm.

Bills Sign FB: The Bills have added a fullback a day after releasing one. Alan Ricard is now with the Bills. He spent his entire career with the Baltimore Ravens where he paved the way for Jamal Lewis' 2,000 yard season in 2003. He was released by the Ravens two weeks ago and was weighing offers from Cincinnati and Houston. He said he decided on the Bills because of the presence of Willis McGahee. Ricard spent four years with the Ravens and has 32 starts to his credit and has 173 rushing yards, 179 receiving yards and two touchdowns to his credit. He will challenge Daimon Shelton for the starting job and upgrades the depth of the position tremendously. The Bills made room for him yesterday by releasing FB Derrick Ming. He is expected on the practice field with the rest of team tonight. Depth Chart.

Youboty Still Out: Ashton Youboty remains sidelined with his hamstring strain. He did take part in warmups yesterday but not the practice session. The team is being cautious so he doesn't aggravate the injury. The timetable for Craig Nall's return is also uncertain but one report says it may be from 10 days to three weeks. The best case scenario has him back for the first preseason game but this type of injury is pretty unpredictable. The longer he is out, the longer his odds are of getting back into the starting QB battle. Injury Page.


Monday July 31, 2006


Spikes Takes Another Step: Takeo Spikes took another step in his comeback by participating in individual and pass coverage drills during today's first padded practice of the camp. An enthusiastic Spikes actually got over eager and bowled over an intern accidently going for a pick in 7-on-7 drills. Spike said he didn't see as many reps as he wanted to but it helped him gain some confidence. He said he wasn't favoring one leg and was putting extra emphasis on the Achilles leg without any problems.

Whitner Talks Stalled: Talks between the Bills and top pick Donte Whitner are at a standstill. Whitner is one of just three first round picks unsigned and he is top pick not signed in the league. Marv Levy said he was more encouraged two days ago than he is now about a deal getting done. Whitner said he thinks the two sides are close to getting a deal done and that the issues separating the two sides aren't major. He said it won't be long and he's been studying his playbook and working out two hours a day. Levy doesn't deal with contract negotiations but did get involved by contacting Whitner's agent. He told him the team is prepared to move forward without Whitner and his "chances of winning a starting job are diminishing swiftly".

Ming Released: Prior to this morning's practice the Bills made a roster move. They have released FB Derrick Ming. He had very little chance of making the team. Depth Chart.

Special Teams Gets Focus: The Bills focused a bit on special teams with a 20 minute session at the beginning of yesterday's walk through practice session that was closed to the public. The team also concentrated on weight lifting and protection schemes. John McCargo participated fully despite his trip to the hospital on Saturday evening and of course Craig Nall did not participate. The team has one practice today at 11am and will put the pads on for the first time.

Nall Upset: Obviously Craig Nall is down after his injury. He said he will follow the trainers and doctors orders to the letter so he can get back on the field as quickly as possible. He has had a hamstring injury in the past so he knows he can't rush it back too soon because that will risk a re-injury. He will try to remain upbeat and learn what he can from the sidelines, he figures everything happens for a reason. He still does not know the severity of the injury, that won't be known for a few days when the swelling goes down. They will watch him day to day but he definitely is out for today's practice.



---
News Archives index
Latest News Section
Archives Library
Back to Bills Daily Homepage