Bills Lose Preseason Opener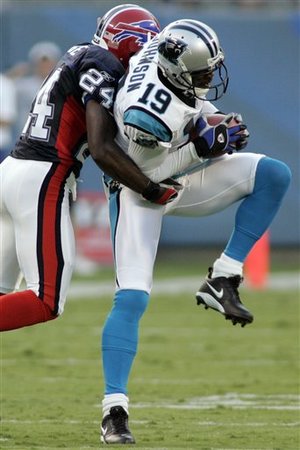 Injury Update: The injury Matt Bowen suffered last night is being called a leg-nerve contusion and is not considered serious. As we reported earlier x-rays were negative. Tim Anderson suffered a sprained shoulder but it isn't serious either. Other minor injuries were occured by Jon Goldsberry and Roscoe Parrish. Goldsberry had a mild high ankle sprain and Parrish a minor groin strain. Injury Page.

Who Helped Themselves: The case can be made that J.P. Losman helped himself. That may be because he totally outplayed Kelly Holcomb. Losman did some nice things but he did struggle against some of the first teamers of Carolina. He picked up with backups in there, of course by then the Bills were playing with back ups of their own. Which brings us to our next point, depth. The Bills depth helped themselves as their backups seemed to dominate the Panthers backup. Trying to add depth definitely showed itself in the peseason opener. Lionel Gates helped himself with a beautiful hard charging touchdown. He finished with 31 yards on 8 carries, just shy of a four yard average. Sam Aiken came up big with four catches for 73 yards. On defense, Ryan Denney was very active early finishing with three tackles. Rookie Donte Whitner got more playing time than anticipated because of the injury to Matt Bowen and led teh team with five tackles. He did get called for an unsportsmanlike conduct penalty though. Defensive coordinator Perry Fewell helped out his scheme by doing something that was rarely done last year... making adjustments. The defense was rolled over on the Panthers first possession for a touchdown, and they shut them down after that. Kyle Williams performed very well and appears to be challenging for a starting spot. The 5th round pick has leap frogged first rounder John McCargo.

Who Hurt Themselves: Obviously Kelly Holcomb did not help himself with his 2 for 4 performance and the interception. The team did not get a first down in his four series. The offensive line looked like the line of old allowing six sacks, five when J.P. Losman was under center. This is the one position where depth did not shine. The starters as a whole hurt themselves while the backups mostly helped themselves. The Carolina starters showed why they are light years better than the Bills as they dominated the early going. Shaud Williams didn't help his roster fight, he averaged only 18.3 yards on the Bills three kickoff returns. He carried the ball four times for 12 yards as well.

Bowen Hurt: Matt Bowen left last night's game early after injuring his leg. He was immediately taken into the locker room were x-rays were negative but he was having trouble putting weight on it. Donte Whitner got increased playing time in his absence. Injury Page.

Bills Lose: Kelly Holcomb had an interception returned for a touchdown while the defense stiffened after giving up a touchdown on the Panthers opening offensive series. It wasn't enough as the Bills lost 14-13. J.P. Losman played well with the second unit after struggling when he first came in the game. He finished 15 of 24 for 144 yards and an 18 yard run. Lionel Gates scored the Bills lone touchdown on a tough 3 yard run where he never gave up on his way to the end zone. Rian Lindell hit both field goal attempts from 50 and 45 yards out. Check back later today for our list on who helped and who hurt themselves.


Saturday August 12, 2006


Bills Set For First Test: The Bills are in Carolina for their first test of the preseason. This is the first time in a few years that they did not have a scrimmage so this will be their first time facing someone else but themselves. Out for Buffalo tonight are Takeo Spikes and Craig Nall. Coy Wire and Lauvale Sape made the trip but are gametime decisions and likely won't play. Out for Carolina is their star WR Steve Smith with a strained hamstring and S Mike Minter because of the death of his mother. TE Kris Magnum is also out for Carolina.


Friday August 11, 2006


No Pads Today: The Bills practice today was without pads as they got their work done early and flew to Carolina for tomorrow night's game with the Panthers. Takeo Spikes once again was held out of practice to give him a nice break. He will not play tomorrow night.

Wire, Sape Out: The Bills are fairly healthy heading into the preseason opener against Carolina. Coy Wire and Lauvale Sape will most likely miss the game. Both have muscle strains in the back area. They will be gametime decisions. As expected Takeo Spikes will not play, he was also given the night off last night and did not practice as they ease him back into game shape. Injury Page.

QBs Struggle In Night Practice: Both quarterbacks had their problems in last night's practice as there were three interceptions on the day. They chalked it up to still learning the new system. Both signal callers got play sheets for tomorrow night's game and they did practice some of the plays but plan on keeping it vanilla. Roscoe Parrish was the offensive star last night. The team has a quick turnaround with a morning practice today before leaving for Carolina this afternoon.

Holcomb To Start: Dick Jauron announced after practice yesterday that Kelly Holcomb will get the start against Carolina on Saturday night but not to read too much into it. Holcomb is expected to play into the 2nd quarter and then J.P. Losman will come in. The coach said Losman will likely start next week's preseason game. The decision to start Holcomb was based on seniority. Losman is expected to get a few snaps at least with the first unit against the Panthers.


Thursday August 10, 2006


Battles To Watch Saturday: As the Bills prepare for their first preseason game on Saturday in Carolina, there are many battles the fans will be interested to watch besides the well publicized QB battle. One of the most hotly contested battles will be for the backup running back spot. It seems to be a tossup right now between Anthony Thomas and Lionel Gates. It will also be interested to see who gets more reps and at with what units at wide receiver. It is an extremely deep position with only five or six openings. On defense it will be interesting to watch the defensive line rotation as nobody has taken charge of the fourth end spot and the rotation at tackle will be a thing to watch for. Strong saftey is another spot to watch as well. Which battle will you watch closely? Take our new poll on our homepage and let us know. Depth Chart.


Wednesday August 9, 2006


QBs Play It Safe: Both quarterbacks struggled a bit in this afternoon's practice session. Holcomb was more accurate but both QBs played it safe with the short passing game. Robert Royal and Sam Aiken had nice practices according to the team's website. There was another visitor today at camp as Jim Kelly stopped by. Coy Wire remained out with a strained back muscle. Injury Page.

Holcomb Has Bad Night: By his own admission Kelly Holcomb had a poor night yesterday as the team held a night practice. He threw three interceptions, fumbled a snap, and was sacked twice. Dick Jauron admitted that Holcomb struggled at times. A surprise visitor to camp was hall of fame hockey coach Scotty Bowman. He addressed the team and talked about attitude. He also said the Bills have the right guys running the show in longtime friends Jauron and Marv Levy. The team practiced punt returns and Roscoe Parrish broke one for a long gain. On defense they played almost exclusively in the nickel package on defense. That package saw rookie Kyle Williams lining up with the first team. Jauron said Williams is a smart player and he plays well in that scheme.

Nall Getting Close To Returning: After last night's practice Craig Nall stayed out on the field to do some jogging and throwing. He said he's getting closer to returning to the practice field. He hopes to return next week. He is moving around better and taking better drops then he was able to do even a few days ago. He said not to count him out of the starting QB battle just yet. In other injury news, Coy Wire missed last night's practice with a minor muscle strain in the back area. Injury Page.


Tuesday August 8, 2006


Whitner Number Switch: The first big purchase with his new contract was a number for Donte Whitner. He purchased the #20 from Shaud Williams for an undisclosed sum that is seven figures with the decimal point. Whitner did not want to wear his issued #36 because it belonged to his predecessor Lawyer Milloy. He also wanted #20 because many great safeties wear that number. He wore #9 at Ohio State.

Starter Soon At QB: Dick Jauron said yesterday he thinks he knows who will start at QB on Saturday against Carolina but that will not mean that person is the starter entering the season. A final decision was expected to be made last night after a meeting with the coaches but he doesn't plan on making it public until Thursday or Friday. He said the starter this week may be based on seniority or reverse seniority. Expect Kelly Holcomb to get the nod for the first preseason game.

Vincent In The Slot: Troy Vincent embraced the move to free safety over a year ago, now he finds himself playing some corner as well. During some formations he has lined up in the slot to take advantage of his cover skills. No word yet on if he will play there at times during the season.

Linebacker Shuffle: The release of Jeff Posey helped bring about a bit of a shuffle at linebacker. Josh Stamer is now backing up Angelo Crowell on the weakside while Mario Haggan remains the prime backup to Takeo Spikes on the strong side. Stamer is a better fit than Posey since he fits the mold of smaller, quicker players. In the middle of the defense Courtney Watson appears to have passed Liam Ezekiel as the number two middle linebacker behind London Fletcher. We already had him as the #2 on our depth chart.

Monday August 7, 2006


Monday Practice Notes: The offense was victim of too many penalties and three dropped passes during today's workout. Other than that, both QBs performed well according to the team's official website. Special teams did some work on onside kicks and the defense had some bright spots including big plays from Aaron Schobel and Ko Simpson.

Evans Returns: Three injured Bills were back on the practice field today. Lee Evans, Ashton Youboty and Dylan McFarland returned to the field. Evans and Youboty participated fully while McFarland was limited. Heading to the locker room during practice was Brad Cieslak with an undisclosed injury. Kiwaukee Thomas misses some practice time with tightness in his leg and LaWaylon Brown did not practice at all because of a leg injury that doesn't appear to be serious. Injury Page.

Whitner Hits The Field: Donte Whitner hit the practice field today for the first time as a Bill. He worked out with the second unit in the team's lone practice of the day today. He felt he did pretty well despite being thrown a curve ball and having to tweak a few small things on the field. Coach Jauron said the running that Whitner did on Saturday and Sunday helped him out. DB coach George Catavolos said you can tell he missed 12 practices as he forgot a few things on the field. No decision has been made on whether or not Whitner will play in Saturday's preseason game.

Release In His Best Interest: After practice today Dick Jauron said he released Jeff Posey now, rather than later, so he has a chance to catch on with another team. The move was in the best interest of the team and Posey. Jauron said Posey is a player that represents the NFL well.

Bills Release Posey: The Bills announced today that they have released Jeff Posey. It is surprising that this move was made at this time although his eventual release would not have been a surprise. Posey lost his starting job to Angelo Crowell at the beginning of camp because Posey is considered too big and not fast enough for the new defense. It was thought that Posey would compete for a backup spot and as a situational pass rushing end. His inflated salary made keeping him not cost effective in the long run. Depth Chart.

Linebacker Shuffle: Anyone following camp closely knows the Bills have made moves with the linebacker corps. As we reported over a week ago, Angelo Crowell has moved into the starting lineup in place of Jeff Posey. The surprise of this move is that Crowell is remaining at the weakside linebacker spot (the non-tight end side) he held last year when Takeo Spikes was out with his Achilles injury. Spikes moves to the strongside spot. He played on that side in Cincinnati and doesn't expect the move to pose a problem. In the Bills new attacking style cover two defense, it doesn't matter too much which side a linebacker plays since they have similar responsibilities.



---
News Archives index
Latest News Section
Archives Library
Back to Bills Daily Homepage