Bills Lose Another Preseason Game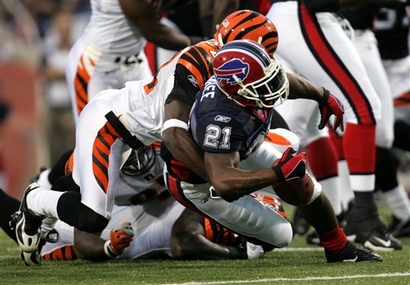 Price Missing: Peerless Price was absent from practice today. The Bills would not comment beyond that but Dick Jauron is expected to address the situation tomorrow. Price has been held without a catch in the first two preseason games and it appears his absence was not expected or excused.

Bowen Returns To Practice: The Bills had a closed practice session today and Matt Bowen was on the field for the first time in a week. He suffered a bone bruise in his lower right leg against Carolina. Eric King missed the workout after suffering back spasms against the Bengals. Troy Vincent practiced on a limited basis after missing the Bengals game with a hamstring injury. Willis McGahee was on the field after missing some time Friday night after getting ill on the sidelines. Injury Page.


Saturday August 19, 2006


Nall Helps Himself: Among the players that helped themselves tonight are two players who had their spots locked down before the game. Willis McGahee and Lee Evans showed why they are the top offensive weapons on the team. Neither player was in danger of losing their job but they may have helped themselves to more rest before the season starts. Craig Nall may have done enough to give the coaches something to think about. His 114 QB rating and command of the offense, albeit against third stringers in a rout, was very good. Shaud Williams may have helped himself with a 6.5 yard per carry average. Mario Haggan had five tackles and played well after not getting the start tonight. Wendell Hunter started in his place. Ryan Denney and Chris Kelsay both helped themselves as they played well.

Losman May Have Hurt Himself: J.P. Losman certainly had his bright moments against Cincinnati but his three turnovers deep in his own territory were unacceptable. The two fumbles were terrible, the interception return for a touchdown may have been Josh Reed's fault. This may open the door for Craig Nall to get back in the QB race. It doesn't look like Kelly Holcomb will be joining him in that race. He had the least amount of reps, playing the third quarter but throwing only five passes. Peerless Price could be in trouble. He got the start but didn't catch a single ball.Aaron Schobel continues his very quiet camp. If he continues to struggle he may lose playing time to Ryan Denney or Chris Kelsay. Kyle Williams seemed to take a step back down to Earth against the Bengals.


Friday August 18, 2006


Vincent Held Out: Along with the players that were expected to be out, Coy Wire, Matt Bowen, Matt Morgan, and Dylan McFarland, the Bills were without a couple of other players. Troy Vincent was given the game off and Rashad Baker started in his place. Ashton Youboty was excused from the game because of a death in the family. During the game the early look appears only two players got banged up. Willis McGahee went to the locker room as he came off the field twice with what looked like a shoulder or a neck problem. He did return to the sidelines in pads so he should be ok. Eric King was banged up in the second half and did not return. Fred Jackson was a surprise addition to the lineup after hurting his knee this week, Lionel Gates also played despite being questionable. Injury Page.

QB Battle May Continue: J.P. Losman made too many mistakes to be handed the starting job at this point in my opinion. Three first half turnovers were too many mistakes for a starting QB to make. He did some good things as well but not enough to be given the job. The problem is the other two candidates didn't knock anyone's socks off. Kelly Holcomb again was ineffective, throwing only five passes before giving way to Craig Nall who was somewhat impressive in true garbage time in the fourth quarter. He did throw a scoring pass and led the team on a nice scoring drive while throwing for 63 yards on 5 of 9 passing with a nice QB rating of 114.6. He may move ahead of Holcomb based on this performance and deserve a more careful look next week. What do you think? Take our poll on our homepage and let us know.

Bills Lose: The Bills did some things right but many things wrong in their preseason loss to the Bengals 44-31 at Ralph Wilson Stadium. They turned the ball over four times, two of them were returned for touchdowns and the other two setup chip shot field goals as the turnovers turned in to 20 of the 27 points the Bengals scored in the first half. Willis McGahee fumbled the ball away and it was returned 72 yards for a score on the opening drive. He responded with a 61 yard touchdown run on the next series. J.P. Losman also responded after a big miscue. He had an interception returned for a score but then hit Lee Evans for a 46 yard touchdown pass. He then proceeded to fumble the ball away twice late in the first half and the defense held both times allowing only field goals. McGahee finished with 88 yards on 9 carries while Evans turned three catches into 115 yards. Losman was 7-11 for 134 yards. The backups didn't do nearly as well this week as the defense allowed 17 second half points with none of them being setup by turnovers. The Bills offense got two late touchdowns with Craig Nall in the game. He hit Alan Richard for a nine yard score on a fourth and one after the Bills recovered a fumble. He then led the team on a 73 yard touchdown drive that ended with a fourth down TD run by Fred Jackson.

Player Have Everything To Lose: Tonight's preseason game against Cincinnati gives some players a lot to gain or lose. J.P. Losman could lock up the starting QB job with a solid game. If he struggles it reopens the door for the other two candidates to walk through with good performances in the 2nd half. Donte Whitner can almost lock up a starting job with a solid performance as he gets the start for the injured Matt Bowen. The ongoing battles at left defensive end and nose tackle will be front and center tonight as those four players battle it out for two starting jobs in the d-line rotation. The wide receiver battle continues, the emergence of Sam Aiken puts Peerless Price and the other candidates on the hot seat. Who do you think has the most to gain or lose? Take our poll on our homepage and let us know.


Thursday August 17, 2006


Losman Takes All Snaps: J.P. Losman took just about every snap in today's practice as the team did preparations for tomorrow night's game. The other quarterbacks ran scout team plays for the defense. It was a three-quarter speed session. The Bills switched up the nose tackles and left end positions again as it appears to be a flip flop every other day in what has become an interesting training camp battle at the two positions.

Spikes Won't Play: As expected Takeo Spikes will not play against his old team tomorrow night. He says he's feeling good and remains on the path to be ready for the opener but it is unknown if he'll play at all in the preseason. He was also given today's practice off along with Coy Wire, Matt Bowen, Matt Morgan, and Dylan McFarland. Running backs Lionel Gates and Fred Jackson were limited. Injury Page.

Wilson Misses Camp: For the first time in team history Ralph Wilson will not make an appearance at Bills training camp according to a phone interview he did with the Rochester D&C. Wilson wrenched his back playing tennis a few months ago and it has steadily gotten worse. He is undergoing physical therapy and there is a chance he won't be healthy enough to make the trip to the stadium when the regular season starts. On the field, he's impressed with the rookie class and how the organization is going now under the leadership of Marv Levy. He also likes what he sees from J.P. Losman and expects him to be a very good quarterback in this league sooner rather than later.

Jackson Injury Not Too Serious: The injury to Fred Jackson is not as serious as it appeared when it happened on Tuesday. He was able to watch practice yesterday standing up, it is very unlikely that he'll play tomorrow night. Also expected not to play are Matt Morgan, Dylan McFarland,Matt Bowen, Jon Goldsberry, and Coy Wire. The only injury that may be serious in this group is Morgan. He went to Pittsburgh yesterday for a second opinion on his ailing hip. Troy Vincent, Lionel Gates, and Josh Stamer returned to practice last night. Gates returning surprised Jauron who thought he'd miss more time with his swollen ankle. It's unsure if Gates will play tomorrow night. Injury Page.

D-Line Flip Flop: Tim Anderson and Chris Kelsay were back with the first unit defensive line in practice last night. This was a day after they were replaced by Kyle Williams and Ryan Denney off of their solid performances against Carolina. Coach Jauron said they were rotating in and he's impressed by the combination of Kelsay and Denney. Depth Chart.

Losman Sharp: The team's website reports that J.P. Losman was very sharp in last night's practice session. He was 20 of 24 including 13 consecutive completions to start the session. Dick Jauron said Losman did good last night but he's still young and inexperienced and needs to be pushed while being patient. He called it a decent practice with a little lull in it.

Nall Cleared To Play: The doctors have cleared Craig Nall to play in tomorrow night's preseason game at home against Cincinnati. No word on when or how long he'll play. J.P. Losman is expected to possibly play the entire first half.


Wednesday August 16, 2006


Posey Signs With Redskins: A week after being cut by the Bills, Jeff Posey has ended up with familiar faces. He rejoins Jerry Gray and Greg Williams as a member of the Redskins.

Holcomb Upset: Kelly Holcomb has been around long enough to know that the NFL is a business and his demotion to 2nd string is part of the game. That didn't stop him for getting down about it. He was upset because his interception against Carolina cost them the game as well as reps for himself in practice. He admitted to being discouraged after the game but knows he has to go out and make the most of the opportunities he gets the rest of camp.

Denney Moves Up: Another defensive player getting more reps with the first team is Ryan Denney. He had a solid game against Carolina and may have now moved ahead of fellow former 2nd round pick Chris Kelsay. The new regime appears to be high on Denney as they signed him to a new long term deal in the offseason. Kelsay and Denney have flip flopped spots on many different occassions over the years. Depth Chart.


Tuesday August 15, 2006


Losman Struggles: J.P. Losman once again got the majority of the snaps during today's practice but he struggled. The team's website reports that he was 14 of 27 with one interception while Kelly Holcomb went a perfect 8 for 8 but three of those throws were dump offs to the running backs. Craig Nall went 3 for 4 and knows Friday's preseason game may be his only shot to impress coaches to give him a chance at the starting job.

Jackson Hurt: Two players left today's practice with injuries. Josh Stamer left the field in obvious pain after getting poked in the eye but he is expected to be ok. Fred Jackson twisted his knee and had to get carted off. His injury looks to be more serious. Matt Bowen, Lionel Gates, Jon Goldsberry, Dylan McFarland, Troy Vincent, and Coy Wire remain out. Injury Page.

Williams Moves Up: Based on his solid performance on Saturday night, 5th round pick Kyle Williams has moved to the top of the depth chart at nose tackle. Dick Jauron stopped short of naming him the starter but he got the first team reps today. He was already getting first team reps in the nickel package. This caps a meteoric rise for Williams who moved past first round pick John McCargo and Tim Anderson. Jauron said it doesn't really matter who starts at tackle since they will be constantly rotating players in and out. Depth Chart.

Rainy Practice Last Night: The rain struck again at another night practice last night. Coach Jauron joked he may need to throw his hat away to change the team's luck with the weather at night. It was a spirited practice last night as there was a lot of hard hitting. J.P. Losman took the majority of the snaps as we reported earlier and threw three touchdown passes according to the Team's official website. The site also says he got 43 of the 55 reps in all the drills. Craig Nall threw the ball well but mostly short passes in his 7-on-7 drills. The team hits the field for one practice today at 1pm.

Injury Update: The Bills held out seven players with minor injuries last night. They got one back and one missed it for family reasons. Craig Nall got work in in individual drills and 7-on-7 drills as we reported yesterday. He came through them fine and hopes to get more work during the week and hopes to play on Friday. Chris Villarrial was excused because of a death in the family. Troy Vincent, Roscoe Parrish, Lionel Gates, Dylan McFarland, Matt Bowen, Jon Goldsberry and Matt Morgan all were on the sidelines yesterday. Injury Page.

Losman Front Runner: Dick Jauron acknowledged after last night's practice that J.P. Losman is now the front runner for the QB job. He said the snaps will no longer be equal and the proof was in last night's practice when J.P. got about 1/3 more than Kelly Holcomb. Losman said he needs to keep moving forward now. Jauron said that Losman's mobility and strong arm are in his favor in the competition.


Monday August 14, 2006


Word Released: The Bills made a roster move by releasing DE Mark Word. He was the player with the most experience battling for the open fourth defensive end spot on the team. He is the 2nd defensive end released by the Bills in the last two months. They already released Matthew Rice who is performing well in Indianapolis.

Nall To Workout: Craig Nall said today that he will take part in individual and 7-on-7 drills during tonight's practice. The team is easing him back into the practice mode so he won't take part in full 11-on-11 drills.

Team Returns To Camp: The Bills are back at St. Johns Fisher College to begin week three of training camp today. They will watch the films of Saturday's 14-13 loss in Carolina and hit the field for a walk through this morning and a full practice tonight that is soldout. Craig Nall hopes to return to practice today and he hopes to get back into the QB race which may be possible after the performances of the top two guys this weekend.



---
News Archives index
Latest News Section
Archives Library
Back to Bills Daily Homepage