Bills Lose Third Straight Preseason Game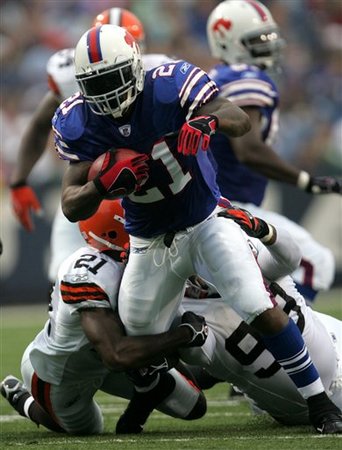 Spikes Makes Play: Takeo Spikes took the final step in his road back from his Achilles tendon tear last night. He played the opening two series and made the tackle on the Browns first play from scrimmage. It was a two yard gain and Spikes punched the air to celebrate as the soldout crowd cheered. Spikes said he was anxious to be out there and nervous as well. He had concerns if he would be mentally ready for game action but he was ready and now declares himself 100% back.

Players Who Helped Themselves: J.P. Losman probably helped himself the most in the loss to Cleveland yesterday. He did throw an interception and fumble the ball once but as Dick Jauron puts it, he's young. The fact is he has pretty much locked up the starting QB spot. It should be made officially this week. Peerless Price ended a rough week off the field with a big night on it, probably locking up the number two receiver spot. He caught a 54 yard touchdown pass from Losman in the first quarter. Lee Evans also showed why he's a number one receiver with a five reception game for 70 yards. George Wilson made a last ditch effor to make the team with a 56 yard catch and 71 yards on two catches.

Who Hurt Themselves: Leading the list of players who hurt themselves was Craig Nall. He entered teh game later than expected and did lead the team on a touchdown drive but also threw an interception in the end zone. He wasn't bad, just not good enough to make the coaches think twice about the starting QB spot. Anthony Thomas was suppose to get more reps but did not carry the ball once and was called for a major face mask penalty on special teams. Also hurting themselves for inactivity were Joe Burns, Shaud Williams, Martin Nance, and Chris Denney. Eric King may have hurt his chances for the nickel spot when he gave up a fourth quarter touchdown.


Saturday August 26, 2006


Bills Lose To Browns: The Bills lost their third straight preseason game 20-17 to Cleveland at Ralph Wilson Stadium on Saturday night. J.P. Losman hit Peerless Price for a 54 yard touchdown pass and he finished 15 of 22 for 184 yards and an interception as he most likely locked up the starting QB job. Craig Nall led the team to a late touchdown to tie the game on a three yard run by Lionel Gates before the Browns one it on a last second 35 yard field goal. Nall finished 8 for 14 for 126 yards and an interception. The team moved the ball offensively but bogged down in the red zone. The defense gave up an opening scoring drive of 11 plays for 68 yards to a 2 yard touchdown pass. A Rian Lindell 35 yard field goal as the first half expired gave the Bills a 10-7 lead. Gates' touchdown tied the game just before the two minute warning. Nall didn't come into the game until the final minutes of the third quarter. The Bills struggled with the ground game gaining just 56 yards on 22 carries. The Bills bogged down in the red zone and made mistakes offensively despite moving the ball well. Losman fumbled the ball near midfield on the opening possession but recovered. They were forced to punt the ball away. A Losman 7 yard touchdown run was nullified by an illegal formation penalty against Mike Gandy. Losman also threw his only interception as the Bills were driving midway through the third period. Nall's interception was a pass into the end zone.

Spikes To Start: The Bills announced this afternoon that Takeo Spikes will start at linebacker and as expected Donte Whitner will start at strong safety. It was uncertain on whether or not Spikes would play but Dick Jauron did want him to play in at least one preseason game.

Starters To Play Into 2nd Half: Dick Jauron has been saying this week that the starters will play into the third quarter tonight when they play the Browns at 6pm. The third preseason game is usually the game that most resembles a regular season contest. Most starters usually play sparingly in the final tuneup game next week.


Friday August 25, 2006


Spikes Gametime Decision: The Bills held their first practice back in Orchard Park today. Afterwards, they said no decision has been made on whether or not Takeo Spikes will play. They will wait and see how he feels right before the game before making a decision. Dick Jauron said he does feel Spikes will be ready for the start of the season regardless if he plays in the preseason or not. Spikes said he would like to play before the soldout home crowd but doesn't feel it's necessary to play in the preseason to be ready for the season.

Bills Back Home: Training camp may be behind the Bills but they continue their preparation for the season at the facilities at Ralph Wilson Stadium today. They hold a practice session in Orchard Park to get ready for tomrrow night's preseason game against Cleveland. Takeo Spikes plans on seeing how he feels after practice today before deciding whether or not he'll play tomorrow. It appears he's leaning against it, saying he doesn't need preseason games to be ready for the regular season.


Thursday August 24, 2006


Powell May Play: One injured player may be a surprise addition to the lineup on Saturday night. Eric Powell was not expected to play with a hip and knee injury suffered last week against Cincinnati. He made a dramatic recovery over the last day or so and practiced today on a limited basis. He may play now on Saturday. It is still unknown if Takeo Spikes will play or not. Peerless Price should be available as he returned to practice today. Missing the workout were Matt Bowen, Jon Goldsberry, Dylan McFarland, Ryan Neufeld and Ashton Youboty who remains with his family after the death of his mother. Injury Page.

Bills Break Camp: Training camp is now over as the Bills held a final workout today at St. Johns Fisher. The team's website is reporting that J.P. Losman went 16 of 21 and had 24 reps while Craig Nall saw more reps than usual, grabbing 17 to Kelly Holcomb's six. Nall was sharp going 11 of 14. Dick Jauron said the team came a long way in camp and got a lot of work done. He did say there is a long way to go but he knows they'll get the job done since it is a hard working group.

Game Televised: The game on Saturday night is now officially a sellout and will broadcast locally in Western New York. Thanks to the kids day promotion most of the seats were gone a long time ago. Time Warner Cable stepped up and bought the remaining seats. Time Warner became the offical cable partner of the Bills in the deal. They will sponsor one game a year that will include fan giveaways. The company is new to the Buffalo area taking over for Adelphia this month.

No Word Yet On Spikes: Dick Jauron has not made a decision yet on if Takeo Spikes will play or not on Saturday. He said Spikes is pushing for action but they need to make sure he's ready before he goes. He took more reps in practice yesterday then he has all of camp including some action in blitz drills. Jauron plans on talking with Spikes before making a decision. Injury Page.

Bills To Break Camp: The Bills will end their training camp at St. Johns Fisher College today after their 11am practice session. They will continue to prepare for the season back at Ralph Wilson Stadium. It would have to be considered a successful camp since there were no serious injuries and it was void of any major controversies. The only blemish was Peerless Price missing Sunday's practice.

Price Held Out: Peerless Price was held out of last night's practice with an enflamed tricep muscle. He was unsure how the injury occurred. It is a minor injury and he felt he could go but they are being cautious. The list of players watching from the sidelines shortened on Wednesday. Missing the session were Matt Bowen, Dylan McFarland, Jon Goldsberry, and Eric Powell. Injury Page.


Wednesday August 23, 2006


Bills Sign Odom: A day after letting go of a linebacker the Bills added one, someone that Dick Jauron is familiar with. They signed former Chicago Bear Joe Odom. He was drafted by the Bears in 2003 when Jauron was the head coach. He was released by Chicago on Monday. He was primarily a reserve player at both outside linebacking positions for the Bears and is an excellent special teams player. He also worked with Defensive Coordinator Perry Fewell who said he's a tough guy with athleticism. He is familiar with the defense the Bills are running and can also play the middle. The Bills plan on letting Odom play whichever linebacker position he's most comfortable with to start.

Thomas Gets Extra Reps: Dick Jauron told the Buffalo News that Anthony Thomas will get extra reps on Saturday night in an effort to secure the backup running back spot. Jauron said he knows Thomas better than the others but he needs to earn the job and will be given the chance against Cleveland. He said he needs to make the best of the reps since it is a very hot competition for the spot behind Willis McGahee. The four way battle includes Lionel Gates, Shaud Williams, and Joe Burns. Who do you think will win the battle? Take our poll on our homepage.


Tuesday August 22, 2006


Nall, Holcomb Even Reps: In practice today Kelly Holcomb and Craig Nall each received 12 reps according to the team's website. Holcomb was 7 for 9 while Nall was 5 for 7. J.P. Losman was 15 of 26. The Bills did a little shuffling at linebacker and the offensive line because of the four cuts today. Several players shuffled in and out of the 2nd and 3rd team.

No Break For Bowen: Matt Bowen had an MRI today and there was no break so that was a good sign. No word on if he'll play on Saturday. Donte Whitner was excused from practice to attend to a personal matter. He'll be back tomorrow. Ashton Youboty will miss another week of camp because of a death in the family that he is handling. Missing practice today because of injuries were: Jon Goldsberry, Dylan McFarland, Ryan Neufeld, and Eric Powell. Injury Page.

Spikes May Play: Dick Jauron said after today's practice that Takeo Spikes may see some action on Saturday night against Cleveland. He said the player is physically ready to go but they will address it as they get closer to the game. Spikes said he would love to play in the game. At the beginning of camp he said that he didn't plan or need to play in the preseason. He said playing before a soldout kids day crowd would be great. He said he has needed everyday of camp and has seen a lot of improvement both physically and mentally. Injury Page.

Bills Waive Four: The Bills decided to trim their roster a bit as they get ready for their third preseason game. They have released DTs LaWaylon Brown and Tai Tupai along with LB Courtney Watson, and OT Matt Morgan. Watson is the biggest name on the list. He was acquired from the Saints this offseason for Tim Euhus and it was hoped he would be the middle linebacker of the future. He came in a little heavier than the team wanted. Morgan has been hurt most of the camp and was not going to make the team. Brown and Tapai spent time with the team last year. Brown was on the practice squad and Tapai played in Europe last offseason. Depth Chart.

Bowen Still Hurting: The Bills medical staff will take another look at the bone bruise that Matt Bowen suffered against Carolina. He returned to practice on Sunday and then again on Monday morning during the walkthrough. He was all set to practice last night but became sore and was held out. The team is a bit concerned about the injury now and he will be x-rayed again today. The injury has probably cost him his starting job as Jauron indicated it is now Donte Whitner's job to lose. Coy Wire returned to practice last night. Jason Peters hurt his arm and went to the locker room but returned to practice later on in the session. Chris Villarrial left practice early with back spasms. Injury Page.

Price Fined: Dick Jauron acknowledged yesterday that the team indeed fined Peerless Price for missing practice on Sunday. He said he's not concerned that Price is a problem in the locker room and believes it was an honest mistake but fined him an undisclosed amount nevertheless.

Nall Playing Time Increased: Dick Jauron also said after practice last night that Craig Nall has earned more playing time in this week's preseason game against Cleveland. It will come at the expense of Kelly Holcomb who won't play much in this game if at all according to the coach. Jauron did say not read anything into this move as far as the backup QB job goes, they just need to see more of Nall. The coach also said that J.P. Losman remains the frontrunner for the starting job and he did take the majority of the reps in last night's practice. Holcomb had more reps than Nall last night but Jauron said Nall's reps will increase during the week. The team's website reports that Losman was 16-26 with a pick and a sack while Holcomb was 8-12 and an interception. Nall was 5-7 passing.

Preston At Center: For the first time in camp, Duke Preston took some reps at the center position during last night's practice. He was working with the 2nd unit offensive line. Justin Geisinger moved over to Preston's right guard spot with that unit. This was planned all along after Preston got the guard position down. Jauron stresses that they will only keep seven linemen active on gamedays so the backups need to have versatility.


Monday August 21, 2006


Price Misreads Schedule: The reason Peerless Price missed practice yesterday was because he misread the schedule. It was in honest mistake as he read last week's schedule when they were off on Sunday. Yesterday the team held a closed practice. He called Dick Jauron immediately after realizing his mistake and tried to get to practice in time but couldn't make it. Price said he is not disgruntled about not catching any passes over the first two preseason games.

Losman Still No. 1: Despite his inconsistent performance on Friday night it appears that J.P. Losman remains number one on the depth chart for now. It was a very modified closed practice yesterday but according to the Team's website he took seven snaps, to Kelly Holcomb's six and Craig Nall's five snaps. It was all in 7-on-7 drills.

Hunter Remains No. 2: Wendell Hunter remains ahead of Mario Haggan on the depth chart at strongside linebacker. He got the surprise start on Friday night and made four tackles as he performed well. He took more reps than Haggan on Sunday as well. Depth Chart.

Others Held Out: Besides the players we reported yesterday, Ryan Neufeld, Jonathan Smith, and Courtney Watson were also held out of practice yesterday. No word on why they were out or if they were injured. Injury Page.



---
News Archives index
Latest News Section
Archives Library
Back to Bills Daily Homepage