Bills Win Preseason Finale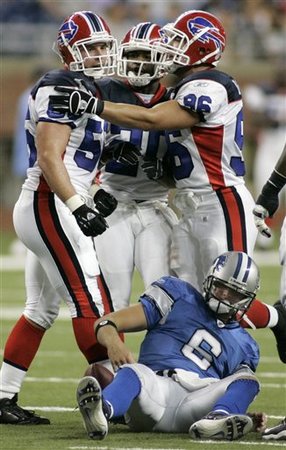 Team Returns To Practice: The Bills began preparations for the opener next Sunday against New England today as the players returned to the practice field after two days off. They are now in their regular season routine as they will practice tomorrow before having off on Tuesday. Wednesday is media day as key players address the press about the coming game. They then practice on Wednesday, Thursday, and Friday. Saturday is a light walkthrough and/or travel day. 52 of the 53 players were on the field today according to WGR Radio. The only player not practicing was Ashton Youboty who remains back in Ohio after the death of his mother two weeks ago.

Six Added To Practice Squad: The Bills added six players to the practice squad on Sunday. That leaves two open spots are expected to be filled by Wednesday Dick Jauron said. All six spots were taken by players that were among the 21 released yesterday. The players on the development unit are led by wide receiver George Wilson who had some eligibility left on the unit after being active most of last season with the club. Also on the squad are CB Eric Bassey, TE Brad Cieslak, RB Fred Jackson, DT Jason Jefferson, and DE Ryan Neill. Wilson has outstanding hands and was a victim of numbers on the final cut. Bassey is a talented but raw cornerback. Cieslak has potential along with the tough Jackson. Jefferson and Neill will bring emergency depth to the defensive line.

Practice Squad Today: The Bills will be able to name their eight man development squad today by noon. There are many candidates from this squad from players that were recently cut including George Wilson, Ryan Neill, Martin Nance, Chris Denney, Fred Jackson, Jon Goldsberry, Eric Bassey, and Brad Cieslak. Not everyone has practice squad eligibility but these players do.


Saturday September 2, 2006


Surprise Cuts: There was some eye opening cuts that showed this is a new regime. Gone were low round picks from the last couple of years like Lionel Gates, Lauvale Sape, Jonathan Smith, Eric King, and Justin Geisinger. The team kept all of their draft picks from this year's team including three low round offensive linemen. That came at the expense of their only veteran depth on the line Greg Jerman. If one of the starting tackles gets hurt they have to go to a rookie. Keeping Shaud Williams over Gates was obviously because he can double as a returner. If they kept Smith they probably would have let Williams go and kept Gates. The cutting of King to keep Kiwaukee Thomas was shocking. King had a solid camp and was battling for the nickel spot but he struggled in the preseason games, especially this past Thursday in Detroit. The release of Wendell Hunter was a surprise since the coaching staff seemed very high on him. They decided to keep holdovers Josh Stamer and Mario Haggan instead probably because they are special teams demons. The other surprise was keeping undrafted free agent John DiGiorgio over Liam Ezekiel. DiGiorgio had a fantastic game against Detroit and that probably got him a spot on the roster. The release of Rashad Baker gave a roster spot to Coy Wire. The team kept five safeties because of the injury to Matt Bowen. Of course, the team is busy scouring the waiver wires and may still pick up a player or two before the season starts. Which move was the most surprising to you? Take our poll on our homepage and let us know.

Bills Cut 21: The Bills got their roster down to 53 men today by releasing 21 players and placing Joe Burns on the reserved/injured list. Surprise cuts included Lionel Gates, Wendell Hunter, and Rashad Baker. The team kept one undrafted free agent and that was John DiGiorgio as the backup middle linebacker over Liam Ezekiel. All nine draft picks made the final squad. Depth Chart.


Friday September 1, 2006


Backup QB Battle: Both Kelly Holcomb and Craig Nall helped themselves last night with their play. Nall did throw an interception but led the Bills to a touchdown and a field goal going 7 for 11 for a game high 119 yards and a 92.6 QB rating. Holcomb had a QB rating of 118.8 and led the team to a field goal as he played a quarter less than Nall. Also helping themselves yesterday was Andre Davis. His long touchdown grab may have given him the final WR spot on the roster. LB John DiGiorgio may have cemented a spot on the practice squad with a solid game, he was all over the place and had six tackles and a sack. The linebacker spots are very crowded so it will be tough for the undrafted free agent to make the 53 man squad.

Thomas Struggles: The team played very well, so very few players hurt their causes making the final decisions very tough for the coaching staff. One player that may have lost a spot on the depth chart was Anthony Thomas. He gained just 13 yards on 9 carries and fumbled once. George Wilson didn't catch a pass which may end his run with the team.

Bills Win Preseason Finale: Craig Nall hit Andre Davis on a 70 yard touchdown bomb in the fourth quarter to lead the Bills to a 20-13 win over the Lions last night. The big play happened moments after Nall threw an interception that setup a Lions field goal. As we reported during the game yesterday, J.P. Losman and Kelly Holcomb combined for a perfect first half throwing no incompletions. Nall also led the Bills on a short field goal drive in the fourth quarter.


Thursday August 31, 2006


Holcomb, Losman Perfect In 1st Half: In a rarity of stats the Bills went the whole first half without throwing an incomplete pass in Detroit. Kelly Holcomb came in 2nd for the Bills instead of Craig Nall and played the entire 2nd quarter leading the team on a 65 yard, nine play drive to a 21 yard Rian Lindell field goal just before halftime in his second series. Holcomb was at his sharpest tonight trying to hold on to the #2 spot. He was 4 for 4 for 81 yards including two long completions to Josh Reed of 26 and 32 yards to start both his series. Nall came in the game in the third quarter.

Fast Start For Offense: J.P. Losman wanted to come out smokin' in this game and he certainly did. He led the first team offense on a 85 yard drive in 13 plays on the opening series that culminated with a 1 yard Willis McGahee touchdown run. Losman was 5 for 5 on the drive for 52 yards. He stayed in for one more series but the rest of the starters came out. In that series he just handed it off three times in a row to Anthony Thomas who saw most of the first half action at halfback.

Denney Gets Start: One slight surprise in the starting lineup was Ryan Denney. He got the nod over Chris Kelsay as the two continue their camp long battle for the starting right end spot.

Spikes, McGee Out: Takeo Spikes and Terrence McGee are among the inactives for the Bills tonight for the game against the Lions. Spikes wasn't expected to play after starting last week's game. McGee is still really sore from last week. Wendell Hunter and Jabari Greer get the start in their place. Also inactive for the game are: Ashton Youboty, Matt Bowen, and Jon Goldsberry.

A Lot On The Line: The 4th preseason game is a throwaway for the starters as they will only play about a quarter. For backups trying to make the team everything is on the line. The team needs to shed 22 players from the roster by 4pm on Saturday. Many veterans are on the bubble at key positions like running back, defensive line, linebacker, and the defensive backfield.


Wednesday August 30, 2006


Bills Head To Detroit: The Bills practiced midday at Ralph Wilson Stadium before catching a plane to Detroit to get ready for tomrrow night's contest against the Lions. It is the final tuneup before the regular season starts. The starters are only expected to play a series or two which is the norm for the final preseason game. Takeo Spikes will likely be held out completely as he got his taste of action last week.


Tuesday August 29, 2006


Burns, Jackson Banged Up: Two guys battling for a backup running back spot are banged up. Fred Jackson left practice today with an undisclosed injury and Joe Burns has been battling a forearm bone bruise. He was unable to practice today. Matt Bowen was once again held out of practice today and is very iffy for the preseason finale. Injury Page.

Jauron Announces Obvious: In his announcement of J.P. Losman as the starting QB, Dick Jauron said it was something that everyone knew already. All the coaches were an agreement so there was no reason waiting to anonounce it. He told all three QBs in the morning and they were all expecting it. He did not tell the whole team since they will all find out quickly enough.

Losman Getting Comfortable: J.P. Losman said it was good to hear that he was the starting quarterback. He feels he's getting more and more comfortable and his confidence is building. He feels he's ready to move on from the ups and downs of last season. He knows he can't slack off now but he needs to continue working. He thinks his teammates will have more respect for him since he won the job in a competition and he needs to go out now and prove it week in and week out for them to really trust him. He feels about week four or five they will realize that he's the guy but it will take time. He knows there will be some down moments but the team has to stick together.

Backup QB Job Up For Grabs: While Dick Jauron was able to annunce his starter, he said his number two quarterback may not be announced until the week leading up to the opener. He does expect to play Craig Nall most of the game since they know what they have from Kelly Holcomb. Who do you think will be the number two man? Take our poll on our homepage.

Losman Named Starter: In a move that had to be anti-climatic, Dick Jauron finally made it official, J.P. Losman is the team's starting quarterback. He made the announcement today when it was originally thought he would wait until after Thursday's preseason game. Losman one an open competition for the job that started in the offseason mini-camps and continued into training camp. The injury to Craig Nall early in training camp turned it into a two horse race. Kelly Holcomb struggled in the preseason games and doesn't have a strong enough arm to run the downfield passing attack they want to run.


Monday August 28, 2006


Losman Still Frontrunner: Dick Jauron once again today stopped short of naming J.P. Losman his starting quarterback for the season opener. He did say he is clearly the frontrunner and said he dioesn't anticipate making a final decision until after the preseason finale Thursday night in Detroit.

Bills Healthy: The Bills came out of Saturday night's game healthy. Nobody was held out of practice today because of injuries suffered in that game. Terrence McGee did leave practice before it ws finished but it was just general soreness according to Dick Jauron, they don't think there is anything to worry about. Matt Bowen tried to take part in individual drills but couldn't do it as his leg wouldn't respond. Jon Goldsberry remains out with his high ankle sprain. Ashton Youboty is expected back within a day or so following the death of his mother. Injury Page.

Bills Cut Nine: The Bills announced nine roster cuts on Monday a day earlier than they had to. The moves left them with the 75 man roster limit they need by tomorrow's 4pm deadline. Cut today were: CB Oames Bethea, DE Josh Cooper, WRs Chris Denney and Martin Nance, OL Aaron Gibson, QB Kliff Kingsbury, S Rob Lee, and K Nick Setta. OL Dylan McFarland was waived-injured. The only big name here was Gibson but he was far from a lock to make the team. Nance is a candidate for the practice squad if nobody claims him. The release of the two wide receivers leaves the team with just four undrafted free agents on the roster. Depth Chart.



---
News Archives index
Latest News Section
Archives Library
Back to Bills Daily Homepage