Bills Don't Have Enough To Get By Chargers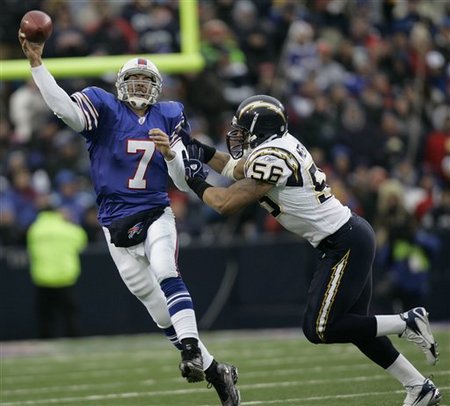 Defense Needs Full Game: The Bills defense continues to put together a great second half effort after a very poor first half. That was the case for a third straight week as the defense played much better in the second half after trailing 17-0 at halftime. It has to be reflected when we breakdown the game position by position. Gameday Grades.

Bills Lose 24-21: The Chargers came east and continued to establish themselves as the best team in the conference as they held on to beat the Bills 24-21 in snowy, windy Ralph Wilson Stadium. The Chargers opened up a 17-0 halftime lead thanks to touchdowns by LaDanian Tomlinson and Antonio Gates. The Bills came roaring back with two touchdowns in the first 6 minutes of the second half to pull within a field goal. Questionable officiating and four Bills turnovers contributed to hamper the Bills attempt at pulling off the upset. Another Tomlinson touchdown late in the game sealed the win for the Chargers. The Bills had touchdowns from Robert Royal, Willis McGahee and Peerless Price in the loss. Game Review.

Crowell, McGee Hurt: Angelo Crowell suffered a strained lower leg on the Bills first defensive series and did not return. He was replaced by a combination of Coy Wire and Keith Ellison. Willis McGahee left for a bit and got his left ankle taped as he appeared to twist it a bit. Terrence McGee did not play in the 2nd half because of an ankle injury he suffered in the first half. There was a chance he could have returned but he was doubtful and never did return. Peerless Price was also banged up in the loss but returned and scored a touchdown. Injury Page.

Reed Active: As expected Josh Reed and Keith Ellison are active for today's game against the Chargers. The Bills had no injured inactives as all the healthy players are dressed for the game. The inactives are: Matt Bowen, Shaud Williams, Ashton Youboty, Tutan Reyes, Jason Jefferson, Matt Murphy and Eric Powell. Three big inactives for the Chargers are FS Marlon McCree, DE Luis Castillo, and RB Michael Turner.

Wintery Weather: The main advantage the Bills will have today is the weather as the Chargers from Sunny San Diego come to town. There is a 50% chance of a snow shower during the game, the high temperature will be 35° meaning there should be no snow sticking to the playing surface. Winds will be out of the West Southwest at 15mph making the wind chill factor 25°.


Saturday December 2, 2006


McGahee Added To Report: Willis McGahee told the team's official website that he missed practice yesterday because of a headache that became a migraine and he's alright now. He was in the morning meetings but got sick to his stomach and was throwing up. According to league rules when a player misses a Friday practice he must be added to the injury report. McGahee is now listed as probable but will play. Josh Reed and Keith Ellison practiced fully again yesterday and are expected to be ready but Coach Jauron said they will be game time decisons. Injury Report.


Friday December 1, 2006


McGahee Misses Practice: Willis McGahee missed practice today with an undisclosed illness. Dick Jauron said after practice that McGahee's playing status for Sunday has not changed and he is expected to play. Injury Report.

Chargers Get A Jump: The Chargers are not used to playing in cold weather and are looking to acclimate themselves to the culture shock of coming to Buffalo from Sunny San Diego. To do that and to get use to the time difference the Chargers are traveling to Buffalo today instead of the customary trip to as visitors on Saturday. The weather is expected to be much different then last Sunday. The high temperature will be in the mid 30's with snow showers possible.

Chargers Banged Up: San Diego is banged up coming to Buffalo as they now have seven players listed as questionable and six players as probable for Sunday's game. WR Keenan McCardell has been upgraded from questionable to probable and two others have been added to the report as probable. Most of the walking wounded should be available, the only exception is likely to be DE Luis Castillo who will likely miss the game. The Bills continue to only have two players on the report but both of their questionable players should play as they have practiced all week. Check out our injury page with a new print friendly page for your convenience. Injury Report.

Reed Anxious To Return: Josh Reed is anxious to return and he does expect to play on Sunday. Dick Jauron said on Monday that he also expects Reed to play but his playing time may be decreased. Jauron told Peter King of SI.com that Parrish is now finally healthy after battling a lingering hamstring injury this year and he expects to give him about 20 snaps a game. The team has been using more 3 or 4 receiver sets but they usually use at least one tight end in those sets decreasing the playing time of fourth wideout.


Thursday November 30, 2006


Game Blacked Out: As expected, Sunday's game against San Diego has been blacked out. It is the second consecutive blackout and approximately 8,700 tickets remain for the game. It will not be seen on TV in Western New York and as far east as the Syracuse market.

Containing Tomlinson: The hardest job the Bills will have on Sunday is how they will contain LaDanian Tomlinson. Coach Jauron indicated in his press conference yesterday that he will do what other teams have done and play eight men in the box. That means you will see a lot of the Bills 4-4 defense with Keith Ellison on the field as an extra run stuffer if he can go. If he isn't healthy enough to play you will see more of Coy Wire playing the pseudo linebacker role. London Fletcher will likely be used as a spy on Tomlinson as well. Of course with all the attention being on LT it should open up things for Antonio Gates who is the other big offensive threat for the Chargers.


Wednesday November 29, 2006


Ellison, Reed On Report: Keith Ellison and Josh Reed are the only two Bills listed on the injury report this week. They are both questionable but Dick Jauron said earlier in the week he expects Reed to play. The Chargers have eight players listed as questionable and three probable. Injury Report.

Parrish Honored: Roscoe Parrish was named the AFC Special Teams Player Of The Week for his effort against Jacksonville last week. He is the 2nd Bill to win that award this year. He had an electrifying 82 yard punt return in that game and broke a club record with 104 punt return yards in the game.

Biggest Game Of The Year: The Bills have developed confidence and momentum to put themselves at the fringe of the playoff race. That makes this week's battle with San Diego the biggest of the short Levy/Jauron era. The Chargers may be the best team in football and will be a stiff challenge. The weather conditions may be the biggest and only advantage the Bills have. Do you think the Bills have a shot on Sunday? Take our poll on our homepage. Game Preview.


Tuesday November 28, 2006


Players Respect McGahee: Dick Jauron addressed the media yesterday. He thinks the players respect for Willis McGahee may have went up a notch or two based on him gutting it out on Sunday with a broken rib and two cracked ribs. He thinks the special teams just goes out and perform. Sunday wasn't there best day but they make up for it in effort and then came up with the big punt return that was keyed by a lot of good blocks. On the tight end front, he praised the way Brad Cieslak has come in and performed well all through the off season. Having him on the practice squad gave them an extra comfort level. They knew the game wouldn't be too big for him and he's done a nice job blocking and now catching the ball this past week. He defended Kevin Everett, saying he's basically a rookie who has more learning to do but he's improving. He says the team isn't where they want them to be at this point but they work hard and have high character guys with a good level of talent. The team isn't afraid to work and they want to win, they just need to learn how to do it consistenly.

Reed Expected To Play: The players had the day off yesterday and today but Dick Jauron addressed the media on Monday and said he expects Josh Reed to play on Sunday. Anthony Thomas will be re-evaluated tomorrow. He twisted an ankle against the Jaguars but was able to finish the game. He is sore. Willis McGahee was less sore then expected for the day after the game with his rib injuries. Injury Page.

2nd Blackout Probable: The Bills announced yesterday that 9,300 tickets remain for Sunday's game against San Diego. That means the second TV blackout in two weeks is very possible. That is 1,800 more tickets available then last week at this time for the Jaguars game. They have until 1pm Thursday to lift the blackout.


Monday November 27, 2006


Jets Game Moved: The NFL has moved the Bills/Jets game on December 10th from 1pm to 4:15pm. It will be the Bills first late afternoon start of the season. As a result of flexible scheduling that moves some games to Sunday nights, it has had a secondary effect with many games moving from 1pm to 4:15, this is the latest game to have that move.

Everett Star Falls: Kevin Everett was suppose to be the Bills downfield threat at tight end but that hasn't been the case in his injury riddled career with the Bills since being drafted in third round of the 2004 draft. This was suppose to be his breakthrough year since he's finally 100% healthy. Instead he has caught only one pass for one yard and never got into the game yesterday. He has been passed on the depth chart by Brad Cieslak who was just signed off the practice squad last week. Cieslak and fellow TE Robert Royal were a big part of the game plan this week and each caught three passes while Everett sat on the bench. He may not be in the future plans of this team and it looks like he's another bust of the Tom Donahoe era. Depth Chart.

Confidence Soaring: After the Jaguars tied the game with :28 to go the defense was understandably upset by giving up the late score. The offense showed a quiet confidence as J.P. Losman didn't hope he can get the Bills downfield, he knew he could since he did it just the week before. The coaches and his teammates had confidence in him. If he didn't do it against Houston there is a chance they would have taken a knee with :28 left and took their chances in overtime. Dick Jauron cautioned that Losman isn't there yet but that they are feeling more and more comfortable with his decision making. Losman seems like he's brimming with confidence as he continues his fast resurrection from his mid season struggles. He admitted so after the game that he now knows he can do it at this level. London Fletcher said that the light has gone on for Losman although he is still a young player. Lee Evans said Losman showed poise and confidence in the huddle down the stretch just like he did last week.



---
News Archives index
Latest News Section
Archives Library
Back to Bills Daily Homepage