Bills Win Another Heart Stopper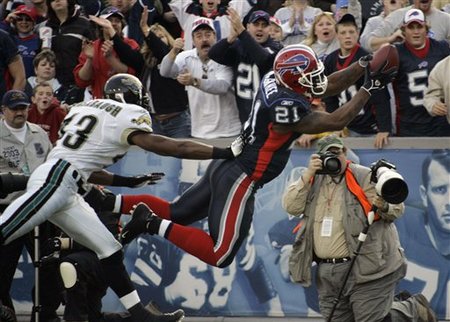 All Three Units Made Plays: The defense struggled in the first half but the offense made plays. In the second half the offense sputtured but the defense stiffened. Special teams scored a touchdown and when the defense gave up a late score, the offense responded. All this leads to an upset win and a pretty good look at the position by position grades. Gameday Grades.

Bills Pull Another One Out 27-24: Rian Lindell finally had a chance at a game winning kick and he hit the 42 yarder into the wind right down the middle to give the Bills a thrilling 27-14 win over the Jacksonville Jaguars. The Bills led all the way but the Jaguars tied the game with :28 left on a three yard touchdown pass. J.P. Losman then engineered his second straight game winning scoring drive. He rolled out of the pocket and hit Roscoe Parrish who made a great sideline catch for 30 yards to setup the winning kick. Willis McGahee scored two touchdowns in his return including a 30 yard run. Parrish had an electrifying 82 yard punt return for a score for the Bills other touchdown. Game Review.

No New Injuries: The Bills made it through a second win in a row without any new significant injuries. Anthony Thomas twisted an ankle which cost him some playing time, he was suppose to split carries with Willis McGahee. He did return. J.P. Losman seemed to bang his throwing elbow but appeared fine afterwards. Injury Page.

McGahee To Start: Willis McGahee is active and is expected to start today for the Bills. Josh Reed is inactive as he continues to recover from his bruised kidney. Keith Ellison is also inactive with his knee injury. The healthy inactives are: Ashton Youboty, Tutan Reyes, Jason Jefferson, Matt Murphy and Eric Powell.


Saturday November 25, 2006


Balmy Fall Weather: The weather for this late fall game will make the visiting team from Florida downright giddy. Instead of being welcomed with a cold, blustery day it will be more like an mid October day. Gametime temperature will be around 54° with the winds out of the southwest at 11mph. It will be partly cloudy with almost no chance at rain.

Hansen To Be Honored: Former Bill Phil Hansen has named the 21st recipient of the annual Ralph C. Wilson Distinguished Service Award. This award was established in 1986 and giving to players for long and meritorious service. He will be honored in a pre game cermony before next Sunday's game against San Diego.


Friday November 24, 2006


McGahee Practices Again: Dick Jauron went from "guardedly optimistic" that Willis McGahee will be ready to play to "fairly optimistic". He practiced fully on Friday and made it through fine as he took part in all the drills this week. He underwent another MRI today as a precaution. He is still expected to be a gametime decision but is less sore each day. Josh Reed practiced fully but they are being cautious with his bruised kidney. He's not feeling any discomfort but they need to be careful, if he takes another hit in the kidney area he can have some internal bleeding. Keith Ellison did not practice once again and will likely sit out his second straight game. Injury Report.

Game Blacked Out: The game on Sunday is blacked out in Western New York. Despite getting a 24 hour extension it became the second blackout in 29 games and the first since 2004. More than 7,000 tickets remain for the game.

McGahee May Play: Dick Jauron told the media after yesterday's practice that he's "guardedly optimistic" that Willis McGahee will be ready to play. He is expected to be a gametime decision. McGahee seemed less sure that he'd be ready but did say he'd like to give it a shot. He is still experiencing soreness and is getting use to wearing protective gear. He took a few hits in practice and came out of it ok. Josh Reed appears less likely to play as he is being cautious with his bruised kidney. He's not feeling any discomfort but they need to be careful, if he takes another hit in the kidney area he can have some internal bleeding. Keith Ellison did not practice once again and will likely sit out his second straight game. Injury Report.


Thursday November 23, 2006


Players To Have Family Time: Dick Jauron said since the Bills are a morning practice team it is conducive to getting them more time with their families on holidays like today. He said the afternoon stuff they do will be curtailed and they will do more stuff tomorrow. He expects to have players home with their families for turkey by 1:30 or 2:00 at the latest.

Jags Banged Up: While the Bills have only three players listed on the injury report, the Jaguars have 16 players listed, not mention many players on injured reserve. They have one out (Byron Leftwich), one doubtful, three questionable and 11 players listed as probable. Injury Report.


Wednesday November 22, 2006


Spikes Misses Practice: Takeo Spikes was not at practice today according to WGR radio. His absence was for personal reasons.

McGahee, Reed Questionable: Josh Reed and Willis McGahee were on the practice field today and participate in drills, both are questionable for Sunday's game. It is a matter of pain tolerance to see if McGahee can go on Sunday. He did more today than expected and he says he will know more about his chances of playing tomorrow. Reed is wearing a flak jacket and did not participate in contact drills. It may be more of a mental thing then a physical thing for him right now. Keith Ellison was on the field but did not participate and is doubtful for Sunday's game. Injury Report.

Blackout Extension: The Bills got a blackout extension until Friday at 1pm because of the holiday tomorrow. They have 7,000 tickets left for Sunday's game meaning the first TV blackout in two years is probable.

Bills Fill Roster Spot: The Bills filled the open roster spot that they have had for almost a week today. They have signed TE Matt Murphy. He is a four year veteran that has played mostly special teams in his career but he is a solid blocker who has bit tried at tackle in the past. He was most recently with Seattle before being released before the start of the season. He was a seventh round pick of Detroit in 2002. Depth Chart.

Tough Game Sunday: The Bills face a tough battle as they return home on Sunday. Jacksonville comes off a short week with a win Monday night over the Giants. The Bills have more confidence then they have had recently after the thrilling win over the Texans. They may fall back to reality this week as the Jaguars have one of the league's better defenses. Do you think the Bills will win on Sunday? Take our poll on our homepage. Game Preview.


Tuesday November 21, 2006


Tickets Remain: The Bills announced yesterday that 7,500 tickets remain for Sunday's game against Jacksonville. That means the second TV blackout in four years is very possible. They have until 1pm Thursday to lift the blackout although they are likely to get an extension because of the Thanksgiving holiday. There are also around 7,000 tickets left for the Miami game. A game with the Dolphins has been soldout every year since the strike year of 1987.

Confidence Building: The win over the Texans will lead to more confidence in J.P. Losman and the offense. The win also will bring the team closer together. The defense has been undoubtedly frustrated over the lack of production from the offense but the game winning drive after a big defensive stop should stem that frustration and make the team a closer knit group. Dick Jauron may have more confidence in keeping the offense more wide open based on the success against Houston. Jauron said he has more faith in the offense but they still need to be more consistent. He also acknowledged that winning brings the team closer together.


Monday November 20, 2006


Day Off: Dick Jauron gave the team the day off today after yesterday's thrilling win. It is the 2nd victory in the row he has done that. The first two victories they did have practice the following Monday.

A Great Team Win: Dick Jauron was excited about the win yesterday in his post game press conference. He called it a great team win and it was great that the offense put it together in the end. He praised the great catch on the final Texans punt by Roscoe Parrish. The defense came alive at the end of the game with big stops after starting off slowly. He called it a great feeling in the locker room. He knew they would have a legitimate shot at getting in the end zone because of the field position. He thought J.P. Losman handled the final drive very well and did not panic. He was helped by lack of penalties on the final drive. He's impressed with how Losman has handled the adversity all year. He still has a ways to go but you can see his athleticism, toughness, and good arm. Jauron said he was thinking if they got the ball back in the final minutes it would be a great learning situation for Losman. He called the winning touchdown catch by Peerless Price a tremendous catch. The team wasn't on top of their game defensively but caught their tempo at the end which is the right time for it. There is a learning curve in winning and this win was huge in giving them confidence. They would love to get on a roll where they think they can't lose. He never thought about going for it on the fourth down play with 2:25 left since they had two timeouts left and thought they would get the ball back with enough time to pull the game out.

Losman Lives The Dream: J.P. Losman was giddy in his post game press conference minutes after throwing the game winning touchdown. He said he dreamed of that situation as a kid and now he lived that dream, being that guy making that throw. It was his first time pulling a game out and it feels great. He said Peerless Price made an unbelievable catch on the winning score and the protection was great making it a total team win. He praised the defense for getting them the ball back with an extra timeout. On the final drive it was a matter of keeping everyone calm after the two drives before that failed. They practiced the two minute drill everyday in training camp and once a week during the season and it felt really good to pull it out. He doesn't know if this is the breakout game but he hopes it is. He knew it would take time with the new offense and they just had to be used to it. He was told before the game that they were going to open it up and he was told to just wing it. The offensive line did a great job of protecting him and there was no one around him all day. The receivers made the right reads and made some good catches as well as running well after the catch as everyone contributed to the win.



---
News Archives index
Latest News Section
Archives Library
Back to Bills Daily Homepage