Close But No Cigar For Bills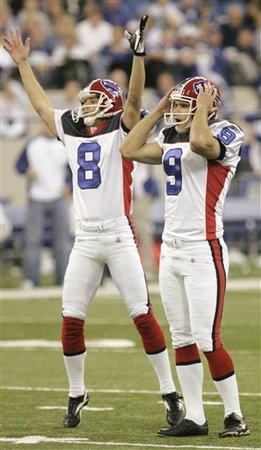 Offense Cost Bills Their Shot: The Bills had two big takeaways from their defense which they needed to pull off the upset. They had a few big special teams play including an 88 yard return, a 21 yard punt return and a successful fake punt. They needed all of that to pull off a monumental upset. The offense even ran the ball pretty well but when they needed to score they didn't. When they were given the ball at the 12 yard line they couldn't. That is the reason they didn't pull off the upset and it is reflected in our position by position look at the loss. Gameday Grades.

Bills Lose Close One 17-16: The Bills defense forced two turnovers as Terrence McGee returned a fumble 68 yards for a touchdown and had an 88 yard kickoff return to setup a field goal but it wasn't enough as the Bills fell to the Colts in a tough battle 17-16. The offense couldn't do much at all settling for just three Rian Lindell field goals. He missed a 41 yarder that would have given the Bills the lead with about 5 minutes left in the game. Anthony Thomas ran for 109 yards as the Bills used a ball control offense that just didn't do enough to win. Game Review.

Villarrial, Neufeld Hurt: Chris Villarrial suffered a sprained right ankle in the third quarter and was replaced by Duke Preston. It is the same ankle Villarrial hurt earlier in the season that cost him to miss one game. Preston ironically missed a day of practice this week with a sprained ankle of his own. Ryan Neufeld was carted off the field in the fourth quarter and taken to the locker room with a foot injury. Injury Report.

Gameday Inactives: Injured players Willis McGahee and Josh Reed are obviously inactive as they were ruled out of this game on Wednesday. Duke Preston is active and will be the primary backup in the middle of the offense. That is because Tutan Reyes and Aaron Merz are among the inactives. Also inactive are: Ashton Youboty, Matt Bowen, and Eric Powell.


Saturday November 11, 2006


Colts Upgrade Two: The Indianapolis Colts upgraded two players from questionable to probable on their injury report. TE Ben Utecht and LB Rocky Boiman are now probable. The Colts still have 12 players listed as questionable for tomorrow's game and may be weak at the linebacker position with three of them listed as questionable. Injury Report.

Fletcher Gets Press: London Fletcher got some much deserved press late this week as he continues his push for his first pro bowl selection. His 14 tackle, 5 pass defensed, interception TD performance against Green Bay gave him the AP Defensive Player of the Week honors and got his name heard by many of the players and coaches that don't vote for him to go to Hawaii. He has been an alternate twice but never selected despite leading all pro bowl linebackers in tackles over the past several years.


Friday November 10, 2006


Preston Practices: Duke Preston returned to practice today after missing yesterday's workout with a sprained ankle. He suffered the injury during Wednesday's practice but finished the session. He is expected to be ready to go on Sunday but is listed as questionable. Sam Aiken practiced fully all week and also should be available, he's listed as probable. Injury Report.


Thursday November 9, 2006


Whitner Arrested: Rookie safety Donte Whitner has been arrested and faces a harassment charge after an alleged domestic dispute with his girlfriend. He was arrested last Saturday in Hamburg when police were called to his home in response to a fight with a woman. He was arraigned and released on his own recognizance. The Bills say they are aware of the charge and are in the process of gathering facts and the team will adhere to the league's personal conduct policy on the matter. Whitner is due in court on Nov. 20th.

Preston Added To Report: The Bills have added Duke Preston to the injury report with an ankle injury. He is listed as questionable after hurting it in practice yesterday. He made it through that workout but it swelled up overnight forcing out of today's practice. Sam Aiken practiced fully for the second straight day today and is now probable for Sunday's game. Injury Report.


Wednesday November 8, 2006


Reed, McGahee Out: The Bills have ruled both Josh Reed and Willis McGahee out for Sunday's game against the Colts. Reed was released from the hospital yesterday after spending two days there with a bruised kidney. Further tests revealed more damage to the ribs of McGahee then originally thought. Early tests showed he broke his 9th rib in Sunday's win. The more extensive tests showed he also broke the 8th and 10th ribs. Dick Jauron would not speculate on how long McGahee will be out and said it will depend on his progress. Sam Aiken is the only other one on the injury report, he is questionable with his hamstring injury. Injury Report.

Moorman Honored: Brian Moorman was named AFC Special Teams Player of the Week for his punting in the win over the Packers on Sunday. Four of his punts were inside the 20 and he finished the game with a whopping 46.3 yard net average.

Bills Need A Miracle: The euphoria of the win over the Packers is long gone, especially since the team did not play well in the win. Now they look ahead to an insurmountable task against the undefeated Colts in Indy. The game looks to be nearly impossible to win as Peyton Manning should have his way with the Bills secondary. Do you think the Bills have any chance at all on Sunday? Take our poll on our homepage. Game Preview.


Tuesday November 7, 2006


Reed Released From Hospital: Josh Reed was released from the hospital today. He was taken to the hospital at halftime of the game on Sunday has a precaution after bruising his kidney on his only catch of the afternoon. No word on if he will be available for Sunday's game against Indianapolis, we will know more tomorrow. Injury Page.

Players Get Extra Day Off: Coach Dick Jauron was in a rare giving mood as the players were given an extra day off yesterday after the win. Many coaches give the players off on Monday after a win but this is the first time Jauron has done that this year. The players have their normal day off yesterday and begin preparation for the Colts tomorrow.


Monday November 6, 2006


McGahee's Ribs Broken; Reed Still In Hospital: The Bills didn't really get great news on their two injured players from yesterday's win. Willis McGahee suffered a broken 9th rib, which is high up by the lungs. That can cause some complications if you try to play too soon with it. He will undergo further tests and has not been ruled out of this week's game but it appears unlikely he will play. Josh Reed spent a second day in the hospital on Monday after suffering a bruised kidney against Green Bay. Injury Page.



---
News Archives index
Latest News Section
Archives Library
Back to Bills Daily Homepage