Bills Dont' Cut It Against Top Foe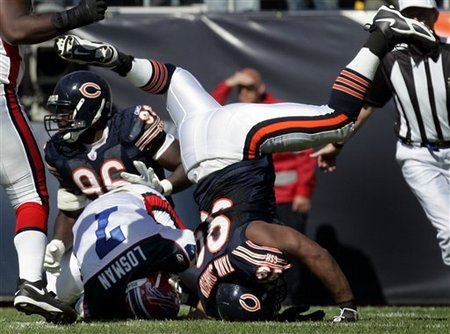 Total Bears Domination: There isn't much to say about this loss. It was total domination in all three phases of the game by a Chicago team that pretty much cemented itself as the best in football right now. The offense couldn't move the ball, the defense couldn't stop the Bears, and special teams bungled the game terribly as well. The position by position grades are not pretty as they consist of seven failing grades and two Ds. Gameday Grades.

Bears Rout Bills 40-7: This just in... The Bears are that good. The Bills don't seem to have come as far as we thought they have. It was all Chicago in this game as they scored on the first five possessions while the Bills got nothing going offensively in the 40-7 rout. If it wasn't for a last minute touchdown pass from J.P. Losman to Lee Evans it would have been the 4th biggest loss in team history. Losman threw three interceptions in the loss. Game Review.

Clements Banged Up: Angelo Crowell and Nate Clements both seemed to cramp up on different plays in the 2nd half. Crowell had his leg muscles stretched out and returned. Clements also returned briefly but left the game again and had ice on his thigh. As we reported earlier, the Bills were without Takeo Spikes, Chris Villarrial, and Matt Bowen who were inactive with injuries. Injury Report.

Spikes Out: For the fourth straight game Takeo Spikes is inactive with a hamstring injury. He tested it out in warmups and appeared close to being ready but just not there yet. Matt Bowen also remained inactive with the crack in his leg. Chris Villarrial is inactive with his tendon tissue injury to his ankle. Also inactive are: Ashton Youboty, Brad Butler, Eric Powell and Shaud Williams. Rookie Aaron Merz is active for the first time this season because of the injury to Villarrial. Butler only plays tackle which keeps him inactive. DE Adewale Ogunleye is among the inactives for the Bears.

Beautiful Weather For Game: It will be a beautiful day in the Windy City for today's game between the Bills and the Bears. Gametime temperature will around 67° and move into the 70's as the game progresses. It will be played under sunny skies with a slight chance of showers. The winds will be out of the South Southwest at about 12mph.


Saturday October 7, 2006


Chicago Reunion: There will be a mini reunion at Soldier Field tomorrow when the Bills battle the Bears. The connections between the two teams have been well documented all week. The biggest being the return to Chicago by Dick Jauron as a head coach for the first time since he last coached the bears in 2003. He is brining with him Perry Fewell who was the defensive backs coach last year in Chicago. Charlie Coiner and Eric Studesville also coached there. Anthony Thomas, Chris Villarrial, and Daimon Shelton played there while Reuben Brown was a star on the Bills offensive line for nine years.


Friday October 6, 2006


Spikes Practices: It is looking a bit better that Takeo Spikes may return on Sunday. Spikes practiced fully on Friday, something he did not do last week. He said yesterday that he felt closer to playing then he did the previous three thursdays. It all comes down to getting his burst back. Dick Jauron said that Spikes practicing is a good sign but he's still a gametime decision and listed as questionable. Rober Royal will also be a gametime decision but he practiced for a second straight day. Matt Bowen and Chris Villarrial are expected to miss the game this week. They are both listed as doubtful and did not practice on Friday. Injury Report.


Thursday October 5, 2006


Bowen's Leg Broken: The Bills finally admitted today that the injury to the lower leg of Matt Bowen is a crack. Dick Jauron said so today and downgraded Bowen to doubtful. He said they discovered it was broken about a week after the injury occured in the opening preseason game against Carolina. Robert Royal and Takeo Spikes both remain questionable but practiced today. Injury Report.

Injury Update: Matt Bowen and Takeo Spikes both took part in limited drills during yesterday's practice. As we reported yesterday, both are listed as questionable for this week's game and it doesn't appear too likely that either will play at this point. Robert Royal has a sore ankle and did not practice yesterday, he is also questionable. Injury Report.

Challenge Means Opportunity: During media day interviews yesterday the players said they know the Bears present a huge challenge for the team but it also is a huge opportunity. The team now has a chance to prove themselves against an elite team, they see it as a good test. On offense the team knows they have to take whatever the great defense of the Bears gives them and they can't make any mistakes like taking too many penalties and turning the ball over.


Wednesday October 4, 2006


Villarrial Doubtful: Matt Bowen and Takeo Spikes are both listed as questionable for a fourth straight week on the injury report. Neither has played in any of those games. Spikes seemed more pessimistic than recent weeks about his availability. Chris Villarrial is listed as doubtful but it is not a high ankle sprain as previously thought. It is a tendon injury that will need at least a week's rest. Duke Preston will get the start in his place. Robert Royal is also questionable with an ankle injury. The Bears have four players listed as questionable. Injury Report.

Bills Face Tough Challenge: The Bills will face their toughest challenge of the season this weekend when they travel to Chicago to take on the Bears. They are one of three undefeated teams in the league and they are perhaps the best team in Football at this time. It will be homecoming for Dick Jauron and Perry Fewell who will be going back to where they developed their coaching skills. Do you think the Bills have any chance on Sunday? Take our poll on our homepage and let us know. Complete Preview.


Tuesday October 3, 2006


A Conversation: Tony Bogyo gets some help on this week's article from a member of the Portland Bills Backers. Tony and Rose Zimnicki have a written conversation about what is going on with the Bills right now. Complete Story.


Monday October 2, 2006


Jauron Says McGahee Was Exceptional: Dick Jauron addressed the media today and said it was a great win yesterday. It is a whole better feeling in the building after the win. He thinks they beat a good football team that never quit and played hard. They are continuing to progress and they need to work on some of the foolish mistakes that they still make even though you can't ever eliminate all the mistakes. He thought Willis McGahee played an exceptional game with some aggressive blocks. He said that is the best he has seen McGahee play. Jauron doesn't expect the team to make any roster moves with the injury to Chris Villarrial. He likes the guys they have even though they are young. There is no word yet on the extent of Villarrial's injury. He did think Duke Preston played well in his place. J.P. Losman continues to get high marks from the coach. He said he has worked really hard to get better and has listened to the coaches. He still makes some mistakes but recognizes them and tries to correct them. His work ethic shows on gameday and he does his best to execute the gameplan. He is very athletic and he makes plays where there aren't any plays to make. They just want him to get better each week.

Offense Confidence Growing: In his postgame comments J.P. Losman kept referring to the growing confidence of the offense and that the coaches will start opening things up more once they have gained the trust of the staff. The Bills got very conservative late in the game, they ran the ball down by the goal line three times in a row to setup a field goal instead of going for the kill. They have been burned going for the kill early this season and took the conservative approach in this game. Same thing with a 4th and 1 play late in the first half. They elected to try a long field goal into the wind that was no good. If they went for it, got the first down there may have not been a six point swing as the Vikings hit a field goal just before the half expired. Of course, since the Bills won this isn't a big deal. If Minnesota had pulled out the improbable victory, this would be what everyone is talking about.



---
News Archives index
Latest News Section
Archives Library
Back to Bills Daily Homepage