Bills Hold On For Second Win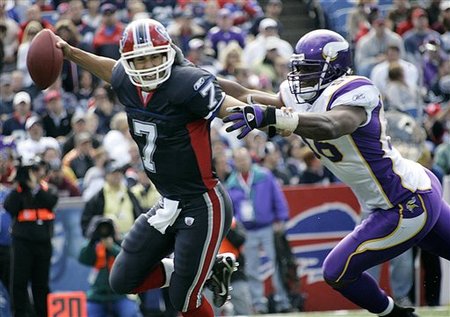 Offense Does Enough: The Bills offense did enough on this day, while the defense hung on at the end in the win over the Vikings. The defense played lights out for three quarters but hung on for dear life at the end. There were 15 penalties on the Bills and that was a lot to overcome, but they were able to do it and capture the win. Gameday Grades.

Bills Win 17-12: J.P. Losman threw for 222 yards and a touchdown leading the Bills to a 17-12 win over the Vikings. Willis McGahee also ran for a score bout yardage was tough going for him as he finished with 78 yards on 28 carries in the game. The defense played lights out until late in the game when the Vikings mounted a ferious comeback. A 29 yard touchdown pass with 3:07 left pulled them within five but a two point conversion failure gave the Bills another chance to run out the clock. They didn't, and Minnesota drove into the red zone but time expired giving the Bills the win. Game Review.

Villarrial Has High Ankle Sprain: A few players were banged up in this game. Chris Villarrial had the only serious one, a high ankle sprain in the first half. He was carted off the field to get a look at his right leg. He did not return. Willis McGahee and Peerless Price ran into each other and were shaken up. Both returned to the game but Price was icing up his leg on the sidelines. Chris Kelsay was also banged up but was ok. Injury Report.

Spikes, Bowen Inactive: For the third straight game Takeo Spikes is inactive with a hamstring injury. Matt Bowen also remained inactive with his shin injury. Also inactive are: Ashton Youboty, Brad Butler, Eric Powell, Shaud Williams and Aaron Merz. These are the same seven inactives the Bills had last week against the Jets. For the Vikings, starting LB Ben Leber will not play.

Weather Similiar To Last Week: It looks like this could be a rough weather season at Ralph Wilson Stadium. After a mixture of weather last week, it looks like there could be an encore this week with a little less wind. There will be showers in the morning decreasing throughout the day with Mostly Cloudy skies during the game and a 20% chance of showers. Winds will be from the west at 12mph.


Saturday September 30, 2006


Williams Upgraded: The Vikings have upgraded Pat Williams to probable on the injury report. He has a sprained ankle and has been practicing. There was no way he was going to miss this game. He has made comments this week in various Minnesota newspapers ripping former GM Tom Donahoe and former coach Mike Mularkey but says he has a lot of friends in Buffalo and approaches this as just another game. He said he has no animosity against the team now that the old regime is gone. Injury Report.

Reed To Be Honored With Clintons In Attendance: Tomorrow's game is also the week that Andre Reed goes up on the Wall of Fame. He will be honored during halftime ceremonies. On hand will be many former teammates from those great teams in the early 90s. In an unrelated note, also in attendance will be former President Bill Clinton and his wife U.S. Senator Hillary Clinton. It will be the first time a former president has been to a Bills game. Hillary is currently running for re-election.

Friday September 29, 2006


Spikes Likely Out: It is looking more and more likely that Takeo Spikes will not play again on Sunday against Minnesota. After practicing fully on Wednesday and Thursday, he suffered a setback and did not practice at all on Friday. Dick Jauron said he's "on the downside of 50-50" for the game although he is still a gametime decision and listed as questionable. He doesn't have his burst back yet and he didn't feel as good as they hoped after yesterday's practice. On the positive side, it is looking more likely that Matt Bowen will make his season debut on Sunday as he practiced fully for the third straight day. Kiwaukee Thomas also is practicing and should play. Injury Report.

Taylor Added: There has been one change to the injury report for this game. The Vikings added their star running back Chester Taylor to the report. He's listed as probable with a slight ankle sprain. He should be good to go on Sunday. Injury Report.

Team First: Donte Whitner said all the right things when talking about his Rookie Player Of The Month award. He said he much rather win football games then get honored. He said the honor is nice and it proves something to teams that thought the Bills took him too high.


Thursday September 28, 2006


Injured Players All Practice Today: All three injured players practiced today. Takeo Spikes, Matt Bowen and Kiwaukee Thomas all remain listed as questionable. Dick Jauron said he will see how they are tomorrow but he is still taking it day by day and will probably make a final decision on all three players right before gametime. Injury Report.




Whitner Honored: Donte Whitner was named the NFL Rookie Of The Month for September. Whitner has started the past two games and has 10 tackles in those games along with an interception. He is just the third Bill to ever win that honor.

Game Soldout: For the 25th time in the last 26 home games, the Bills have a sellout. It was announced today that Sunday's game has no tickets left and the television blackout in Western New York has been lifted.

Spikes Practiced Fully Yesterday: Takeo Spikes took part in the full practice yesterday and said he's taking it day by day. He wasn't sore after the workout and will see how he progresses throughout the week. Dick Jauron said he's day to day but it appears more likely than not that he will play. Injury Report.


Wednesday September 27, 2006


Real Tough Game Ahead: Dick Jauron told the Buffalo media that they have a real tough game this week and it will be a terrific challenge for his team. He said their staff is doing a terrific job and they are playing at a high level. He called the Vikings defense big inside and very talented as well as being fast on the edge. Offensively he thinks the Vikings run the ball well and have a good play action passing game.

"Horrible Going Into Buffalo": Vikings coach Brad Childress told the Minnesota media that the thinks the Bills have a good football team. He thinks they have some tools on offense including the running game and the mobility of the quarterback. He called the defense young but he knows they are fundamentally sound under Dick Jauron. It is similar to the Bears defense, who the Vikings lost to on Sunday. He called it horrible to go into Buffalo since it is very loud with great passion among the fans.

Three Listed As Questionable: Matt Bowen and Takeo Spikes are both listed as questionable for the third straight week on the injury report. Neither has played in any of those games. A surprise on the report is Kiwaukee Thomas who is listed as questionable with a back injury. He made it through the game on Sunday healthy. If he can't go third round pick Ashton Youboty may be activated for the first time this year. All three are considered day to day by Dick Jauron. Bowen is feeling better than he has since he injured his leg and did practice to some degree today. Daimon Shelton and Robert Royal were banged up on Sunday but neither is listed on the report. Injury Report.

Tough Matchup Sunday: The Bills face a tough matchup at the Ralph on Sunday as they try to avoid starting the season 1-3. The Vikings are a solid team that were close to starting 3-0 before losing late to the Bears last week. This may be the best team the Bills have played so far and they need to be very consistent to have a chance at this one. Do you think the Bills will win? Take our poll on our homepage and let us know. Complete Preview.


Tuesday September 26, 2006


Silver Lining: Tony Bogyo gives us our last look back at the Bills loss to the Jets on Sunday. He prefers to remain in denial that they actually lost since they dominated the game. Take a look at his latest article. Complete Story.



---
News Archives index
Latest News Section
Archives Library
Back to Bills Daily Homepage