Turnovers Kill Bills In Home Opening Loss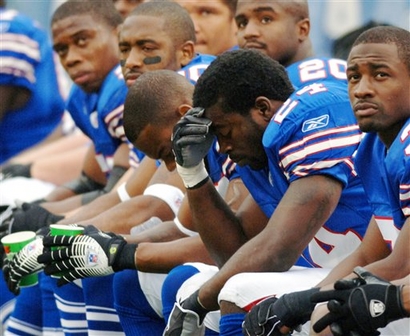 Royal, Shelton Ok: The Bills made it through yesterday's game with two players getting banged up but both are doing better today. Daimon Shelton got hit in the head yesterday and wasn't cleared to return. He was cleared today and is expected to be fine. Robert Royal injured his hand when it got caught up with Willis McGahee on a blocking assignment. He also is expected to be fine. Matt Bowen and Takeo Spikes were inactive with their continuing injuries. Injury Page.
Back To The Future: It was a tough loss yesterday but sitting there watching the game I began to wonder if I was watching a gameplan from last season. The coaching staff had their worst game of the season and it is reflected in our grades. Gameday Grades.
Inconsistency Is The Theme: The Bills beat the Dolphins on the road last week in a game they shouldn't win with a QB that threw for less than 100 yards. This week they throw for more than 300 yards against a team they should beat and they lost. Welcome to the 2006 version of the Buffalo Bills. Young, talented, inconsistent. Complete Story.
Sunday September 24, 2006
Bills Lose: J.P. Losman and Willis McGahee both had career highs statistically but three Losman turnovers led to a 28-20 loss to the Jets. The Bills QB threw for a career high 328 yards, ran for a score and threw for one as well. McGahee had a career high 150 yards on the ground but two Losman fumbles and an interception did the team in. Bills Daily will have our complete coverage including our review and grades on Monday afternoon.
Money may be coming: Gov. Pataki told the Bills that $20 million for upgrades may be possible before he leaves office. The money would go to move the press box for more seating. No deal has been reached yet.
Saturday September 23, 2006
Rainy Weather Expected: There is a large contingent of Bills fans from around the country (including us at Bills Daily!) heading to Buffalo for the home opener. Everyone needs to bring the rain gear. There is a 60% chance of showers and thunder showers with winds out of the west southwest at over 20mph. If the timing of the storm holds the weather should be at its worst during the tailgaiting hours in the morning and then the conditions are expected to improve as the day progresses. Either way the rain is suppose to be intermittent.
Friday September 22, 2006
Spikes Misses Practice Again: Takeo Spikes did not workout today with the team as it appears more and more likely that he won't play on Sunday. He took part in individual drills on Wednesday and Thursday but today he didn't even do that. He just did a little workout on his own on the sidelines. Matt Bowen took part in individual drills for a third straight day. Both players will be gametime decisions. Injury Report.
Wilson, Schumer Talk: The season is in full swing but that hasn't stopped Ralph Wilson from keeping his attention on the team's future. He once again talked to Chuck Schumer yesterday about the revenue sharing plan in the new CBA. Schumer re-affirmed that he will keep on top of the issue and put pressure on the new NFL commissioner to make sure the small market needs are heard in the new CBA. New commissioner Roger Goodell is a Western New York native and he said the first owner he will visit and meet with his Ralph Wilson. That meeting will take place in November. The eight member owner committee studying the plan will meet on October 24th. Schumer said he will rally other small market senators on the issue and he will use his influence if necessary to get the NFL to comply with small market needs.
Thursday September 21, 2006
Stats Quo On Injury Front: For the second straight day Matt Bowen and Takeo Spikes took part in individual drills but not full team drills. They are both going to be gametime decisions and with rain in the forecast they is an increasing chance that the Bills won't risk Spike's hamstring on a wet field. Injury Report.
Game Officially A Sellout: The NFL has lifted the blackout on Sunday's game as it is officially a sellout. The game will be televised in Western New York. It is the Bills 24th sellout in their last 25 home games.
Inconsistent Play Possible: Fans are still in a bit of euphoria over last week's stunning win in Miami. Even our resident realist Tony Bogyo is optimistic and happy. He does caution however that it will be a rollercoaster ride with a young team and we need to prepare for some inconsistent play. Complete Story.
Wednesday September 20, 2006
Bowen, Spikes Practice: Matt Bowen and Takeo Spikes returned to practice but both are listed as questionable for Sunday's game against the Jets. They are the only two players listed by the Bills. Spikes did not take part in full team drills but said he will play. He has been looking forward to the home opener ever since tearing his Achilles tendon a year ago, almost to the day of this Sunday's game. The Bills are hoping both players will be ready but Dick Jauron cautioned that they are both 50-50 to return. Injury Report.
Wire Honored: Coy Wire has been named the AFC Special Teams Player Of The Week for his blocked punt against Miami on Sunday. It was a good bet that a Bill would get that honor but it also could have gone to Brian Moorman who has four punts downed inside the 10 or Rian Lindell who hit all three of his field goal attempts.
Bills Can't Letdown: The Bills finally come home to play a game this Sunday when the Jets come to town. The Bills are flying high after winning in Miami on Sunday but they need to get past that and get prepared for the game on Sunday. Like the Bills, the Jets are playing better than expected and should be ready to give the Bills a fight. Do you think the Bills will win? Take our poll on our homepage and let us know. Complete Preview.
Tuesday September 19, 2006
Confidence Building: The team built up a lot of confidence with their upset win on Sunday against Miami. The team was still excited yesterday as Dick Jauron even said that he felt even better a day after the win. The team now knows they can win and feel like something special could be building. They can't get over confident though and they need to use today's day off to stop looking back and begin looking ahead to Sunday's home opener against the fiesty Jets.
Monday September 18, 2006
Short Walkthrough: In what is perhaps a reward for a big road win the team will hold just a half hour walkthrough practice today at Noon. The Bills appeared to get out of the win without any significant injuries. Dick Jauron will update the media on the injury report after practice as he usually does.
Thomas Has Expanded Role: The Bills seemed to have a shift at the nickel corner spot in yesterday's win over Miami. Kiwaukee Thomas was the third cornerback used in this game and came in the game in nickel situations. He moved ahead of Jabari Greer who saw limited action when Terrence McGee left for a few plays after getting banged up. Thomas was a busy man most of the game as he had five tackles. Depth Chart.
---
News Archives index
Latest News Section
Archives Library
Back to Bills Daily Homepage