Bills Hit Another Low In Motown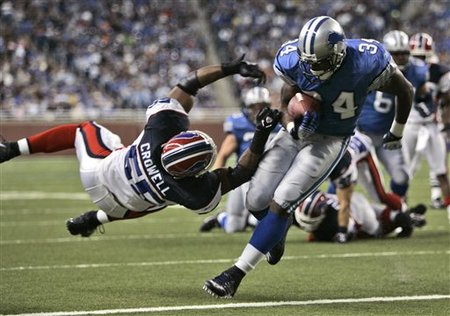 Offense, Defense Struggle In Loss: It was a struggle on both sides of the ball for the Bills as they suffer an embarrassing loss a previously winless team. These struggles will be reflected in poor grades for the 2nd week in a row. Gameday Grades.

Bills Lose 20-17: Things got worse for the Bills as they fell to a previously winless Lions team 20-17 in Detroit. J.P. Losman threw two touchdowns but was inaccurate most of the game and was sacked five times, threw an interception and fumbled the ball away once in the loss. The Lions dominated the game and if they were any better they would have won this game in a rout. Kevin Jones ran wild gaining nearly 100 yards in the first half alone while Roy Williams was a one man wrecking crew in the receiving game. Game Review.

Bills Suffer Injuries: The Bills had several players banged up against the Lions with three looking the most serious. Roscoe Parrish, Melvin Fowler, and Josh Stamer did not return. Parrish suffered a hamstring injury in the first half and played through it until midway through the third quarter. Stamer suffered a sprained right knee covering a kickoff in the 2nd quarter and did not return. Melvin Fowler suffered a quad injury in the fourth quarter and did not return. Willis McGahee seemed to bruise his ribs after reaching for a high pass. He played through the injury. Takeo Spikes returned to action, as we reported earlier, he didn't seem 100 percent as he seemed to have some movement issues. Chris Kelsay came out for a spell after getting banged up. Jason Peters missed a couple of plays as well after getting banged up. He was replaced by rookie Terrence Pennington for a few plays. Injury Page.

Spikes To Play: For the first time since opening day Takeo Spikes will be active and will play against the Lions today. Nate Clements and Chris Villarrial were also questionable for this week but they are also active. Matt Bowen remains inactive with the crack in his leg. Also inactive are: Ashton Youboty, Brad Butler, Aaron Merz, John DiGiorgio, Eric Powell and Shaud Williams. Two offensive linemen, Ross Verba and Rex Tucker are among the inactives for the Lions.


Saturday October 14, 2006


McCargo On IR: The Bills placed rookie DT John McCargo on injured reserve today ending his season. His spot on the roster was taken by Jason Jefferson who was on the practice squad. A move has been expected all week as they did not want to go into Sunday's game with just three interior linemen. The move leaves an open spot on the practice squad. Front Office Page.

Clements Returns: The Bills had more good news on the injury front yesterday when Nate Clements returned to practice increasing the likelihood that he will play tomorrow. Takeo Spikes and Chris Villarrial practiced all week including yesterday as well. All three are still listed as questionable and will likely be gametime decisions. Injury Report.


Friday October 13, 2006


Schedule Altered: A freak fall snowstorm in the Buffalo area has knocked out power to more than 300,000 people and has altered the Bills practice and travel schedule. Their morning meetings were pushed back until noon and their practice was moved indoors and will now take place at 2:25pm. The team will now leave for Detroit in the afternoon tomorrow instead of the morning. The storm is the worst October storm in Buffalo history and has dumped two feet of snow on part of the regions.

Spikes Practices: It is looking more likely that the team will get Takeo Spikes back on Sunday. Spikes practiced fully for the second straight day on Thursday. Chris Villarrial may also make a surprise return after missing one game with a tendon injury to his ankle. He practiced for the second straight day on Thursday to the surprise of head coach Dick Jauron. They are both listed as questionable along with Nate Clements who has yet to practice this week but they hope he practices today. Matt Bowen did some light work on Thursday. Injury Report.

Vincent Released: The Bills granted a request by Troy Vincent and released him from the injured reserve list. He had to prove he was healthy and pass a team physical to be released according to league rules. He now has a chance to catch on with another team. He was placed on the minor injured reserve list after pulling his hamstring on opening day.


Thursday October 12, 2006


Timeline To A Blowout: Tony Bogyo returns with his latest article, giving his timeline of watching the blowout loss to the Bears last Sunday with the rest of the Boston Bills Backers. It was a rough day for him like it was for all other Bills fans. Complete Story.


Wednesday October 11, 2006


Bills Looking At Options: The injury to John McCargo has left the Bills thin at the defensive tackle position. They only have three on the active roster and that will hamper their rotation. They could activate Jason Jefferson from the practice squad or sign someone else. Either of those moves would require a roster move, possibly placing McCargo on IR. The team brought in a bunch of people for a look today but made no moves. Dick Jauron said he will wait a couple of days before deciding on if he will make a move or not.

Villarrial Upgraded: The Bills have five players listed on the injury report for this week's game against the Lions. John McCargo is listed as out after having foot surgery this week. Matt Bowen remains doubtful with a crack in his lower leg. Takeo Spikes is listed as questionable for a fifth straight week but is closer to playing then he has been. Chris Villarrial has been upgraded to questionable this week after being doubtful last week with a tendon injury to his ankle. Nate Clements is questionable with a thigh injury. He was leg whipped last week. He is expected to play. Spikes and Villarrial practiced today but Clements and Bowen did not. For the Lions they have three injured starting offensive linemen, one is out and two are questionable. Star WR Roy Williams is probable. Injury Report.

Bills Face Must Win: If the Bills want any chance at challenging for a playoff spot, this is a game they have to win even though it is a road game. The Lions are riddled with injuries and are winless on the year. Their best chance of winning is because they are at home and they are do for a win because you can't lose them all. Do you think the Bills will win? Take our poll on our homepage and let us know. Complete Preview.

Revenue Sharing Update: It was a good day for the small market teams yesterday. First, as we reported yesterday, U.S. Senator Chuck Schumer held two press conferences, one at Ralph Wilson Stadium and the other at St. Johns Fisher College. He stood with Ralph Wilson and said he will start a coalition of senators from small market teams to put the pressure on the NFL to make sure the revenue sharing plan works for small market teams. Then came a memo from commissioner Roger Goodell to all 32 owners outlining the revenue sharing formula. The pool will be $100 Million, still to be decided is how teams will qualify for the money. Ralph Wilson is one of eight owners on the qualifying committee. He called the memo a positive step as Goodell put in writing for the first time that it won't be a watered down formula.


Tuesday October 10, 2006


Bills Make Practice Squad Move: The Bills announced today that they have signed OT Randy Hand to the practice squad. To make room for him they released TE C.J. Leak. Hand was with the Patriots this summer as an undrafted free agent before being cut before the season. He made 39 starts at right tackle for the University of Florida.

Schumer To Announce Plan: Living up to a promise he made to owner Ralph Wilson a few months ago, U.S. Senator Chuck Schumer will be in Orchard Park today to announce his plans to help small market teams like the Bills. He will appear with Wilson. He will announced a coalition of senators from small market teams that will put pressure on the NFL to come up with a revenue sharing plan that will help these clubs. Wilson will meet with new NFL commissioner Roger Goodell in November to discuss the subject.


Monday October 9, 2006


McCargo Breaks Foot: The Bills got bad news regarding the injury to John McCargo. As we reported earlier he was seen on crutches yesterday. He has a broken foot and underwent surgery today. The surgery is expected to fix the foot but he will have a long recovery time. No word yet on how long he'll be out. Nate Clements suffered a leg whip in the game and is expected to be very sore for a few days. Dick Jauron today showed some optimism regarding the injury status of Takeo Spikes. He said he's farily optimistic he will return this week and that the injury feels better then it has since he hurt it. Injury Report.

McCargo Hurt: John McCargo was one player that was hurt yesterday that we did not report on. He was seen leaving the locker room yesterday on crutches with an ankle injury. No word yet on the seriousness of the injury. J.P. Losman was also banged up. He was limping around near the end of the game and in the locker room afterwards. He said he's fine, just a few bumps and bruises that you would expect when playing a defense that tough. Today we may learn more on the injuries to Angelo Crowell and Nate Clements. They were both banged up with leg injuries but returned. Clements then left the game again and has his thigh iced up. Injury Report.

Long Day For Bills: Dick Jauron said it was a long day for the Bills and the Bears deserve all the credit. He thought the team worked hard during the week but it snowballed on them, they made enough errors to let it get out of hand including five turnovers. Jauron did confirm that the team was trying a fake punt when the ball was bobbled by Brian Moorman. The punter said it wasn't a fake during his postgame comments. Jauron said it just ended up being one of those days and you have to give credit to a great football team in Chicago. The mistakes weren't an indication that there heads weren't in the game, they were maybe too much according to the coach. The team needs to learn from the loss and grow from it and then move on. He knows J.P. Losman didn't have a great game but he will get better from his errors and the coach doesn't feel he has taken a step back. The coach called it one bad game and they will throw it out and move on.



---
News Archives index
Latest News Section
Archives Library
Back to Bills Daily Homepage