Bills Limp Into Bye Week With 3rd Straight Loss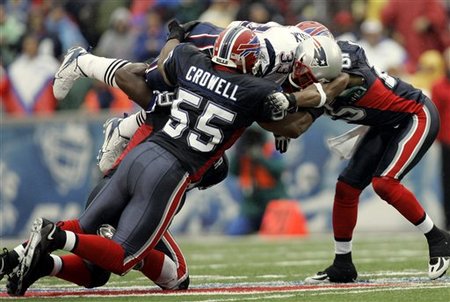 McGee Confidence Shaken: Terrence McGee talked to the press after the game and you could tell his confidence is shaken. He was actually benched for a spell and replaced by Jabari Greer who was then beat for a big play before McGee came back in. He said he wasn't upset about being benched. He also said he's looking forward to the bye and playing with his kids and not think about football. Brady took advantage of his mental breakdown as he was covering the wrong guy on the touchdown pass to Jackson. He wasn't surprised that the Patriots came after him, he would expect a pop warner team to come after him the way he's been playing. He said it's tough keeping his confidence up but his teammates are behind him and that helps but it doesn't change how he feels. He's not making any real contributions to the team. He needs to just practice hard and come out on Sundays and make plays.

Not A Smart Football Team: London Fletcher is one of many players that feel the bye week is coming at the right time. The team is making the same mistakes over and over again. The gameplans are good and they are prepared for the game and they were not surprised with what the Patriots did. They just make too many mental mistakes. Fletcher was visibly upset when he called the performance embarrassing and they just didn't play good football. They couldn't beat themselves like they did not making good decisions with the football or holding on to it. Until they start playing smarter the same results will happen since they are not a smart football team.

Inconsistency Ruins Team: The bad word surrounding the Bills this year is inconsistency. The defense and special teams were inconsistent in this loss to the Patriots but the offense wasn't. They were consistently bad in this game and it was reflected in the position by position grades. Gameday Grades.

Bills Lose 28-6: J.P. Losman lost two fumbles and was intercepted once as the Bills lost their third straight game, a 28-6 loss to the Patriots. The defense did a nice job at times in run stopping and got pressure on Tom Brady but they weren't consistent as the Patriots had two touchdowns in each half. Corey Dillon ran for two scores and Tom Brady threw for two. Rian Lindell hit two field goals for the Bills. Game Review.

Denney Injures Hamstring: The one big injury for the Bills in the loss to the Patriots was another hamstring injury. This time Ryan Denney got the bug. He did not return after pulling the muscle. He will have two weeks to heal with the bye coming up. J.P. Losman seemed to get banged up late in the game after a scramble in which he fumbled on the play. Injury Page.

Fowler, Parrish To Play: Injured players Melvin Fowler and Roscoe Parrish are active and will play today against New England. Tutan Reyes will not play as we reported earlier, he is inactive. Matt Bowen remains inactive with the crack in his leg although he is really close to returning to action and should be back after the bye. All four players were listed as questionable. Also inactive are: Ashton Youboty, Brad Butler, Eric Powell, Jason Jefferson, and Shaud Williams. Recently signed DE Anthony Hargrove is active. For the Patriots, TE Daniel Graham, C Nick Kaczur, and OG Russ Hochstein are out for the Patriots.

Merz To Start For Reyes: Tutan Reyes will not play for the Bills today because of his injured shoulder. Rookie Aaron Merz will start in his place. It is a surprise that Duke Preston isn't getting the nod. Merz is more of a center instead of a guard, although he has some experience there as well. The Bills may be figuring that Preston will have to go in at center for the banged up Melvin Fowler at some point.

Rain Likely: It wouldn't be a game at Ralph Wilson Stadium without rain in the forecast. The game should start with some showers and the likelihood of more showers increases as the game moves on. There is a 50% chance of showers at kickoff and 80% chance as the game concludes. The temperature will hover around 50° with the wind out of the south at 15mph.


Saturday October 21, 2006


Pats Add Two To Report: The Patriots added two players to their injury report. RB Kevin Faulk and LB Don Davis are listed as questionable. The Pats now have seven people listed as questionable and three listed as probable. Injury Report.


Friday October 20, 2006


All Injured Players Practice: The Bills got good news today on the injury front, when all four questionable players practiced today. Dick Jauron said Melvin Fowler, Tutan Reyes, Roscoe Parrish, and Matt Bowen will be gametime decisions. They need to see how they feel tomorrow after practicing today. Parrish and Reyes had missed yesterday's practice. If Parrish goes, he will handle punt return duties along with his wide receiver assignments. Injury Report.


Thursday October 19, 2006


Fowler, Bowen Practice: The Bills are hoping at least one of their two injured offensive linemen plays on Sunday. Right now it looks like Melvin Fowler has the best shot as he did return to practice on Thursday. He is questionable with a thigh injury. Tutan Reyes did not practice again on Thursday, he has a shoulder injury and is questionable along with Roscoe Parrish who has a hamstring injury and did not practice. On the positive side, Dick Jauron says Matt Bowen is healthier then he has been since injuring his leg in the first preseason game. He is questionable but has practiced this week and may give it a go. Injury Report.

Game Soldout: For the 26 time in 27 home games the Bills will play in front of a soldout crowd at Ralph Wilson Stadium on Sunday. The game was soldout in time to lift the television blackout. The game will now be seen in Western New York.


Wednesday October 18, 2006


OL Thin: The Bills could be very thin on the offensive line against New England as two starters are listed as questionable on the line and four in all are questionable. Tutan Reyes and Melvin Fowler are questionable with shoulder and thigh injuries respectively. Roscoe Parrish is also questionable with a hamstring injury. Matt Bowen has been upgraded to questionable with a crack in his lower leg. Dick Jauron would not talk about the severity of the injuries but if Reyes and Fowler can't go a rookie would be forced in to the line. Most likely Aaron Merz would start at center and Duke Preston at guard. If only one is out, Preston would play in that person's spot. Injury Report.

Bills Add To Practice Squad: The Bills made another roster move today, adding LB Kevin Harrison to the practice squad. Harrison replaced Jason Jefferson who was added to the active roster on Saturday to replace John McCargo who went on injured reserve. Harrison was with the Broncos during training camp but was released late in the summer. He was with the Browns last summer as an undrafted free agent but failed to make that squad as well. He's more of a strongside linebacker and will give the team depth with Josh Stamer going on injured reserve. He was a three year starter for Eastern Michigan in college.

Bills Face Up Hill Battle: The Bills don't like the thought of entering the bye week at 2-5 but that is what they are facing if they don't pull off what I think is a monumental upset even at home against the division leading Patriots. New England has had two weeks to prepare for the game as they are coming off the bye and are playing very well right now. Do you think the Bills have a chance at this game? Take our poll on our homepage and let us know. Complete Preview.


Tuesday October 17, 2006


5th Round Pick For Hargrove: Reports all say now the pick the Bills are giving to St. Louis for Anthony Hargrove is a 5th round pick in next year's draft. Hargrove was originally a third round pick in 2004.

Hargrove Could Play Tackle: Dick Jauron said he's not worried about the off the field issues that put Anthony Hargrove in the doghouse in St. Louis. He missed two days of practice and meeting without permission. The Bills investigated and were satisfied with what they found out before making the trade. Jauron said he has a great work ethic and has the speed and athletic ability they look for in their defensive players. He said it is possible that he will see some time inside at tackle.

Parrish, Fowler Better Yesterday: Dick Jauron said both Roscoe Parrish and Melvin Fowler were better than expected yesterday. Parris was doing better on Monday with his hamstring injury and Fowler had good range of motion despite his quad injury. They are waiting for his strength to come back. The trainers will check with them over the next couple of days to see how they are progressing. Injury Page.


Monday October 16, 2006


Bills Make Trade: The Bills made a rare in season trade to bolster the sagging pass rush. They have acquired defensive end Anthony Hargrove from the St. Louis Rams. Hargrove played under current Bills DL coach Bill Kollar the best two years in St. Louis. Hargrove had 6&frac; sacks in 15 starts last year. This year he was a backup and has a &frac; sack and six tackles in limited duty. He was a third round pick in the 2004 draft out of Georgia Tech. Hargrove lost his starting job in St. Louis after missing two days of practice and meetings last month. He was inactive in Sunday's loss to Seattle. To make room for Hargrove the Bills placed Josh Stamer on injured reserve. He sprained his knee in the yesterday's loss to the Lions. Depth Chart.

Spikes Happy To Be Back: Takeo Spikes said he's happy to be back on the field after the loss to the Lions but he knows he's not 100%. He did like that he came out of the game pretty healthy and has another week to get better. He said he's not as explosive as he usually is yet.

Lions D Mixes It Up: J.P. Losman spoke to the media after the loss and said the Lions did a good job mixing it up and taking the way the pass. They didn't really do too much offensively to the 2nd half. On the interception there was a window there and he chose a different one than Lee Evans did. Losman knows he will get better as they win, he figures he should get the ball out quicker looking back but he was trying to make plays. The team needs to clear their heads, watch the films and learn from it. They need to move on to next week since they have big one coming up against the Patriots. They were confident coming in but they knew the Lions wouldn't just give them anything despite the record.

Team Just Not Consistent: Dick Jauron spoke to the media following the Bills 20-17 loss yesterday to the Lions. He figured the problem was stopping the run and stopping Roy Williams in the passing game. He said it was a surprise they were in the game right to the end based on how the stats were. That was the lone bright spot. The team is just not consistent enough on offense and defense which contributed to a disappointing loss. Other than the nice kickoff return before the half and the solid punting and kick coverage were the only things that they can hang their hat on. The reason they used Jim Leonhard instead of Nate Clements returning punts was because Clements is coming off a leg injury. The team needs to clear up the mistakes that they keep making. He said they didn't see anything new from the Lions pass rush but they need to execute better and J.P. Losman needs to get rid of the ball quicker. He didn't blame him on the fumble since it came from the backside and he can't see that. He said he never tells Losman to get rid of the ball at a certain time or not to scramble because he can make plays, like the touchdown to Roscoe Parrish. He just needs to get better at seeing things. Jauron knows the team missed some hits and tackles and he is worried about the team's confidence coming off of consecutive losses. They are anxious to get back to work and correct the errors they've been making so they can try and move forward.



---
News Archives index
Latest News Section
Archives Library
Back to Bills Daily Homepage