Exciting Weekend In Canton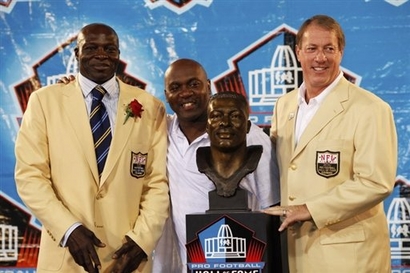 No Huddle Dominates: There has been great speculation on how much the Bills will use the no huddle offense this year. They have used it exclusively in training camp so far. They then used it exclusively in the preseason opener against Tennessee. They huddled only at the start of possessions and after timeouts. Langston Walker told the media he wouldn't know where to stand in a huddle at this point and said this is not a decoy. He feels they will be at the line of scrimmage 95% of the time. It won't be a fast paced no huddle like the old K-Gun was but it was run fairly effectively last night with no false start or illegal motion penalties. This offense should take some of the pressure off the young, developing offensive line.

Bell, Palmer Banged Up: The Bills made it through the game relatively healthy. The only new injuries were to Demetrius Bell and Ashlee Palmer. Bell tweaked his shoulder and Palmer suffered an undisclosed injury. Bell did play most of the game gaining valuable playing time before the injury. Dominic Rhodes did not play because he had tweaked his knee during practice during the week and it was a bit sore before the game. Also held out by injury wereAshton Youboty, Steve Johnson, and Brad Butler. Injury Page.

Who Helped Themselves: Several players helped their standing with the team in the loss to the Titans last night. Reggie Corner picking off a pass and returning it for a score in the stadium he played his high school ball was quite a moment. Leodis McKelvin had a nice pick as well. Rian Lindell didn't need to help himself but three field goals including two long rangers doesn't hurt. Xavier Omon was the workhorse and had 61 combined yeards. Felton Huggins did a nice job with five catches for 34 yards. Gibran Hamdan did a nice job in the 2nd half completing 11 of 13 passes. Derrick Jones had a sack and a forced fumble.

Who Hurt Themselves: On the downside Trent Edwards ending his only possession with an interception wasn't good. Ryan Fitzpatrick struggled mightily in the red zone. Bruce Hall didn't help his case by muffing a punt. Paul Pozluszny did a lot well but did drop an interception.

Bills Lose Opener: Things got a bit better for the Bills after a terrible first half but they still lost to the Titans 21-18 in Canton Ohio. The backups took over from a 14-0 deficit and failed twice in the red zone in the 2nd quarter and had to settle for the first of three Rian Lindell field goals. They trailed 21-6 at the half after Lindell nailed a 47 yard field goal just before halftime. The Bills defense scored the only second half touchdown as Reggie Corner took an interception back 26 yards for a score. Lindell also hit a 52 yard kick in the 2nd half and the game ended with an intentional safety by the Titans.


Sunday August 9, 2009


First Units Struggle: It wasn't a good way to start a football season as the Titans dominated the first quarter when the first units were in for both sides. The Titans scored touchdowns on their first two drives including a 40 yard scoring run by the punter on a perfectly executed fake punt. That was followed by a 11 play, 73 yard scoring drive that ended on a Lendale White scoring run. In between the Bills unveiled their no huddle offense and Trent Edwards moved the Bills down the field well in his only series but it ended when he overthrew Josh Reed and was picked off. He had pressure when a second string defensive tackle bull rushed rookie Andy Levitre to force the throw. Edwards did hit Terrell Owens twice for 27 yards on the series. Ryan Fitzpatrick took over for the second series.

It's Time For Football: Now that the Hall of Fame ceremony where Buffalo shined is over, it's time for the football team to take the field. The Bills battle the Titans tonight at 8pm to get the preseason started. Dick Jauron said he is treating this like any other first preseason game so the starters are expected to only see a series or two. It is expected that the two rookie guards will likely play longer. Demetrius Bell will likely get the start for the injured Brad Butler.


Saturday August 8, 2009


Bruce Inducted: Ralph Wilson started a special night in Canton and Bruce Smith finished it. His eloquent speech thanked the many people that helped him in his career to get to this honor. Ted Cottrell presented Smith and called him the greatest player in team history. Smith quipped how he was the one that hid Thurman Thomas's helmet and spoke of the family values he grew up with.

Wilson Enters Hall: Ralph Wilson kicked started tonight's hall of fame ceremony as he was the first person inducted into the class of 2009. Chris Berman went through all of Wilson's accomplishments in his presentation of the Bills owner. Wilson was humbled to be on stage and told stories of how the AFL developed and eventually merged with the NFL. Berman said it was a Buffalo home game with an incredibly biased Buffalo crowd to see Wilson and Bruce Smith inducted. Smith will be the last person inducted tonight.

Buffalo To Canton: Many Western New York fans have made the roughly three hour trek to Canton Ohio for a wild Buffalo weekend at the Pro Football Hall of Fame. The team is also headed there after a morning walk thru today. Many of the players are expected to join thousands of local fans at the enshrinement ceremony tonight at 7pm. Ralph Wilson will be the first person of the Class of 2009 inducted and Bruce Smith will be the last. Reports say that 30% of the tickets for tonight's event come from the 716 area code. Those fans will be hanging around for Sunday night's preseason opener between the Bills and Texans at 8pm on NBC.


Friday August 7, 2009


Three Go Down: In the last full practice before Sunday's preseason opener in Canton the Bills had three players go down with injuries today and a fourth did not practice at all. Ashton Youboty missed practice with a groin injury while Spencer Johnson was pulled with a toe injury. John McCargo left practice after getting leg whipped in the calf while Mrvin Phillip suffered potentially the most serious injury when he hurt his knee. Brad Butler remains sidelined and will not play on Sunday. Injury Page.

DE Added: The Bills made another roster move today because of the depleted depth on the defensive line. They added undrafted rookie free agent DE Ataefiok Etukeren. They made room for him by releasing recently signed S Antwain Spann. The Bills had been using long snapper Ryan Neill in practice to take some reps. Neill played end in college but is strictly a long snapper now. Front Office.

Butler Likely Out: It appears very remote that Brad Butler will play Sunday night in the Hall of Fame game. He did not practice again last night and Dick Jauron said it is very unlikely he will play but didn't totally rule it out. Steve Johnson did more in an abbreviated practice session last night. Copeland Bryan and Marcus Smith also remained sidelined. Injury Page.


Thursday August 6, 2009


Bills Add DT: The Bills hit the waiver wire again today by signing free agent defensive tackle Derrick Jones. He closed last year on the Titans practice squad and was released by Tennessee last week. He was in the Bills training camp last summer. He appeared in one NFL game for Atlanta in 2007. The Bills made room on the roster by releasing David Lindquist. He was placed on the waived/left squad list after a personal matter took him away from camp. He missed the past few practices because of an undisclosed injury. Depth Chart.

Still No Maybin: Top pick Aaron Maybin remains unsigned as the Bills enter day 13 of training camp. What is interesting is the lack of talk about when he will be signed. Talks appear to be going nowhere and the pick before him and after him are also unsigned which holds things up even further. The good news is Maybin is only being counted on as a situational pass rusher this year. He could get into camp in the next week or so and still fill that role. The longer he holds out though the more his development will be hampered.


Wednesday August 5, 2009


Johnson Returns: Steve Johnson returned to the field today for the first time since he injured his rib cartilage a week and a half ago. He took part in individual drills and was wearing a flak jacket. Brad Butler was back on the sidelines but did not participate in practice as he battles a back injury. Kawika Mitchell and Paul Pozluszny were given the day off after taking part in individual drills. Injury Page.

Rookies Penciled In: Dick Jauron hedged his bet a bit on his starting offensive line. After placing rookie guards Eric Wood and Andy Levitre with the first team he said after practice that they are with the first team on a day to day basis. He acknowledged they have a lot to learn and said they are penciled in as the starters. He feels they need all the reps they can get since they are very young. They will stay in the starting role if they step up to the challenge ahead of them. Depth Chart.

Lynch Speaks: Marshawn Lynch addressed the media for the first time since his three game suspension was upheld. He said he plans on being the biggest cheerleader for the team during his suspension. He was not surprised the three games held up and said it will be hard not being out there especially since he won't be out because of injury. He says he will deal with the consequences of messing up and move on from there.

Night Practice: The Bills practiced under the lights last night and it was the first look at the official starting offensive line with both rookie guards manning their spots on the first team. The unit was missing Brad Butler who is sidelined with a back injury suffered Monday. Butler did not even attend the practice as he was getting treatment in the trainer's room. They still believe it is not a serious injury and it is just pretty stiff and sore according to Dick Jauron. Demetrius Bell got the majority of first team reps at right tackle last night. Kirk Chambers got those reps on Monday. Leodis McKelvin was limited as he battles a minor quad strain. Also not participating according to the team's website were Steve Johnson, Jairus Byrd, David lindquist, Copeland Bryan, James Hardy, and Marcus Smith. Injury Page.


Tuesday August 4, 2009


Starting OL Set: The Bills have decided on a starting offensive line so they can grow continuity for the regular season. Dick Jauron confirmed that rookies Eric Wood and Andy Levitre will start right and left guard respectively. They will join Langston Walker at left tackle, Geoff Hangartner at center and Brad Butler at right tackle.

Schouman Has Leg Up: Derek Schouman seems to have the inside track on the starting tight end spot. Trent Edwards gave him a ringing endorsement before camp and Dick Jauron now seems to be endorsing him as well. After yesterday's practice, Jauron admitted he has taken control of the position calling him a great effort player with good athleticism. He says he's getting better all the time. Depth Chart.

Nelson Back: Shawn Nelson was among the players who returned to action yesterday after the day off on Sunday. Nelson had missed some time with an ankle injury and performed well in practice yesterday. Leodis McKelvin was given the day off to rest his quad injury. Also out of practice yesterday were Steve Johnson, Copeland Bryan, Marcus Smith, and David Lindquist. Injury Page.


Monday August 3, 2009


Butler Injures Back: Brad Butler suffered a back injury in practice today. It is not known if it's serious and he may have to go back to Buffalo for some tests. Trainer Bud Carpenter is optimistic it isn't a long term thing. Kirk Chambers slid outside to tackle to take over for Butler. Injury Page.

Lynch Suspension Upheld: The commissioner upheld the three game suspension of Marshawn Lynch. Dick Jauron said after practice that Fred Jackson will start in his place as long as he remains healthy. He did say that Dominic Rhodes would also play a lot.

Back To Work: The Bills went back to work with meetings last night after the players were off Saturday afternoon and all day Sunday. They get back on the field with a morning walk thru followed by a full afternoon practice today. It's the offensive linemen's turn in the autograph tent as Andy Levitre, Kirk Chambers, Demetrius Bell, and Seth McKinney will be signing for the kids.



---
News Archives index
Latest News Section
Archives Library
Back to Bills Daily Homepage