Bills Get First Preseason Win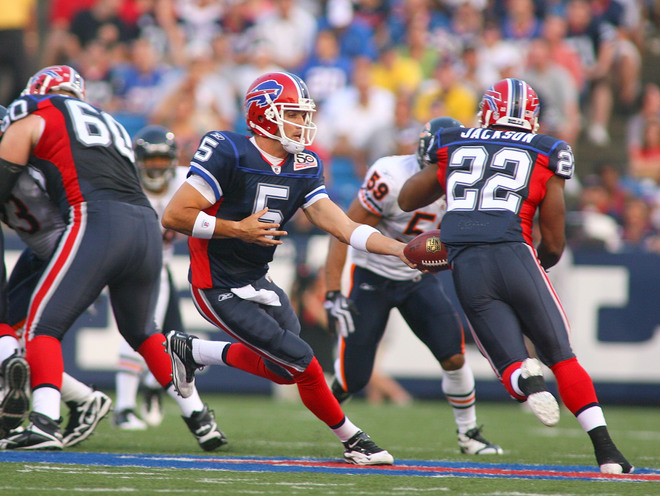 McCargo, Florence Also Banged Up: Drayton Florence left the win over the Bears with a sprained knee as he joined Bryan Scott on the bench. John McCargo also limped off the field in the first half and did not return. Injury Page.

QBs Help Themselves: One unit led the way as many players helped themselves in the 27-20 win over Chicago. The unit that stood out the most were the quarterbacks. They combined to go 29 of 34 through the air for 265 yards. Gibran Hamdan had the lone touchdown and lone interception. Trent Edwards was 10 of 10 could only muster a field goal in his playing time. Ryan Fitzpatrick was 13 of 16 and led the team to a field goal and touchdown. The player that helped himself the most was 7th round draft pick Ellis Lankster who had two interceptions that led to two fourth quarter scores. Jay Cutler was trying to pick on Leodis McKelvin but the 2nd year player had the last laugh with an interception. Chris Ellis continued his fine training camp with a sack and a fumble recovery. Copeland Bryan forced that fumble and also deflected a pass. Lee Evans had a fine showing without Terrell Owens in the game. Nick Harris had a sack and a deflected pass. Both plays forced the Bears to settle for field goals.

Parrish Fumble Hurts: Roscoe Parrish keeps saying he wants more time at wide receiver but he didn't earn it with his fumble in the red zone against the Bears. Dominic Rhodes muffed a punt but he probably wouldn't be returning kicks during the season anyway. Felton Huggins dropped a possible touchdown pass.


Saturday August 15, 2009


Bills Knock Off Bears 27-20: Ellis Lankster picked off two straight passes that setup two fourth quarter Buffalo touchdowns to lead the Bills to their first preseason win. Lankster's picks both were returned to the 4 yard line. The first pick setup a nice touchdown pass on a fade pattern from Gibran Hamdan to Shawn Nelson. Bruce Hall scored on a four yard plunge on the second interception. The no huddle offense performed better this week as Trent Edwards was very efficient but for the second week in a row he couldn't lead the team to a touchdown drive. Edwards was 10-10 for 79 yards. Ryan Fitzpatrick was impressive going 13 of 16 for 143 yards. He led the Bills on the first touchdown drive of the game to start the third quarter as a 75 yard, 10 play drive ended in a Dominic Rhodes touchdown. Leodis McKelvin and Lydell Sargent also had interceptions. Lee Evans caught three balls for 54 yards. On the negative side, Rhodes muffed a punt and Hamdan threw a bad interception.

Scott Hurt In Win: Bryan Scott left the win over the Bears early with a sprained knee. No word yet on how serious the injury is or if anyone else was hurt in the game. Injury Page.

Game Tonight: The Bills will play their second preseason game of the year tonight against the Chicago Bears. It will be Jay Cutler's first game in a Bears uniform. The Bills starters aren't expected to play much more than they did last week since this is traditionally the first preseason weekend. It will be the first home game of the year at Ralph Wilson Stadium but the buzz will be a bit down since Terrell Owens will not be playing as he battles a sprained toe. Others likely out include Pat Thomas, Steve Johnson, and Ashlee Palmer.


Friday August 14, 2009


Team Getting Healthier: A few banged up players returned to the practice field today for the Bills as they held their closed workout at St. Johns Fisher College. Ko Simpson, Felton Huggins, and Xavier Omon all returned to the field after battling various injuries. Ashton Youboty returned yesterday and Copeland Bryan also returned this week as the team appears to be getting healthier before tomorrow night's preseason game. Terrell Owens was not in attendance for today's practice. Injury Page.

Closed Practice: The team is running through a closed practice this morning before heading back to Buffalo for tomorrow night's preseason game. They will then have Sunday off before having their final three practices of training camp early next week at St. Johns Fisher College. They will then finish their preparations for the season at the complex at Ralph Wilson Stadium.


Thursday August 13, 2009


Jauron Says Owens Out: Dick Jauron confirmed after tonight's practice that Terrell Owens will not play on Saturday night. Ko Simpson also may not play as he's the latest Bill to get hurt, he has an ankle problem that made him miss tonight's practice. Pat Thomas is also banged up and missed practice. That meant just signed rookie Ryan Manalac will play in the middle and not outside at this time. Xavier Omon and Ashton Youboty did some work in individual drills tonight. Injury Page.

Owens Out Until At Least Monday: Terrell Owens tweeted about his toe for the first time today. Telling his followers that his toe will be fine and he was receiving treatment this afternoon. He also tweeted that he expects to be back possibly by Monday which means he will not play in the first home preseason game Saturday night against Chicago. He obviously will not practice tonight. Injury Page.

Bills Shoot Down Vick Rumors: It has been a crazy day of rumors that the Bills may be on the verge of signing Michael Vick, or that he's been spotted in town. The Bills released a statement that said they stand by their previous statement on Vick. That said they are not interested in him at this point. Vick will not be going to Buffalo.

Bills Sign LB: The Bills used their open roster spot and unfortunately it was not on rookie holdout Aaron Maybin. They have signed linebacker Ryan Manalac. He helps give them an extra body at the banged position with the injury to highly regarded undrafted free agent Ashlee Palmer. Manalac is an undrafted rookie free agent who played for the University of Cincinnati. He has played both outside and inside with the Bearcats but will play outside for the Bills. Depth Chart.

Bills In Play For Vick? We are not in the habit of publishing rumors at Bills Daily but the big ones deserve discussion. Where Michael Vick winds up is anyone's guess. The experts don't have any idea. Buffalo recently is now being mentioned as a possible destination because many aren't happy with the backup quarterback situation as Ryan Fitzpatrick has struggled so far in camp and in the preseason opener. Russ Brandon said two weeks ago that the team has no interest in Vick but has that changed? Only time will tell.

Omon, Huggins Banged Up: Two new names on the injury front are Xavier Omon and Felton Huggins. Both players performed well in extended action against Tennessee both were held out of practice yesterday. Omon has an ankle problem and Huggins a slight groin issue. Injury Page.


Wednesday August 12, 2009


Game Soldout: Saturday night's game against the Bears is officially a sellout and will be televised locally. It is the annual kids day game where their will be many activities for children.

Fight In Practice: There was the first big fight of training camp today as Chris Kelsay went at it with Dominic Rhodes while Eric Wood battled with John McCargo went at it. A bunch of players on both sides jumped in to break it up. Dick Jauron wasn't thrilled saying fights show a lack of discipline and if you fight in practice you may fight in a game and that could be costly. The players laughed it off after practice.

No T.O. This Morning: Sal Maiorana is reporting for Rochester D&C that Terrell Owens was not on the field for this morning's walk thru. It is highly likely that he won't take part in this afternoon's practice as well.

Fox Waived: The Bills have waived DB Dustin Fox opening up a roster spot. Fox played in 11 games over the past two years with the Bills. He had little chance at making this year's team in the crowded secondary. Depth Chart.

Owens Day To Day: Dick Jauron said after last night's practice that Terrell Owens is day to day with a sprained toe. When asked about surgery he said that hasn't even been thought about at this point. Owens signed autographs for fans and then got treatment on his toe. Also not practicing last night were Ashton Youboty and Ashlee Palmer. Youboty is bothered by a groin injury and Palmer has a badly sprained ankle and will be sidelined a while. Steve Johnson re-injured his ribs going up for a ball last night but it isn't considered that bad. Injury Page.

Gaddis Returns: The Bills filled their open roster spot last night by signing center Christian Gaddis. He was with the team in 2007 spending half the season on the practice squad and half on the active roster. He appeared in one game for the Bills. He was on the Browns practice squad until late October last year and then on the Colts practice squad for the rest of the season. Front Office.


Tuesday August 11, 2009


Owens Not Practicing: Dick Jauron announced that Terrell Owens will not practice tonight. He will update his status after practice. Owens complained that his toe was hurting on his twitter account after the game on Sunday. It appears that injury is keeping him sidelined.

Owens Excused: Dick Jauron said that Terrell Owens was excused from this morning's walk thru and said he would talk more after tonight's practice. Speculation is he missed practice because of his toe injury that we reported earlier.

Two Waived: The Bills have waived Marvin Philip and Jermaine McGhee. Philip was injured late last week. They have re-signed DBAntwain Spann. That leaves in open roster spot which could be used on another free agent or to take James Hardy off of PUP or it could mean they will be signing Aaron Maybin soon. Depth Chart.

No Owens: Terrell Owens was not at the morning walk thru today. No word on why he wasn't there. He did suffer a minor toe injury on Sunday night but it is unknown if that was the reason why he wasn't there today. On the positive front, Brad Butler returned to the field and took part in the morning walk thru. A full team practice is scheduled for tonight. Also absent from the morning walk thru according to the team's website were Ashlee Palmer, Marvin Philip, and Jermaine McGhee. Injury Page.

Back To Work: The team goes back to work to try to build on what they learned in their preseason opening loss to the Titans on Sunday. They got back to St. Johns Fisher in the wee hours of the morning Monday and were given the day off. They have a morning walk thru at 10:15am followed by a night practice. We should get an update on who was banged up in the hall of fame game.



---
News Archives index
Latest News Section
Archives Library
Back to Bills Daily Homepage