Bills Lose Again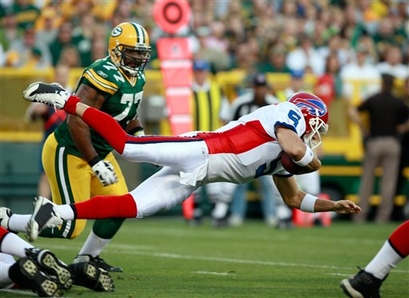 Bills Get Through Game Healthy: It appears that the Bills made it out of yesterday's debacle without suffering any big injuries. Of course some bumps and bruises may come up before they hit the practice field on Monday. The players are off today. Inactive for the game were Terrell Owens, Drayton Florence, Pat Thomas, Travis McCall, Ashlee Palmer, Aaron Maybin, and Marcus Smith. Also not getting into the game were Matt Baker, Nick Hennessey, and Chris Denman. Injury Page.

Starters Hurt Themselves: To a man, the starters really hurt themselves in the loss to the Packers. The Bills fell behind quickly and badly and were trailing 24-0 at halftime. Trent Edwards turned the ball over twice and couldn't find the end zone for a three straight game even though he played well into the second quarter. Mashawn Lynch had just six yards on six carries. The starting defense gave up three touchdowns, although many points were scored thanks to turnovers. Fred Jackson had a costly fumble in the loss.

Backups Play Well: Several backups helped their cause as the Bills played better in garbage time. Xavier Omon had a 52 yard reception and a touchdown. Jonathan Stupar continued his fine preseason with five catches for 63 yards. Steve Johnson had 52 yards on three catches. Ryan Fitzpatrick threw a touchdown pass but also threw an interception and fumbled the ball away. Gibran Hamdan played well going 7 for 11 for 137 yards and two scoring drives. Dominic Rhodes had 39 yards on just six carries.

Saturday August 22, 2009


Bills Lose 31-21: The 2nd half was better than the first for the Bills as the backups took advantage of garbage time and brought the team within 10 points twice. Their first score was a 9 yard pass from Ryan Fitzpatrick to Jonathan Stupar. Xavier Omon and Bruce Hall added one yard scoring plunges. Fitzpatrick and Gibran Hamdan both performed better than the starters. That was the case at most positions.

First Units Struggle: It was a downright awful first half of football for the Bills when Green Bay took a 24-0 halftime lead. They scored 17 of them off of turnovers as the Bills fumbled the ball away three times and Trent Edwards threw an interception in the first 30 minutes. He fumbled the ball away as did Ryan Fitzpatrick and Fred Jackson. They were also called for costly penalties in the first half as they had 7 for 73 yards including two offsides penalties by Aaron Schobel. Edwards came out of the game late in the first half finishing 7 of 11 for just 45 yards. Aaron Rodgers completed 8 of 9 passes for 98 yards and two touchdowns.

Bills, Packers Battle Tonight: The Bills are in Green Bay ready to take on the Packers tonight. It is the third preseason game for the Bills and second for the Packers. Dick Jauron expects to play the starters more this week although they will likely get their most action next week. Look for the starting units to play deep into the 2nd quarter.


Friday August 21, 2009


Contract Details: The contract signed by Aaron Maybin is believed to be a five year deal with $15 Million in guaranteed money and may be worth up to $25 Million. Which would slot him right where it should for the 11th pick in the draft, a bit more than the $13 Million given to the pick behind his.

Two Released: The Bills needed to clear a roster spot when they signed Aaron Maybin and they made two moves instead. They released DB Antwain Spann for the 2nd time this month and released DE Ventrell Jenkins from injured reserve. Front Office.

Maybin Signing Official: The Bills introduced Aaron Maybin at a press conference today and said he's here now and is ready to play football. He called the process difficult but he kept himself in shape and he thinks he can make a contribution to the team. He confirmed he will not go to Green Bay with the team but he will begin practicing on Monday. His teammates have rallied around him and that has helped him. He knows he has a lot of catching up to do but he still has three weeks to prepare for the season and he's excited to get back on the field and work with the coaches. He feels he will be fine and expects to be able to make an impact on opening night. He said he's ecstatic to have everything behind him. Maybin was sporting the Bills emblem shaved into both sides of his head during the 10 minute press conference.

ESPN Says Deal Done: Adam Schefter reports for ESPN that Aaron Maybin and the Bills have now agreed to a five year deal. He is expected to sign the deal at One Bills Drive today. He's not expected to go with the team to Green Bay this afternoon as he will get ready to practice with the team next week. The team has not made an announcement so the deal is not yet official.

Maybin Deal Done? According to several reports, including Terrell Owens' twitter account, the Bills and Aaron Maybin have either come to an agreement on a deal or are very close. Some speculation says the deal may not be signed until after tomorrow night's preseason game in Green Bay. Maybin would not be ready to play in that game and if he's signed before it, the team would have to release a player.


Thursday August 20, 2009


First Practice In Orchard Park: The team held their first practice at One Bills Drive today. Matt Baker and Corey Mace returned to practice. Remaining sidelined were Terrell Owens, Drayton Florence, Pat Thomas, Travis McCall, Ashlee Palmer, and Marcus Smith. Ryan Denney limped off the practice field inside the stadium early when he got kicked in the shin. He should be ok. Injury Page.

Back In Buffalo: The Bills are back at One Bills Drive to finish preparing for the season. They take the field for a two hour practice session today at 11:15am. All practices are closed to the public. The players and coaches all feel they have made great progress at St. Johns Fisher College but to a man they all know they have a long way to go and have just over three weeks to get ready for the season.


Wednesday August 19, 2009


Bills Sign LB: The Bills made a roster move today by adding linebacker Solomon Elimimian. He tried out for the team back in May during the rookie minicamp. The team needed another player at the position because of injuries to Ashlee Palmer and Pat Thomas. To make room they released long snapper Ryan Neill. He was the long snapper the last three years but lost his job apparently to rookie Garrison Sanborn unless the team finds another long snapper that gets released from another team. Depth Chart.

Bills Have 3rd Most Season Tickets Ever: The season ticket campaign is over and the final totals are in. The team has 55,194 season tickets. This is the third most ever behind 1992 and less than a thousand behind last season. That has to be considered a victory because of the economy and the team's lack of winning. Russ Brandon said, "To surpass 55,194 season tickets two seasons in a row is an outstanding accomplishment and itís a testament to both the team and the community. In todayís economy I think this really emphasizes the passion our fans have for the Buffalo Bills and it continues to reinforce how important our regionalization efforts are to the growth of this franchise." Limited tickets remain for the final two Ralph Wilson stadium games against the Dolphins and Patriots.

Camp Is Now Over: Training camp has come to an end as the team held their final practice today. It amounted to little more than a walk through. Terrell Owens was not on the field and he will not likely take the field again until next week. Dick Jauron confirmed he will not play this weekend. Drayton Florence, Matt Baker, Travis McCall, Pat Thomas, Ashlee Palmer, Corey Mace, and Marcus Smith all remained sidelined in the final workout. Check out our newly launched mobile friendly injury page at www.billsdaily.com/mobile/injury.shtml! Injury Page.

Camp Breaks Today: The Bills wrap up the St. Johns Fisher College portion of training camp with a morning workout today. They pretty much have broken camp right down the middle with approximately three and a half weeks at the college and three and a half weeks at the complex at Ralph Wilson Stadium beginning tomorrow. Injury Page.


Tuesday August 18, 2009


Power Failure During Practice: Today's practice was wild as a lightning storm forced the Bills off the grass field and inside the gym for a walk through with an hour left in practice. A power failure made that very difficult as well since they were working on emergency power. Terrell Owens did not practice but did make a brief appearance on the sidelines. Bryan Scott and Felton Huggins returned to practice today. Justin Jenkins left practice early with some soreness in his knee. Injury Page.

Owens Not At Morning Walk Through: Terrell Owens was among the players not on the field during the morning walk through today. No word on whether or not he'll take part in this afternoon's practice. When he's not on the field he's usually getting treatment on the sprained toe.

Florence Out 2-5 Weeks: Dick Jauron updated the status of Drayton Florence after last night's practice. He is considered out 2-5 weeks as his sprained knee isn't as bad as orignially feared. Shawn Nelson and Roscoe Parrish left last night's steamy practice early but it was not because of heat exhaustion. There appears to be a virus going around the team. Injury Page.


Monday August 17, 2009


T.O. Takes Part In Individual Drills: Terrell Owens was back on the practice field tonight as he took part in individual drills as the Bills hit the field on a very hot night at St. Johns Fisher College. Owens missed a week of practice and Saturday's game with a sprained toe. He did not practice this morning. Not participating in the first practice since Saturday's game according to Chris Brown of the team's website were: Matt Baker, Felton Huggins, Drayton Florence, Bryan Scott, Xavier Omon, Pat Thomas, Ashlee Palmer, and Marcus Smith. Injury Page.

McGee Leaves Walk Through: Terrence McGee left the morning walk through earlier apparently suffering from blisters on his feet according to Chris Brown of the team's website. Bryan Scott also did not practice which allowed Jairus Byrd to get second team reps at free safety while Donte Whitner moved back to the strong side. Steve Johnson was also back on the field this morning and should take part in tonight's practice as well. No word yet on whether or not Terrell Owens will practice tonight. Injury Page.

Owens Not On The Field: Terrell Owens was hoping to get on the field today but is not taking part in the morning walk through. It is unknown if he will be on the field tonight.

Byrd Activated: The Bills have activated 2nd round pick Jairus Byrd off of the non football injury list. He is now cleared to practice with the team and begins working out with the team today. He was placed on the list on July 29th when he signed his contract with the team. He was recovering from a sports hernia operation. Injury Page.

Back To Work: The Bills get back to work today at St. Johns Fisher College. They have a morning walk through followed by a night practice today. They close out camp with practice sessions on Tuesday and on Wednesday. They then head back to Orchard Park to finish getting ready for the season.



---
News Archives index
Latest News Section
Archives Library
Back to Bills Daily Homepage