Bills Have Another Clunker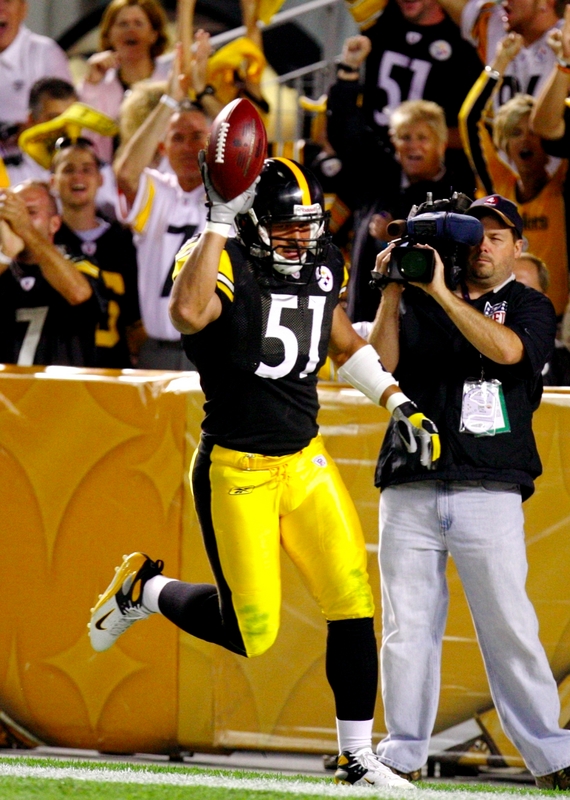 Maybin Makes Debut: Aaron Maybin made his Bills debut and performed well in the losing effort. He had a sack, which was helped by solid coverage, a quarterback hit, and a tackle for loss. Dick Jauron said he thought Maybin performed better than the thought he would. He was one of a very few bright spots for the team. Ryan Fitzpatrick looked pretty good at quarterback going 8 of 11 for 65 yards but he couldn't find the end zone either.

Plenty Of Blame: The Bills performed very poorly in this game and there is plenty of blame to go around. The offense failed to score any points while the special teams were hit by a few penalties and had a field goal blocked. Nick Harris had two penalties called on him. Individually, Trent Edwards has no confidence as he struggled mightily once again throwing an interception and gaining only 31 yards in the air. He played one series into the third quarter and the offense gained just 56 yards while he was in there.


Saturday August 29, 2009


Bills Look Awful Again: The Bills first string offense had not scored a touchdown all preseason. That continued today and the lack of punch spread to the rest of the team as the Bills were shutout by the Steelers 17-0 tonight in Pittsburgh. Trent Edwards looked awful again as he continues his regression throughout the preseason. He threw for only 31 yards hitting only six of 13 passes. He also had an interception returned 22 yards by James Farrior for a touchdown. That score was sandwiched around a 34 yard field goal and a short 4 yard scoring run by Rashard Mendenhall as the Steelers scored all the games points in the 2nd quarter.

Walker On The Outs? Tim Graham reports for ESPN.com that sources close to the team say that the Bills would rather go with Demetrius Bell at left tackle over Langston Walker. That may explain while Bell got a series with the first team last week. Complicating the issue is that Bell is week to week with a back problem which may put a crimp in this potential plan. The report states that Turk Schonert feels their best chance is with Bell at left tackle. It is known that the Bills are very high on the unlimited potential they feel Bell has. Who do you think should be starting at left tackle? Take our poll on our homepage and let us know.


Friday August 28, 2009


T.O. Pronounces Toe Healed: Terrell Owens tweeted today that his toe is healed. He was on his way to Dallas as he did not travel with the team to Pittsburgh. He is expected to practice next week. No word yet on if he'll play in the final preseason game on Thursday night or wait until the season opener to hit the field.

Bills Finish Preparing For Steelers: The Bills are holding a final practice today before headling down to Pittsburgh for Saturday night's game. This traditionally is the closest to a regular season game as the starters usually play into the third quarter. The Bills will be without Terrell Owens, Aaron Schobel, and all likelihood without Fred Jackson and Derek Fine. Injury Page.


Thursday August 27, 2009


Owens Does More Drills: Terrell Owens once again took part in individual drills and ran from routes but did not go full speed. He has already been ruled out of Saturday's game. Fred Jackson did not practice today. He has said he would try to do some things today but didn't. One new player was sidelined today, Derek Fine. Also not participating were Demetirus Bell, Travis McCall, Lydell Sargeant, Aaron Schobel, and Drayton Florence. Injury Page.

Bills Open Contract Talks With McGee: The Buffalo News is reporting that the Bills and Terrence McGee have opened up talks on a new contract. McGee is the big name free agent for the team next offseason and the Bills don't want to lose another solid cornerback. In the past few years they have lost Nate Clements, Antoine Winfield, and Jabari Greer. It will cost them a lot of money to lock him up. McGee says all things being equal he wants to stay with the team since this is the only professional organization he has played with. The Bills hope to get a deal done before the start of the season since that would be easier than getting done once the season starts because of the threat of an uncapped year in 2010.

Check Out Blog Interview: Bills Daily draft correspondent Rich Orefice has started his own blog about all things sports. He interviewed Bills Daily about our thoughts about the upcoming season. Check it out! and go back often for his very knowlegeable view of sports.


Wednesday August 26, 2009


Jackson May Practice Tomorrow: The Bills have confirmed that x-rays were negative on the wrist of Fred Jackson. He did not practice today as it was still pretty sore but he said it is much better than it was yesterday and he hopes to be back on the field real soon. Jackson said he will do some work tomorrow and did not rule out playing this Saturday against Pittsburgh.

Sargeant Injured: One new player out with an injury today was rookie free agent Lydell Sargeant. He has a knee injury and will not play on Saturday night. Terrell Owens again did some individual work as he is improving but not practicing. Pat Thomas dressed but didn't do too much according to WGR. Ashlee Palmer hit the field for the first time in a while and did some individual drills. Drayton Florence, Felton Huggins, Demetrius Bell, Travis McCall and Aaron Schobel remain sidelined. Injury Page.

Jackson Ok: Adam Schefter reports that x-rays on Fred Jackson's hand was negative. It is reportedly a deep bone and ligament bruise and he should be ready for opening day. Injury Page.

No Word Yet On Jackson: The Bills will hopefully update the media after today's practice about the condition of Fred Jackson. He aggravated an injury that appears to be between the wrist and thumb during yesterday's practice. He was in a lot of pain. If he was to miss significant time it would make Dominic Rhodes the new starting running back on opening day and leave the depth very inexperienced.


Tuesday August 25, 2009


Jackson Injured: The Bills may have been dealt their first serious blow of the summer. Fred Jackson was taken off the field with a wrist injury. He started practice with it heavily wrapped but aggravated the injury when he was hit in the area just above the thumb by Donte Whitner they hope he is going to be ok but he is getting x-rays and was in serious discomfort.

Owens On The Field: Terrell Owens hit the practice field today but just ran through a few drills and took some mental reps. He was moving at half speed and watched the rest of practice as his toe is feeling the best it has to date. He has been ruled out of Saturday's game against the Steelers as they continue to be very cautious with his toe. This type of injury can linger and they want it healed before the season starts. Demetrius Bell missed practice a day after being carted off. He was doing much better however. He has a back issue. Also not practicing were the usual suspects, Drayton Florence, Felton Huggins, Pat Thomas, Ashlee Palmer, Travis McCall, and Aaron Schobel. Injury Page.

Edwards Too Timid? There may be a philosophy problem developing between Trent Edwards and the coaching staff. Edwards continues to dink and dunk the football and not take shots downfield. This has been is M.O. since he's been the starting quarterback. After the game, Jauron said he can't be timid and needs to pull the trigger. Edwards said he's doing what the coaching staff tells him to do and that is go through the progressions. He constantly says he is taking what the defense is giving him. He needs to take shots downfield regardless of the defense and Lee Evans says he's trying to get him to do that. Who do you think is too blame for the failure to go downfield? Take our poll on our homepage and let us know!


Monday August 24, 2009


Schobel Out At Least A Week: As is always the case afer a game injuries pop up. As the Bills hit the practice field today Aaron Schobel remained sidelined. He hyperextended in elbow in the loss on Saturday night. He's expected to miss Saturday's preseason game in Pittsburgh and should be out at least a week. He feels it will be better once it tightens back up. There was an injury today as Demetrius Bell was carted off the field after he hurt his back. He is undergoing tests to see how serious the injury is. Injury Page.

Maybin Practices: Aaron Maybin hit the practice field for the first time today. He was used with the second unit at left end and had a "sack" in his first action. He also dropped back in coverage a few times and was beaten by Shawn Rogers for a reception. Maybin knows he has a lot of catching up to do but feels like he's making progress.

Bills Get Back To Work: The Bills get back on the field today with a 90 minute workout late this morning at One Bills Drive. They is a lot to fix from Saturday night's loss in Green Bay. They need to figure out how to score touchdowns on offense. The first unit has yet to put it in the end zone this preseason. No word on whether or not Terrell Owens will practice this week. Aaron Maybin will be on the field for the first time. He spent the weekend catching up in his playbook and working out.



---
News Archives index
Latest News Section
Archives Library
Back to Bills Daily Homepage