Bills Lose In Toronto Again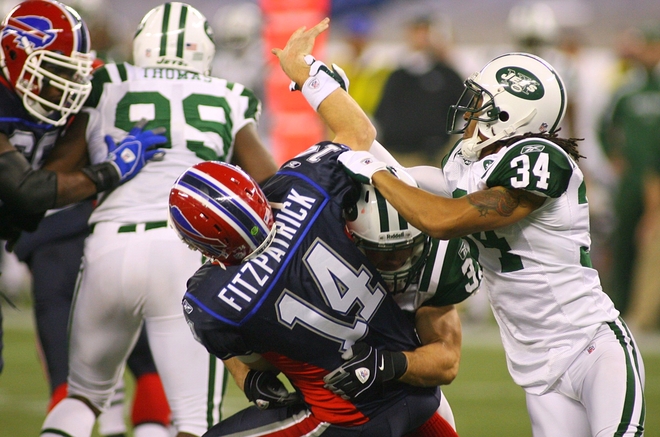 Feels Like A Bye Week: With Bills fans trying to get Thursday night's loss out of their minds as quickly as possible today kind've feels like the Bills are on a bye this week. Fans will get to watch NFL teams that can actually gain yards, convert third downs, and keep their quarterback upright. Don't get used to it though as the Bills and Chiefs prepare for an epic battle next Sunday.
Saturday December 5, 2009


Loss Won't Help Search: The Bills embarassing loss against the Jets on Thursday night in front of an international TV audience will not help them land a big time coach or football man to run the front office. We take one more look back at the loss to New York. Gameday Recap.


Friday December 4, 2009


Jackson The Feature Back: Perry Fewell was asked today why he decided to stick with Fred Jackson when Marshawn Lynch was running well in the second quarter. He said Jackson is the feature back and they thought he had the better chance to succeed against the Jets defense. There is also the school of thought that you should go with the hot hand and Lynch was running better than Jackson at that point.

Players Get Weekend Off: Perry Fewell gave his team today off because he knows they needed it after playing three games in 11 days. He also gave them the weekend off. They will resume their normal schedule on Monday and the coach has not decided if that will be a full pads day or not. There were no injury updates but Fewell re-iterated the only two injuries of note from the game were to Chris Draft and Kirk Chambers but he thinks they will both be ok. Draft's injury is now classified as a neck thing. Injury Page.

Draft Injures Shoulder: In the post game press conference Perry Fewell said Chris Draft suffered a shoulder injury. He said Kirk Chambers injury was to his ankle and he couldn't finish the game. Marshawn Lynch and Reggie Corner were fine after getting dinged up in the first half. Injury Page.

Jets More Physical: The Jets beat the Bills by six points but it really wasn't that close. The Jets were much more physical than the Bills and it showed. The Bills struggled to move the ball offensively and the defense was run over for much of the game. Gameday Grades.


Thursday December 3, 2009


Bills Blitz: Braylon Edwards caught a 13 yard touchdown pass from Mark Sanchez just before halftime to give the Jets a lead that they wouldn't relinquish as New York knocked off the Bills 19-13 at the Rogers Centre in Toronto. The Bills had taken a 10-6 lead in the 2nd quarter on a Marshawn Lynch 15 yard touchdown run that was setup by his 35 yard run a play earlier. Not much happened in the second half as both teams traded field goals. The Bills had one last chance in the final minutes but a Ryan Fitzpatrick deep pass to Terrell Owens was picked off. Bills Blitz.

Few Players Banged Up: Three players got banged up in the first half but all returned. Reggie Corner was shaken up in the 2nd quarter and replaced by the already banged up Terrence McGee. Kirk Chambers limped off in the 2nd quarter and was replaced by Jamon Meredith. He did return temporarily but Meredith finished the game. Marshawn Lynch also went to the locker room early before halftime but returned in the third quarter. Injury Page.

McGee, Byrd Active: Terrence McGee and Jairus Byrd are both active but will be limited. Reggie Corner will start for McGee even though he's active. The Bills officially also said that Fred Jackson will start at RB. Stevie Johnson, Cary Harris, James Hardy, and Chris Ellis are inactive along with Ashton Youboty, Demetrius Bell, and John McCargo who were ruled out yesterday.

Gameday In Toronto: It's been a whirlwind week as the Bills and Jets didn't have much time to prepare for tonight's matchup in Toronto. It's a "home" game for the Bills but they didn't have much of a home field advantage last year and there is no guarantee that they will have the majority of the fans again tonight. I wrote in our preview that whoever prepares best, and is the most organized to get their team ready in the short week, will win this game. The short week probably hurts Terrence McGee and Jairus Byrd the most as they are trying to get on the field despite their injuries.


Wednesday December 2, 2009


Three Ruled Out: The Bills have ruled out Ashton Youboty, Demetrius Bell, and John McCargo again this week after all three failed to take part in the walk through in Toronto. Terrence McGee and Jairus Byrd are questionable. McGee is a gametime decision and Byrd is expected to play on a limited basis. Injury Page.

Game In Toronto Tomorrow: It's a short week as the Bills travel to Toronto today for tomorrow night's battle with the Jets. It will be a tough divisional matchup as both teams are coming off big wins. The Bills would love to put another nail in the coffin of the Jets playoff hopes. Complete Preview.


Tuesday December 1, 2009


Four Sidelined Today: The Bills practiced without pads for the second straight day as Perry Fewell is getting the team ready more mentally for Thursday's game than physically since it's such a short week. Ashton Youboty, Demetrius Bell, and John McCargo remain sidelined and will likely be out on Thursday. Todd Johnson missed practice for personal reasons. Jairus Byrd and Terrence McGee were limited. Byrd is expected to play. Fewell said McGee is day to day and will be a gametime decision. McGee feels he will play. Injury Page.

Bills Add Player: The Bills filled the open spot on their practice squad by adding their second defensive tackle in a week. They signed Rashaad Duncan who spent time on the practice squads of Tampa Bay and Carolina this year. He played his college ball at Pitt.

Game Soldout: Thursday night's game in Toronto is officially a sellout so the game will not be blacked out in Buffalo. There are reports however that there will be a lot of empty seats and that the sellout is on paper only.

Lynch Not Upset: Marshawn Lynch spoke to the media yesterday and said it feels good to get a win and Perry Fewell brings a lot of energy to the team. He said he's satisified with his reduced role with the team if they keep winning. He doesn't mind sitting down and watching Fred Jackson do his thing. He called it real big the way Jackson is playing. He will continue to show up at work every day and give it everything he's got.

Optimism With Bills: What a difference a win makes. The Bills solid fourth quarter effort has brought optimism regarding the future of the team. Even Tony Bogyo is taking an optimistic look about the team's future. Complete Story.


Monday November 30, 2009


Short Work Week Ahead: The Bills don't have the usual 24 hours to enjoy yesterday's win as they have a game on Thursday night against the Jets. The coaches started preparing for the game on Friday and will be very busy today. Perry Fewell normally addressed the media on Monday but won't. He will address the media tomorrow for the usual media day activities a day earlier than usual.

4th Quarter Reversal Leads To Win: It was definitely a reversal of fortunes yesterday as the Bills scored 24 fourth quarter points to beat Miami 31-14. The Bills talked all week about finishing games and they certainly finished the one yesterday at Ralph Wilson Stadium. Here's our complete look back at the win. Gameday Recap.



---
News Archives index
Latest News Section
Archives Library
Back to Bills Daily Homepage