Bills Get Win For Coach Fewell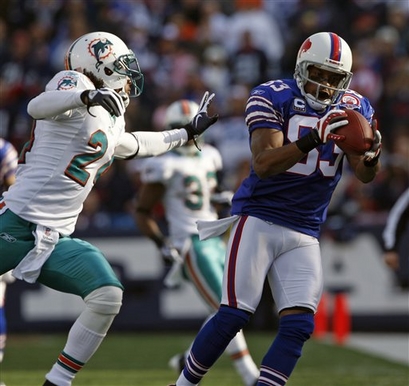 Short Work Week Ahead: The Bills don't have the usual 24 hours to enjoy yesterday's win as they have a game on Thursday night against the Jets. The coaches started preparing for the game on Friday and will be very busy today. Perry Fewell normally addressed the media on Monday but won't. He will address the media tomorrow for the usual media day activities a day earlier than usual.

4th Quarter Reversal Leads To Win: It was definitely a reversal of fortunes yesterday as the Bills scored 24 fourth quarter points to beat Miami 31-14. The Bills talked all week about finishing games and they certainly finished the one yesterday at Ralph Wilson Stadium. Here's our complete look back at the win. Gameday Recap.


Sunday November 29, 2009


Defense Makes Plays In 4th Quater: The Bills refused to wilt in the fourth quarter in today's 31-14 win over Miami. The defense forced three interceptions while the offense put together three touchdowns (two off of picks). It was a team effort including a well placed fourth quarter punt by Brian Moorman that set up a dominating finish for Buffalo. Gameday Grades.

Bills Blow By Miami 31-14: The Bills reversed recent late game failures by scoring 24 fourth quarter points in a resounding 31-14 win over Miami. Fred Jackson scored two touchdowns in the final quarter as he ran his first in from the three to tie the game. Rian Lindell hit a career long 56 yard field goal to give the Bills the lead. Miami's last three possessions would end an interceptions. The Bills went for the knockout punch after the first of those picks. Ryan Fitzpatrick hit Terrell Owens for a 51 yard score to put the game away. Jackson's second touchdown run put the exclamation point on the victory. Bills Blitz.

Harris Injures Eye: Nic Harris went to the locker room before the end of the first half with ice over his eye. He may have been poked in the eye. It didn't appear serious. Injury Page.

McGee Heads Inactive List: Terrence McGee will not play today against Miami as he is inactive. Marcus Stroud will give it a go while James Hardy, Stevie Johnson, John McCargo, Demetrius Bell, Chris Ellis, and Ashton Youboty are inactive. Kendall Simmons will start at right guard with Jonathan Scott playing at left tackle and Kirk Chambers getting the nod at right tackle. Reggie Corner will start for McGee.

Showers Possible: The Bills were hoping for some vintage late November weather in Western New York to welcome Miami to town. It will be downright balmy by Buffalo standards. The temperature at gametime will be 47° with a chance of showers in the second half. Winds will be out of the Southwest at 12mph making it feel a little bit cooler.


Saturday November 28, 2009


Tasker, Reed Semifinalists For Hall: The Pro Football Hall of Fame announced their list of 25 semifinalists for the Class of 2010 and two Bills are on the list. Steve Tasker and Andre Reed made the list as expected. Reed is expected to eventually make the Hall but wide receivers traditionally have to wait years. Tasker is a different situation as only one special teams player is in the hall of fame, he would be the first non-kicker to go in if he made it. The list will be reduced to 15 modern-era candidats on January 7th. The Class of 2010 gets announced the day before the Super Bowl.

Mace Activated: The Bills added depth to the banged up defensive tackle corps by activating Corey Mace off of the practice squad. The team has just two healthy tackles but hope Marcus Stroud will be able to play tomorrow. Mace has spent parts of the last three years on the team's practice squad. He played in three games last season for the team when he was activated late in the year. To make room they released TE Joe Klopfenstein who was signed 10 days ago. That leaves them with just two tight ends. Front Office Page.

Simmons Expected To Start: It does appear that Kendall Simmons will start at right guard tomorrow just five days after being signed by the Bills. The 8 year veteran has 80 career starts and has been working overtime to learn the terminology. The team is also expected to rotate three safeties with George Wilson, Jairus Byrd, and Donte Whitner all expected to see time at the two positions. Whitner played some nickel last week as well and can be used more in the run game as well. Depth Chart.


Friday November 27, 2009


McCargo Out: Despite practicing a bit today, John McCargo has been ruled out of Sunday's game. He joins Ashton Youboty and Demetrius Bell on the sidelines. Marcus Stroud, Terrence McGee, and Jairus Byrd are questionable. Chris Kelsay has been added to the report as he is probable with a shoulder ailment. Injury Page.

Stroud, McCargo Practice Today: Marcus Stroud and John McCargo did take part in at least a limited portion of practice today along with Terrence McGee and Jairus Byrd. That left just Nic Harris, Ashton Youboty, and Demetrius Bell off the field today. Harris remains out for a personal issue but he's expected to play on Sunday. Yuoboty and Bell will be out for Sunday's game. Injury Page.

McGee Practices Yesterday: Terrence McGee practiced on a limited basis yesterday but still may be a week away from playing. Nic Harris was the only other change to the injury report as he missed practice for personal reasons. He is expected to play on Sunday. Injury Page.


Thursday November 26, 2009


Kelly Speaks Out: Jim Kelly spoke out in an interview with USA Today. He reiterated that he would like to meet with Ralph Wilson about getting involved as a part owner so Wilson's legacy can live on in Western New York once he passes on. Kelly has said before he would do whatever it takes to keep the Bills in Buffalo. He also said the team needs to move forward with a new QB and he mentioned Florida's Tim Tebow as an option. He also said they need to stay away from QBs from California since three have failed here since he has retired.

Martz Wants Job: There is one coach who is actually lobbbying for the Bills head coaching job. Mike Martz said he'd be interested. He is the guy who drafted Ryan Fitzpatrick and is said to be a big fan of Trent Edwards. He is an offensive coach who gets a lot out of his quarterbacks and has worked with Perry Fewell and Bobby April before. No word on if the Bills are interested in him.

Wood Home: Eric Wood is back in Buffalo today after three days in a Jacksonville hospital. He said the surgery went well and he expects to be back on the field after a 6-8 month rehabilitation process. He will be on crutches for six weeks. The broken fibula was reset and a rod was put in the broken tibia.

Bills Searching For A Win: The Bills head home for only the 2nd time since an early October debacle against Cleveland. They will be looking for Perry Fewell's first win as interim head coach and he has asked the crowd to come ready to pick up his team and help lead them to a win. Game Preview.


Wednesday November 25, 2009


Lynch Practices: Marshawn Lynch did participate in practice today fully and seemed to get through the portion the media was allowed to see in good shape. Jairus Byrd was limited in practice. Not practicing were Terrence McGee, Marcus Stroud, John McCargo, Demetrius Bell, and Ashton Youboty. Injury Page.

Fitzpatrick To Start: Perry Fewell confirmed after practice today that Ryan Fitzpatrick will start Sunday against Miami. This was expected after his 297 yard passing game against Jacksonville. The team practiced outside in the rain today which was a good call considering it may rain on Sunday. Another example of how this is not Dick Jauron's team anymore.

Bills Meet With Shanahan: ESPN is reporting that the Russ Brandon met with Mike Shanahan for seven hours over two days to discuss the Bills head coaching job. The meeting wrapped up Tuesday afternoon and Shanahan said it was an excellent meeting and that he was impressed with everything Brandon had to say. Both sides agreed to take their time with the process as Shanahan would like to see what develops with other possible openings and the Bills wanting to check out all other candidates thoroughly. It does appear Shanahan is definitely on top of the list. Even if they don't land the big fish, meeting with him for seven hours allowed Brandon to pick a great football mind for information and knowledge that can only help in rebuilding the organization.

Two Added To Practice Squad: The Bills replenished their practice squad by adding two players today. DT Lonnie Harvey and OL Jason Watkins brings the unit back up to eight players after they activated Christian Gaddis today. Harvey was an undrafted free agent signed by Carolina over the summer but he was released before the season started. Watkins played tackle at the University of Florida and was signed by Houston as an undrafted free agent but also failed to make the team.

Gaddis Activated: A move that was expected the Bills finished replinishing their guard position by activating Christian Gaddis off of the practice squad. Seth McKinney became the 14th player placed on injured reserve to make room. McKinney suffered a season ending knee injury on Sunday. Gaddis was added to the practice squad last week. He had two separate stints with the team previously. Depth Chart.

Schottenheimer Says No: Marty Schottenheimer said on his Sirius NFL radio show yesterday that he's not interested in returning to coaching leaving him out of the Bills coaching search. He said the Bills have not contacted him about the job but he would be flattered to be considered though he is not coming back. AP is also now reporting a meeting between the Bills and Mike Shanahan. NFL.com reports that Shanahan may be looking for a piece of the franchise to come aboard and Ralph Wilson is reportedly ready to talk about it. Do you think the Bills will land a top tier coach? Take our poll on our homepage and let us know what you think!


Tuesday November 24, 2009


Bills Sign Simmons: The Bills bolstered their depleted guard position by signing veteran Kendall Simmons. The eight year veteran was a 1st round draft pick of the Steelers in 1992 and has 80 career starts. He was with the Patriots this year but released on November 9th. It will be interesting to see how much he has left. The team placed Eric Wood on injured reserve to make room for him. Depth Chart.

2nd Tier Coach Likely: Even though Ralph Wilson is ready to open up the wallet to pay a top tier coach it will still be difficult to land one. There are many more attractive options than Buffalo for these guys according to Tony Bogyo. He gives us his thoughts on the future of the Bills organization. Complete Story.

Final Look At Loss: The Bills 4th quarter woes continue but at least they put out a passionate effort in Perry Fewell's debut as coach. They also proved that Terrell Owens is not washed up and can produce offensively if they take the shots deep. Gameday Recap.

Cowher Won't Interview: Sources report that the Bills contacted Bill Cowher this weekend about their job opening. The reports say they told Cowher they were willing to pay a salary in the $10 Million range for the right coach. Cowher said he will not talk to any teams about a coaching job until after the season out of respect to other coaches and CBS where he works. This move may take him out of the running for the Bills job. Ralph Wilson and Russ Brandon are expected to talk to Mike Shanahan this week. Perry Fewell is expected to get an interview after the season if he wants it. He said he will make that decision after the season is over.



---
News Archives index
Latest News Section
Archives Library
Back to Bills Daily Homepage