Bills Lose Fewell's Debut At Coach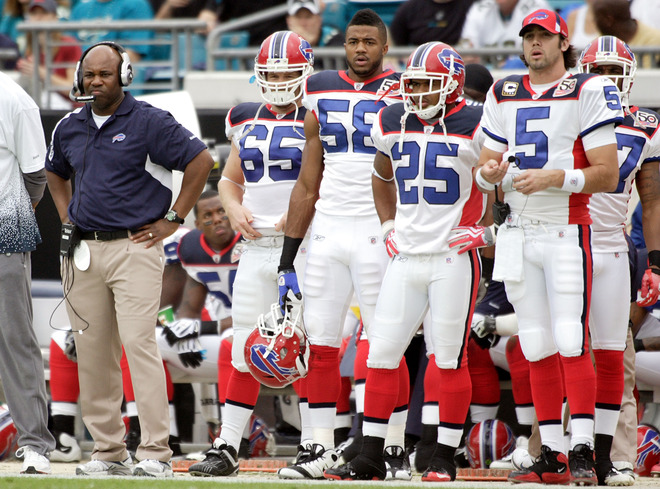 Stroud Says He'll Play: Some good news on the injury front, Marcus Stroud told AP he's ok and will be back in the lineup on Sunday. He missed yesterday's game with a knee injury. Marshawn Lynch is feeling better today and they will wait to see how he is tomorrow before determining if he may be availabe this week. Injury Page.

No QB Yet: In his press conference today Perry Fewell would not commit to Ryan Fitzpatrick as his quarterback for Sunday's game against Miami. He stood by his statement that the QB job is week to week. He did say Fitzpatrick did some good things and they will evaluate everything before making the call. It would be a shock if they went back to Trent Edwards after Fitzpatrick threw for more yards in a game than a Bills QB has in three years.

McKinney Season Over: Sean McKinney is headed to injured reserve with his torn meniscus injury. He will be joined by fellow guard Eric Wood who broke his tibula and fibula in the loss yesterday. They need those two roster spots and maybe more to replenish the injured depth of the team.

Extra Point Was Botched: Brian Moorman confirmed today that the fake extra point wasn't a designed play, they faked the extra point after Moorman bobbled the snap. He almost pulled it off but missed Ryan Denney open in the end zone.

Lynch Not Sure About Injury: Marshawn Lynch told the Buffalo News that he will need more tests before determining how serious his shoulder injury is. Seth McKinney has a torn meniscus but it is unclear how serious the tear is or if he'll need surgery. Injury Page.

Roster Moves Ahead: The Bills will be busy scouring the waiver wire and looking back at players they have brought in for a look this season. They are decimated with injuries at several positions. They are down to just five healthy offensive linemen, one healthy running back, and two healthy defensive tackles. Barring any miraculous recoveries the practice squad is likely will be emptied as at least two offensive linemen need to be signed and a running back as well as a tackle. All four can come from the practice squad. Stay tuned for a busy week of transactions. Front Office.


Sunday November 22, 2009


Gameday Grades: The Bills played very well for three and a half quarters on defense but the same old problems came to a head. The defense wilted on the winning scoring drive because they were out on the field way too long in the second half. That brings us to the offense. They performed much better as they put up 343 yards in total offense but they did nothing in the fourth quarter leaving the defense out to dry. Gameday Grades.

Wood Staying In Jacksonville: The Bills announced that Eric Wood would stay behind in Jacksonville and have surgery. He reportedly has a fractured tibula and fibula. His season is obviously now over. A player landed on his leg at the end of a play. Injury Page.

Bills Lose In Final Minute 18-15: David Garrard hit Mike Sims-Walker for a three yard touchdown pass with :56 left to give the Jaguars a come from behind 18-15 win over the Bills. Buffalo played hard for interim coach Perry Fewell and took a 15-10 lead on a team record 98 yard touchdown pass from Ryan Fitzpatrick to Terrell Owens in the third quarter. A fake extra point failed to get the two points after that score. Rian Lindell hit three first half field goals to keep the Bills close. A last ditch effort to tie the game ended when Fitzpatrick through an interception from the Jaguars 46 yards line to wrap up the game. Fitzpatrick fell three yards short of becoming the first Bills quarterback to throw for 300 yards in 45 games. Bills Blitz.

Lynch, Wood Hurt: Marshawn Lynch injured his left shoulder on a fumble in the 2nd quarter. He was carted up to the tunnel and did not return. Eric Wood suffered what looks like a serious left leg injury in the third quarter. He was carted off and an air cast was put on. He did not return. LS Garrison Sanborn got his bell rung. Seth McKinney was shaken up in the first quarter but returned in the 2nd before leaving for good in the third quarter after getting shaken up again. Injury Page.

ESPN Reports Shanahan Meeting: ESPN's Adam Schefter is the second to report that the Bills will meet with Mike Shanahan this week. They say the Bills will make try to make it tough for Shanahan to look elsewhere for a job.

McGee Sits; Williams, Parrish, Byrd A Go: Everyone was interested to see if the inactive list would change much under Perry Fewell. One of the changes he made was activating Roscoe Parrish for the first time since his critical fumble against Cleveland over a month ago. Terrence McGee, Marcus Stroud, Demetrius Bell, James Hardy, and Ashton Youboty are sitting with injuries. Also inactive are Stevie Johnson, and Joe Klopfenstein.

Rainy Day In Sunny Florida: Weather may be a factor for today's game in Jacksonville. There is an 80% chance of rain and thunder storms at kickoff with a temperature of 73°. Chance of thundershowers diminish a bit during the game to about a 40% chance in the 2nd half. Winds will be light.


Saturday November 21, 2009


Coach After Season: WIVB-TV has now modified it's Jon Gruden story somewhat. Instead of a face to face meeting the source now says they went through back channels to see if he was interested in the Buffalo job. The source also tells the TV station that a coach won't be hired until after the season but informal talks will start before then. This makes sense since the Bills want to give Perry Fewell a chance to earn the job in the next seven games.

Gruden Top Choice? WIVB-TV reports that the Bills really wanted Jon Gruden to be the next head coach but he turned them down. Sources told the station that they went after him hard but he decided to stay at ESPN where he just signed a lucrative extension. The TV station also reports they offered Dick Jauron the chance to stay until the end of the year but he declined. No comment on either story by the Bills. They said in a statement earlier in the week that they wouldn't comment on the coaching search.

Ellison On IR: The Bills have placed Keith Ellison on injured reserve ending his season. He becomes the 12th man on injured reserve this year. Last season they finished with a record 17 players on the list. The team activated DB Cary Harris off of the practice squad. They needed another corner with Ashton Youboty out and Terrence McGee likely to miss the game as well. That would have left the team with just three corners on gameday. Harris was the lone draft pick this year not to make the team out of training camp. Depth Chart.


Friday November 20, 2009


Four Questionable: Terrence McGee, Kyle Williams, James Hardy, and Jairus Byrd are all listed as questionable for Sunday's game. Ashton Youboty is out. If Williams can go it would be a very quick recovery from his sprained MCL and would give a much needed boost to the run defense with Marcus Stroud already ruled out against his former team with a knee injury. Injury Page.

Stroud Declared Out: In another big blow for the offense, Marcus Stroud has been ruled out of Sunday's game with a knee injury that did not allow him to practice this week. Keith Ellison and Demetrius Bell were also ruled out.

Stroud Misses Practice: Marcus Stroud did not practice today which could be a very bad sign for the banged up defense if he can't go on Sunday. He has been bothered by a knee injury. Terrence McGee and Jairus Byrd did work on a limited basis. Earlier in the week Perry Fewell though both Stroud and Byrd would be able to go. We have to see if that assessment has changed.


Thursday November 19, 2009


Bills Not Talking About Coaching Search: As Ralph Wilson alluded to earlier the team has issued a statement regarding the coaching search, it states: "The Bills organization is focused on the next seven games and the efforts of Coach Fewell, the coaching staff and our players. We understand there will be much speculation regarding the head coaching position, but we will not comment during the process until a new head coach has been announced." What it doesn't say is if the team has started the coaching search or not.

Scott Returns: Jonathan Scott was back and practicing today after being away less than a week following the death of his father. It's unclear how the tackle position will shake out for Sunday's game with Scott, Andy Levitre, and Kirk Chambers in the mix. Nic Harris missed practice today because of an illness but Kyle Williams was on the field on a limited basis for the first time since spraining his MCL. James Hardy was new to the injury report as he was limited with a sore groin. Injury Page.

Bills Make Brohm Signing Official: The Bills officially announced the signing of QB Brian Brohm. To make room for him they released Gibran Hamdan. Perry Fewell was on Sirius NFL radio earlier today and said Brohm was signed as someone they want to look at long term but he likely won't help the team this year. Depth Chart.

Sweeping Changes Ahead: The Associated Press spoke to Ralph Wilson by phone today and he said he will revamp the entire football operation. They will undergo a full review of everything and the owner says there is a lot of work to do. There will look at every position in the organization and could bring in a general manager and/or a high powered, high profile head coach. Right now the football operations are run by COO Russ Brandon who is a marketing guy. Wilson said it's about winnning not money and he's not cheap. Wilson shot down the Mike Shanahan rumors saying he knows nothing about it and the team is expected to release a statement later today about the speculation.

There Is A Game Sunday: With all the news from the week the game Sunday against Jacksonville has been lost in the shuffle. It will be interesting to see how the team reacts after a roller coaster week. They face another tough running team as the Jaguars feature the very tough Maurice Jones-Drew. Game Preview.

Wilson Willing To Give Control: Vic Carucci on NFL.com is reporting that Ralph Wilson is willing to give the right candidate total control of the football operation and whatever salary it takes to get the guy here. Mike Shanahan is the number one candidate according to this report as well and a meeting may take place as early as next week. Carucci also says Bill Cowher is high on the list. Shanahan is reportedly intrigued by the low maintenance situation in Buffalo and the fact that they are in very good salary cap shape.

Bills Sign Brohm? A report out of the Milwaukee Journal Sentinel says the Bills have signed QB Brian Brohm off of the Packers practice squad. The report says the Packers wanted to match the two year deal the Bills offered Brohm but he felt he would be better off going to a team that has an unsettled quarterback situation. The Bills have yet to confirm the signing and someone would need to be taken off of the roster to make room for him. Brohm was a 2nd round draft pick in the 2008 draft and would be reunited with his former center at Louisville in Eric Wood.


Wednesday November 18, 2009


Fitzpatrick Excited: Ryan Fitzpatrick said he's very excited to be the starter and wants to go out and get the team some wins. He said he's especially excited to be playing with Terrell Owens and Lee Evans. There will be a lot of communication that will go on this week to get everyone on the same page. He called Dick Jauron a father figure who they respected and got respect from. It is time for them to move forward. They have the talent to overcome the struggles they have had all year. He feels the offensive line is playing good and tough they just have to go out and do it. He doesn't think the offense will change a ton under Perry Fewell but he will bring a different attitude and won't be too involved in making the game plan since he's still the defensive coordinator. He is a good guy to get them out of their funk since he has some fire in him.

Owens Felt It Was Fitzpatrick's Job To Lose: Terrell Owens said the coaching change is the nature of the business although you never like to see a coach get fired. You just deal with it and move forward. There are things Perry Fewell are going to change and they will follow his lead. Owens reached out to Jauron and thanked him for the opportunity to play for him and wished him well. He didn't envision the team being 3-5 but that is the hand they are dealt and it is all about how they handle it. It has been a learning process for him and some guys are handling it better than others. It is tough being in a losing situation since it's something that is uncharted territory for him. He likes that Ryan Fitzpatrick has experience and will be able to buy time with that experience. He feels he can take more shots downfield because of that. He felt it was his job to lose when he went 2-1 while Trent Edwards was hurt. He feels he isn't in a system that he's accustomed to and there isn't much he can do about it just go out there and do his best. He says what is disappointing is that they are practicing hard it just isn't translating to wins.

Report: Bills Contact Shanahan: The Bills reportedly are acting quickly to right the ship. ESPN's Adam Schefter is reporting that the Bills have already contacted Mike Shanahan to see if he's interested in the Bills head coaching job. The report also says the process is underway to arrange a meeting. Shanahan would likely want full control of the football operations.

Ten Miss Practice: 10 players did not practice today including Marcus Stroud who is battling a sore knee. Perry Fewell is confident he will play on Sunday. Justin Jenkins and Roscoe Parrish were held out because of illness. Jairus Byrd rested his injured groin. Fewell said he's optimistic that Demeterius Bell won't miss too much time with his knee injury he considered him week to week. Terrence McGee, Kyle Williams, and Terrence McGee remain sidelined by McGee did some work on the sidelines with the trainers. Injury Page.

Fewell Has Team Put The Pads On: Perry Fewell held his first media day press conference today. He said that had some fun with the players that were healthy enough to practice and had them focused. Fewell said he let Alex Van Pelt tell Ryan Fitzpatrick that he was the starter and the decision was made after Dick Jauron was fired. He thought he gives the team the best opportunity to win this week in Jacksonville. He said that the job is week to week but Fitzpatrick said it's his job indefinitely. He expects Jonathan Scott to return this week but he was not in attendance today. He is focused on getting the team ready to go down to Jacksonville and play as a unit and get the win. He feels everyone is playing for the future each and every game. They put the pads on today and will put them on tomorrow as well something they haven't done recently in practice. They did that to work hard on the running game and because Jacksonville is a very physical football team. The pads send a message that they will be physical. They hit hard today but didn't bring people down to the ground. He has expressed some thoughts on what he would like the offense to do to be more successful. They worked on the false start problems they have had and he got in players faces when they moved early.

Wilson Cleaning House? More talk that Ralph Wilson is going to open up his wallet. Thurman Thomas tweeted that they are going to clean house at One Bills Drive and he says Jim Kelly tells him that Ralph will spend money to do it.

Fitzpatrick To Start: Perry Fewell confirmed today that Ryan Fitzpatrick will start at quarterback for Sunday's game in Jacksonville and has been told the role is his indefinitely. This seems to be the official end of the Trent Edwards QB of the future era as it is very apparent he is not the future of this team at the position. This is the first time he has been benched in his career since taking over the starting role from J.P. Losman two years ago.

Practice Squad Move: The Bills made a practice squad move by adding C/G Christian Gaddis and releasing C.J. Hawthorne. Gaddis is with the club for the third time and adds depth to a position that is lacking it.

Bills Add TE: The Bills announced today they have signed free agent TE Joe Klopfenstein and placed Derek Fine on injured reserve. Fine wasn't even on the injured list after the loss to the Titans but he has a knee injury. The team is now down their top two tight ends. Klopfenstein played three seasons for the Rams and has 37 career starts with 33 career receptions and two touchdowns. He was released by St. Louis just before the start of the season. Depth Chart.

Bills Looking For Football Operations Guy? By all accounts Jauron signed a three year deal worth $3 Million a year during last season. That would mean he leaves Buffalo with approximately $7.5 Million for not coaching the next 2½ years. Some wonder since Ralph Wilson hates to pay coaches for not coaching and has to pay Jauron this much money, will he spend the money to bring in a big time head coach? He may not do that but may be ready to bring in a big time football guy to run the football operations. Ed Kilgore reports for WGRZ that sources inside the team say Russ Brandon has started a search for that guy already. Do you think Wilson will bring in a big time head coach? Take our poll on our homepage and let us know what you think.

Why Not April? It is a bit interesting that Ralph wilson chose Perry Fewell instead of Bobby April to be his interim head coach. April is an assistant head coach already and some thought he was next in line to be the head coach. Neither man has head coaching experience so it may be Fewell's personality meshes better with the owner.


Tuesday November 17, 2009


Fewell Addresses Media: The Bills held a press conference tonight where Perry Fewell spoke to the media for the first time as the interim head coach. He didn't have an opening statement except to say he's busy preparing for this Sunday's game and didn't have a lot of time. He spoke to Ralph Wilson and accepted the position of interim head coach. He said his feelings are up and down since he lost Dick Jauron today but is now a head coach. He has not spoken to Jauron since he was let go. He expects the team to be focused and to go out and be professional and get ready for Jacksonville. His philosophy is to "play like hell and win". He said the team is what it is they will try to get a spark but the team is what it is. He said he will announce his starting quarterback tomorrow. The staff has been moving forward preparing for this week's game all day long as usual. He calls it the opportunity of a lifetime that he'll take one day at a time and one game at a time. He would not elaborate on his conversation with Mr. Wilson. The team needs to go out and be successful and win just one football game to get the ship righted and need to do that this Sunday.

Fewell Is The Interim Coach: The Bills made it official, defensive coordinator Perry Fewell will be the interim head coach. In a statement Ralph Wilson said, "Perry Fewell will be our Interim Head Coach," Perry has done a great job with our defense and has demonstrated excellent leadership skills as Defensive Coordinator. Our players and staff have a lot of confidence in him and that is important as we look forward to these next seven games."

Reactions To Firing: Dick Jauron was supposedly blindsided when he was summoned to Detroit to meet with Ralph Wilson and was fired. Adam Schefter reports that Jauron didn't think he was going to be fired at this time. Kawika Mitchell tweated that it is a sad day and he loved coach Jauron. He also said there will be many more changes ahead with a lot of people losing their jobs and many people getting jobs. Paul Posluszny told ESPN.com that he was stunned by the news. He said everyone was under the impression that there wouldn't be any coaching changes until the end of the year. To a man all the players have respect for Jauron and hate to see him go but they understand the name of the game is winning.

Timing Odd: You won't find anyone that doesn't think Dick Jauron needed to go but the timing is a bit odd. Usually the best time to make a coaching change is the bye week. Ralph Wilson had a chance to do that after the Houston loss but didn't. He could have did it on Monday to avoid his outgoing coach addressing the media after another loss yesterday. The work week starts in earnest tomorrow and at this time the Bills don't officially have a coach although all signs point to Perry Fewell as the interim head man. What do you think of the firing? Take our poll on our homepage and let us know!

Bell Out Two Weeks: Demetrius Bell's knee injury is not as bad as originally feared. He is expected to miss about two weeks and may have had minor surgery. Dick Jauron originally thought it was a severe injury and wasn't optimistice that Bell would return in short order. Injury Page.

Jauron Fired: Ralph Wilson has announced the firing of Dick Jauron. The team released a statement but have not scheduled a news confernce. No official word yet on who the interim coach is but it is expected to be Perry Fewell. The statement by Wilson says: "I am announcing today that I am relieving Dick Jauron from his duties as our head coach, effectively immediately, I have tremendous respect for Dick and thank him for all of his efforts during these past four years. While this was a very difficult decision, I felt that it is one that needed to be made at this time for the best interest of our team. We will now focus on moving forward and preparing for our game this week in Jacksonville."

Fitzpatrick To Start? NFL.com is reporting that Ryan Fitzpatrick will start at quarterback against Jacksonville on Sunday. That news broke before the firing of Dick Jauron so things could change. There likely won't be any confirmation by the Bills until tomorrow as to who will be the quarterback.

One More Look At Loss: We take one more look back at the disappointing loss to the Titans. Here's the depressing recap from Ahmed Dhorajiwala. Gameday Recap.



---
News Archives index
Latest News Section
Archives Library
Back to Bills Daily Homepage