Bills Lose Another With Late Collapse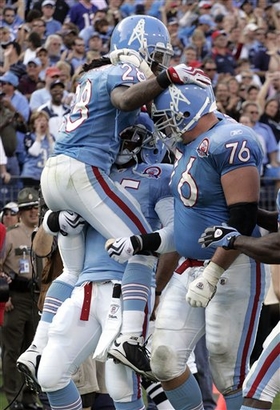 Adams Fined: The NFL acted swiftly and decisively in dealing with Titans owner Bud Adams obscene gestures during yesterday's game. The league has fined him a whopping $250,000 for the incident. Adams apologized for the incident that was captured by a fan's cell phone camera and posted on YouTube.

Whitner Dressed As Emergency: Dick Jauron was asked today why Donte Whitner dressed but did not play against Tennessee. He said he was dressed more as an emergency but they would have used him if they had to. Last week was his first practicing and they expect him to get better this week.

No Word On Starting QB: Dick Jauron gave no insight on who will start at quarterback during today's press conference. He said he will discuss all personnel decision on Wednesday. Not exactly a ringing endorsement for Trent Edwards. He said he watched the film and saw some things that were good and some things that he needs to do better. He said he thinks he stil has confidence in him.

Youboty Has High Ankle Sprain: Ashton Youboty has a high ankle sprain, Dick Jauron announced during his Monday press conference. Expect him to be sidelined a few weeks. The coach wasn't optimistic about the injured knee suffered by Demetrius Bell. He is being re-evaluated. The team should get Jonathan Scott back later this week. He missed the Titans game because of the death of his father. Injury Page.

Adams Apologizes: The Titans 86 year old owner Bud Adams apologized for flipping the bird at the Bills late in yesterday's game. He said he apologizes to the fans and the team and Ralph Wilson who he has a great deal of respect for and history with. He expects disciplinary action from the league. The NFL says they are looking into it.

Titans Owner Flips Bills The Bird: In a show of non sportsmanship, Titans owner Bud Adams was caught on YouTube video flipping the Bills the bird. This was in the fourth quarter from his luxury suite shortly after NFL commissioner Roger Goodell left his box. Adams reportedly also did the same from the field late in the fourth quarter. No word yet from the league on any disciplinary action but if he's not fined than there is a huge double standard in the No Fun League.

Same Old Song And Dance: Another game, another fourth quarter collapse, another loss. It's the same old sorry story for Bills fans as their team is headed for a long second half of the season. Tony Bogyo is running out of things to write about so he has gone generic with this week's article. Complete Story.


Sunday November 15, 2009


Both Units Cave In 4th Quarter: The Bills fell apart in the fourth quarter as the defense couldn't get any third down stops while the offense was giving up two touchdowns. They moved the ball well at times but there was no consistency on either side of the ball. Gameday Grades.

Titans Blow By Bills 41-17: Chris Johnson ran for 132 yards and two scores while adding 100 yards receiving as the Titans blew by the Bills 41-17. Johnson's second touchdown broke a 17-17 tie early in the fourth quarter. They would add a 51 yard field goal by Rob Bironas and two interception returns for scores to blow open a close game. The Bills had two touchdown receptions by Lee Evans including one from RB Fred Jackson in the wildcat formation from 27 yards out. His seven yard score from Trent Edwards was setup by a 46 yard bomb to Terrell Owens. Bills Blitz.

OL Injuries Continue: The Bills ran out of healthy offensive tackles in this game and had to move Andy Levitre to left tackle. Demetrius Bell suffered a knee injury in the first half and did not return. Jamon Meredith were active but really couldn't play because of his sprained MCL. Ashton Youboty injured his ankle and did not return. Donte Whitner was active but did not play because of his high ankle sprain. Injury Page.

Scott Leads Inactives: Jonathan Scott did not travel with the team and is a surprise inactive. The Bills released a statement last night saying he was out for personal reasons. His backup, Jamon Meredith is active but slowed by a sprained knee. No word yet on if he'll start or if Kirk Chambers will start for him. Terrence McGee, Keith Ellison, and Kyle Williams are inactive because of injuries. Roscoe Parrish is inactive but it is unknown if it is because of a knee tweak he suffered Friday or just a healthy scratch. James Hardy will not make his 2009 debut for the Bills as he is a healthy inactive along with Chris Ellis. Aaron Schobel and Donte Whitner will give it a go.


Saturday November 14, 2009


Hot Weather: It will be unseasonably warm in Nashville for tomorrow's game between the Bills and the Titans. It should be mostly cloudy skies with a high of 73° and little to no wind. This will hurt the Bills banged up defense that is missing three starters for the game.

Fan Frustration: Fans in cyberspace remain frustrated with the futility the Bills have had over the last decade. He is a new article from a fan that gives his perspective on the future of the franchise. Complete Story.


Friday November 13, 2009


Owens Expects To Play: Terrell Owens did practice on a limited basis on Friday and says he's ready to play. He said his hip started feeling stiff when he woke up on Tuesday morning after falling asleep on the couch. He is listed as questionable along with Aaron Schobel and Donte Whitner. Coach Jauron was optimistic they will be able to play as well after practicing on a limited basis today. That will help but the team has ruled out three defensive starters as Keith Ellison, Kyle Williams, and Terrence McGee will not go after not practicing all week. Six other injured players are listed as probable after practicing fully all week. Injury Page.


Thursday November 12, 2009


Owens Remains Sidelined: Terrell Owens did not practice for a second straight day because of his hip strain. Also not practicing for a second day in a row were Keith Ellison, Kyle Williams, Terrence McGee, and Aaron Schobel. Williams and Schobel did some work with the trainers but Coach Jauron isn't optimistic either will play on Sunday. Donte Whitner, Jairus Byrd, Jamon Meredith, and Corey McIntyre remain limited. Injury Page.

Bills Battle Titans Sunday: The Bills have had success in their history when coming off a bye week. They made adjustments to the offense, especially on third downs, and hope to have more success on Sunday when they play Tennessee. The Titans are red hot and have one two straight games and have the league's leading rusher in Chris Johnson. That could cause a lot of problems for the league's worst run defense. Game Preview.


Wednesday November 11, 2009


Hardy Activated: As expected the Bills have activated James Hardy from the PUP list. To make room for him they waived Xavier Omon. Many thought Roscoe Parrish would be let go but Dick Jauron put in end to those rumors earlier today when he said there is a place for him on the roster. The team is now carrying seven wide receivers which is a shockingly high number for that position. Omon is expected to be added to the practice squad when he clears waivers as he still has some eligibility left. Front Office.

Scott At LB: Dick Jauron indicated that Bryan Scott may stay at linebacker. It is a position that has been decimated by injury. With Donte Whitner on the verge of coming back and the strong play of George Wilson and Jairus Byrd, Scott may not be needed at that spot anymore. Depth Chart.

Edwards To Start: Dick Jauron confirmed that Trent Edwards will start against Tennessee on Sunday. They did a few things differently in New York and he felt like Edwards started off that game good and they hope he picks up where he left off in that game when he was injured. Jauron thinks Edwards has the confidence to win. Edwards has focused a bit on his footwork but his technique is good and it is just something he wants to stay on top of. Jauron said Trent has earned the right to be back in there and they are looking forward to seeing him play.

Owens Has Strained Hip: Terrell Owens was one of several players that did not practice today because of injury. He has a strained hip that flared up yesterday and is really bothering him. He did practice on Monday but his status for Sunday's game is up in the air at this time. Also sitting out today were Terrence McGee, Keith Ellison, Aaron Schobel, and Kyle Williams. Jamon Meredith and Donte Whitner appeared to be limited. Dick Jauron will update the media at around 2:30 with his usual media day press conference. Injury Page.

Roster Move Likely: It's media day with Dick Jauron likely to decide who will be his starting QB for Sunday's game against Tennessee. He also needs to make a roster move today as they will likely activate James Hardy from PUP today. Someone will have to released or placed on injured reserve.



---
News Archives index
Latest News Section
Archives Library
Back to Bills Daily Homepage