Bills Win Ugly In KC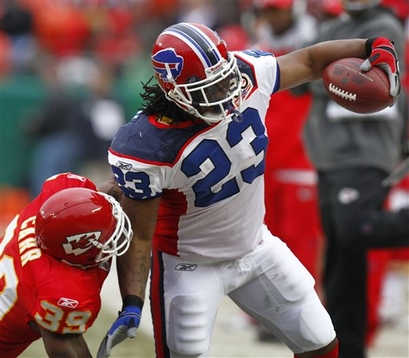 Defense Comes Up Big: The Bills offense was very inept passing the ball but tried to throw to often which put the defense in a tough spot. They came up big after the long touchdown run by Jamaal Charles as they had three fourth quarter interceptions to hold on for the victory. The running game was effective but not used enough and the defense made mistakes but were sharp down in the red zone. Gameday Grades.

Scott Got Poked: It turns out Jonathan Scott should be fine. He got poked in the eye and it wasn't a head injury as originally feared. He should be fine for next week. Injury Page.

Bills Hold On 16-10: Matt Cassel's desperation last second hail mary was picked off in the end zone by George Wilson allowing the Bills to hold on for a 16-10 win over the Chiefs. The Bills rushed for 200 yards in this game including 99 by Fred Jackson and 84 by Marshawn Lynch. Ryan Fitzpatrick hit Terrell Owens for a 9 yard touchdown pass to close out the first quarter. It was one of the few bright spots in the passing game as Fitzpatrick threw for just 86 yards. The Bills still had good control of the game before Jamaal Charles rumbled 76 yards for a touchdown early in the fourth quarter to make a game of it. The final three drives ended in interceptions to keep the Chiefs from pulling the game out including a team rookie record 9th interception by Jairus Byrd. Bills Blitz.

Scott Hurt: What would a Bills game be without another offensive linemen getting hurt. Jonathan Scott suffered an apparent head injury late in the game. He was carted off the field from the sidelines and did not return. Shawn Nelson suffered what looked like a left ankle injury and was helped off the field. He was taken off on a cart from the sidelines but did return late in the game. Injury Page.

Inactives: Justin Jenkins and Joe Klopfenstein were ruled out on Friday and lead the inactive list. Ashton Youboty and John McCargo are inactive despite being listed as probable. It's unknown if there injuries are keeping them sidelined or if it's a numbers game. Healthy inactives are Cary Harris, James Hardy, and Chris Ellis. Chris Draft is active but has a neck issue so Nic Harris will start in his place. Brian Brohm is the emergency third quarterback.

Weather Not A Factor: It will be a cold December day in Kansas City when the Bills take on the Chiefs but the weather really won't be a factor. The gametime temperature is expected to be 33° under mostly cloudy skies but no rain or snow is in the forecast. Winds will be very light as well.


Saturday December 12, 2009


Tolbert Staying Put: It turns out reports that Tyke Tolbert was headed to LSU at he receiver's coach were not true. LSU hired Florida receivers coach Billy Gonzales instead. Team sources say Tolbert was not offered the job.


Friday December 11, 2009


Bell To IR: The Bills have placed Demetrius Bell on injured reserve ending his season. He has been battling a lingering knee injury that has had the trainers a bit baffled. He was suppose to return by now so they decided to shut him down. They activated OT Andre Ramsey from the practice squad. Depth Chart.

Three Out; McGee To Start: Terrence McGee will start on Sunday. Perry Fewell confirmed that after McGee practiced fully again today. Demeterius Bell, Justin Jenkins, and Joe Klopfenstein have been ruled out. Klopfenstein was a late add to the injury report today after he did not practice. Five players are listed as questionable but all of them are expected to play including Kirk Chambers who will likely start at right tackle. Jonathan Scott will start at left tackle for Bell. Shawn Nelson is probable with his shoulder ailment. Injury Page.

Special Teamers Go Outside: It's always fun to play football in the snow and Rian Lindell, Brian Moorman, and Garrison Sanborn went outside during yesterday's practice in blizzard like conditions. They practiced kicking field goals and punts under the watchful eye of Bobby April while the rest of the team stayed warm and dry in the fieldhouse.

Tolbert Leaving: WR coach Tyke Tolbert has reportedly accepted the same position at LSU. As we reported on Tuesday, he interviewed for the job last weekend and his future in Buffalo was very much in doubt anyway with the coaching change. He is expected to stay with the Bills until the end of the season.


Thursday December 10, 2009


McGee Likely To Start: Terrence McGee practiced fully for a second straight day today and will likely start on Sunday barring any setbacks. Ashton Youboty will also likely return to action after practicing fully today giving an added boost to the defensive backfield. Justin Jenkins and Demetrius Bell remain sidelined with knee injuries and will likely sit on Sunday. Chris Kelsay missed practice today for personal reasons. Kirk Chambers returned to the field on a limited basis. The players braved a massive snowstorm in the south towns of Western New York to make it to practice. Injury Page.

Mace Back: The Bills roster juggling continued today when they re-added Corey Mace to the practice squad today. He was released from the active roster on Monday as the team is getting healthier at defensive tackle with John McCargo set to return to action. There was an open spot on the practice squad when Anthony Waters was signed by the Saints.

Bills Will Play To Win: Many fans would like to see the Bills start playing younger players to find out if they have some diamonds in the rough of a lost football season. This way they can get a jump on the rebuilding project that is ahead. Perry Fewell said that won't happen and that they will play the players that will help them win football games. This makes sense for the interim coach who is basically on a seven week job interview for the permanent job or building a resume for a head job elsewhere. Many specifically want the Bills to play QB Brian Brohm but even he says he's not ready to play after joining the team just a few weeks ago. It would also be interesting to see Aaron Maybin play more but Fewell squashed that saying he isn't as good as Chris Kelsay at this point. What do you think they should do? Take our poll on our homepage and let us know!

Bills, Chiefs To Battle: The Bills and Chiefs will begin playing out the string with a battle at Arrowhead Stadium on Sunday. It will likely come down to which team is more committed to winning down the stretch instead of looking forward to the offseason. These teams played a wild game last year in Kansas City. Could another wild game be on the horizon or will it be a bore fest? Complete Preview.


Wednesday December 9, 2009


Three Not Practicing: The Bills returned to practice today and had three players sitting out completely while six were limited. The good news is the return to full practice of Terrence McGee and John McCargo. Sidelined were Demeterius Bell, Kirk Chambers, and Justin Jenkins. Chambers did do some work on the sidelines. Injury Page.

Bills Lose Practice Squadder: The Bills lost one of the players on the practice squad as the Saints have signed LB Anthony Waters. He was on the Bills practice squad the last eight weeks. He was with the Saints this offseason. Front Office.


Tuesday December 8, 2009


Tolbert Leaving? A report says that LSU is looking to lure Bills receivers coach Tyke Tolbert to the same position at the university. The website footballcoachscoop.com reports that the two sides may have met on Sunday. It may be in Tolbert's best interest to make a move since the Bills will likely have an entirely new coaching staff next year since whoever comes in will want his own people.


Monday December 7, 2009


McGee Hopes To Be Ready: The Bills held a closed door practice today and Perry Fewell did not talk to the media so there were no injury updates. Terrence McGee did talk and said he hopes to be ready to shoulder a full load on Sunday. He played very sparingly on Thursday night only when Reggie Corner was banged up for a few plays. He feels it is still day to day but he thinks the extra rest this weekend will help him get back on the field. He did confirm that he will likely play with pain the rest of the year. Injury Page.

Klopfenstein Re-Signed: The Bills juggled roster spots today by re-signing TE Joe Klopfenstein 9 days after releasing him. They now have three tight ends once again on the roster. To make room the Bills released Corey Mace who was signed off the practice squad when the team had injury issues at defensive tackle. Mace will likely be re-signed to the practice squad once he clears waivers. Depth Chart.

Back To Work: The Bills go back to work today after a three day weekend to rest the injured players. It is unknown if they will practice in full pads or not. Monday is usually nothing more than a walk through but since they have had three days off they may go full out.

Revenue Sharing Dead? In a move that could really hurt small market teams like the Bills, the NFL owners are planning on getting rid of a portion of the revenue sharing plan in March. The players association is expected to fight it in court. If this goes through the Bills would lose some extra money that they have received since Senator Chuck Schumer flexed his muscle and was able to get the owners to put $100 Million in a fund for the small market teams. With next year being an uncapped year, it could be really hard for the Bills to compete for players in free agency especially without the extra money.



---
News Archives index
Latest News Section
Archives Library
Back to Bills Daily Homepage