Bills Lose To Pats Again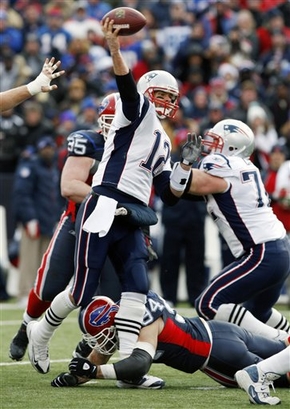 Offense Inept: The Bills offense was incredibly inept after their longest scoring drive of the season to start the game. That drive ended in a field goal. They closed the game with a touchdown but in between was a folly despite the fact they had success running the football sacks and penalties short circuited most drives. The defense helped keep Tom Brady in check but costly penalties hurt this unit as well. Gameday Grades.

Bills Blitz: The Bills have enough troubles beating the Patriots but they didn't need three old problems to rear their ugly heads to help New England to a 13th straight win over the Bills 17-10. Penalties, sacks, and a Josh Reed dropped pass were deja vu moments. Two pass interference penalties setup the two Patriots touchdowns in the first half. Penalties and sacks short circuited most Bills offensive possession and the execution was very poor as well. Reed's critical fourth down drop with less than five minutes to go cost the Bills a chance at pulling within a touchdown. They did score with 3:02 remaining on a pass from Ryan Fitzpatrick to Lee Evans. Fitzpatrick was back in after being benched for Trent Edwards. He would leave the game with an ankle injury. The Bills had a chance when they recovered an onsides kick but ironically Aaron Maybin was offsides. They were called for 11 penalties for 124 yards. Many of those penalties were on offensive linemen who also gave up six sacks. Bills Blitz.

McGee, Edwards, Scott Hurt: Bryan Scott was hurt in the final minutes of the game as he was knocked woozy and suffered a head injury. Terrence McGee and Trent Edwards both left the game with injuries. McGee hurt his arm and shoulder and did not return. He said it hurt real bad after the game. He banged it in a collision with Randy Moss. Edwards played one series and left at the end of it with an ankle injury. He was carted off and did not return. Injury Page.

Owens Playing: As expected Terrell Owens is active for the Bills today. Jamon Meredith is the only player from the injury report that is inactive. Healthy inactives are Steve Johnson, Ashton Youboty, Cary Harris, James Hardy, Joe Klopfenstein, and Chris Ellis. Richie Incongnito will start at right guard. Brian Brohm is the emergency third quarterback. The Patriots have some big names inactive including DE Ty Warren, DT Vince Wilfork, G Stephen Neal, OT Nick Kaczur, and DL Myron Pryor.

Weather Not A Factor: While most of the mid atlantic and northeast is digging out from a major snowstorm Buffalo has no weather issues for today's game. It will be cold but no snow in the forecast with a gametime temperature of 27° under mostly cloudy skies. It won't even be too windy with winds out of the northwest at 9 mph making it feel like the upper teens.


Saturday December 19, 2009


Owens Likely To Play: Terrell Owens may be listed as questionable with an illness but it would be very surprsing if he did not play. Owens is a warrior on the field and very rarely misses action. He was also feeling better on Friday and even took part in a previously scheduled autograph signing session yesterday evening.


Friday December 18, 2009


Owens Sits Again: Terrell Owens is listed as questionable for Sunday's game with an illness. Perry Fewell said he is feeling a bit better today and did show up for meetings. He wasn't at One Bills Drive yesterday at all. If he can't go Stevie Johnson is expected to get the start on the outside but expect Owens to play. Jamon Meredith, Justin Jenkins, and Jonathan Scott all practiced today on a limited basis and are listed as questionable. Scott took first team reps at left tackle and should be able to start. Richie Incognito will likely start at right guard. Injury Page.

Simmons on IR: The yo-yo string continues for Joe Klopfenstein he is back on the team's roster for the third time in over a month. He takes Kendall Simmons spot on the roster who has been placed on injured reserve. He becomes the 16th player on IR this year and is the sixth offensive linemen on the list. Depth Chart.

Shanahan To DC? Rumors are flying that Mike Shanahan will be taking over the head coaching job with the Washington Redskins at the end of the year. The rumors say that he is quietly putting a staff together already. Reports say that when Shanahan met with the Bills he told them he was a package deal with Bruce Allen as the GM. Allen has been hired by the Redskins. The Buffalo News reported this week that the Bills will start their search for a GM sometime after Christmas.


Thursday December 17, 2009


Owens Sits: Terrell Owens is the only new name on the injury report today as he did not practice because of an illness. Kendall Simmons and Jonathan Scott remain sidelined as well. Justin Jenkins, Jamon Meredith, and Jairus Byrd were limited. That means half of the injury report is offensive linemen. Injury Page.

Fitzpatrick On Henry's Death: The sudden death of Bengals Wide Receiver Chris Henry has sent shockwaves across the NFL. In Buffalo it has a bigger effect on Ryan Fitzpatrick who was throwing passes to Henry last year in Cincinnati. Fitzpatrick spoke to the media after today's practice about Henry. He said his thoughts and prayers go out to his sons and fiancee and called it real tough news. He remembers Henry as a player with incredible talent and a passion and love for the game. Fitzpatrick says he is still in shock and trying to grasp the news. It makes you stop and think and everyone in the locker room said they are effective even if they don't know him because of the brotherhood of the NFL. He said everyone in the Bengals locker room loved him and it will real tough for them. He has already spoken to some of his former teammates and plans to reach out to more of them this week.

Incognito Could Start Sunday: Richie Incognito met the media for the first time as a Bill and has a chance at starting on Sunday against the Chiefs with Kendall Simmons currently sidelined with a shoulder injury. He took first team reps at right tackle and said he wants to get right into the action and feels he can be ready with help from his linemates. Perry Fewell didn't rule it out saying they have to see how the week progresses. Incognito didn't back off from his reputation as a dirty player and brushed off the remarks of Kawika Mitchell saying he probably did some cheap things to him in the past but they are teammates now and he doesn't see it as being an issue. He said he will try to cutdown on the penalties he had in St. Louis saying he was frustrated by the amount of losing they did in St. Louis.

Bills Waive Klopfenstein: The Bills have once again waived Joe Klopfenstein to make room for Richie Incognito. The team officially announced today that they have claimed him off of waivers. Depth Chart.

Game Soldout: The Bills game Sunday against the Patriots is now officially a sellout and the blackout has been lifted. There were 2,000 tickets left as of yesterday.

Bills Look To End Skid: The Bills welcome the Patriots to town Sunday and hope the weather can be the great equalizer. In recent years it seems one game between these two teams is close while the other is a blowout for New England. The had their close game on opening day but the Bills have a chance to keep this one close as well. Complete Preview.

Mitchell Not Happy: When news broke that the Bills have picked up guard Richie Incognito, Kawika Mitchell immediately ripped the move on his twitter page. He said he stinks and that he is a very dirty player. He knows they need OL help but they shouldn't have picked him up. Mitchell then said he shouldn't have done that but the two of them have had problems in the past.


Wednesday December 16, 2009


Bills Add Guard: The Bills have claimed G Richie Incognito off of waivers. He was released by the Rams. Buffalo and Miami reportedly both put in claims for him but he went to Buffalo because of the worse record. He was released after getting called for two personal fouls in the Rams loss to the Titans. The five year veteran started nine games for St. Louis this year.

Players Get Cold: Perry Fewell split today's practice between being outside for half of it and in the fieldhouse for the other half. When they did go inside he left the doors open so it didn't get too warm. He wants to get the team ready for the elements for Sunday's game. It was in the mid 20s and cloudy during today's workout. Terrell Owens wasn't thrilled with it but joked about it afterwards saying he was for Fewell as a coach before that practice. He did wonder if practicing in weather that cold was counter productive. Ryan Fitzpatrick said he enjoyed practicing outside and said he's used to playing in bad weather in Cincinnati and when he was at Harvard.

Two Sit Out Practice: Two offensive linemen were the only players to sit out practice today as Jonathan Scott was sidelined with the eye injury suffered against the Chiefs and Kendall Simmons missed practice with a shoulder ailment. Fewell is hopeful that Scott will be able to play. Another offensive lineman, Jamon Meredith, was limited with an ankle injury. Joe Klopfenstein, Justin Jenkins, and Jairus Byrd were also limited. Injury Page.

Buffalo Bills Christmas Carol: In the spirit of the holiday season Tony Bogyo has written a very witty article. He does a Bills version of the classic A Christmas Carol starring Ralph Wilson as the scrooge and Jairus Byrd as the ghost of the future and Dick Jauron as the ghost of the present. This is a must read, Enjoy! Complete Story.


Tuesday December 15, 2009


Final Game Recap: The Bills pulled out their fifth win of the season and 2nd in four games under interim coach Perry Fewell. We take one final look back at the win before the team goes back to work tomorrow to prepare for the Patriots game on Sunday. Gameday Recap.


Monday December 14, 2009


Fitzpatrick Remains As Starter: Perry Fewell gave the players the day off following yesterday's win in Kansas City. He did address the media like he normally does on Mondays and he did confirm that Ryan Fitzpatrick will remain at quarterback for this week's game with the Patriots. Fewell talked about how great his defense played along with the game changing play made by punter Brian Moorman. Fewell is particularly impressed with the play of Bryan Scott and Jairus Byrd since both players are playing new positions for them. Byrd hasn't played safety since High School but knew he would play there when the Bills drafted him. Scott is playing linebacker for the first time in his career out of necessity and has played very well of late.



---
News Archives index
Latest News Section
Archives Library
Back to Bills Daily Homepage