Bills Blown Out In Atlanta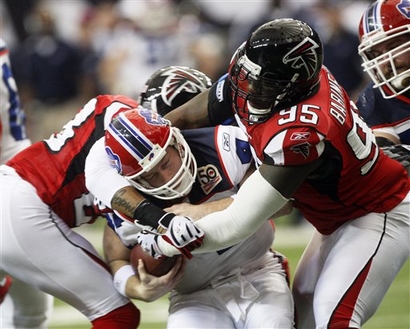 Total System Failure In Loss: The Bills were beaten physically and mentally on offense, defense, and special teams. The Falcons dominated all three phases and coasted to an easy rout. Check out our position by position grades if you dare see such bad results. Gameday Grades.

Bills Blitz: Fans anticipated the NFL debut of Brian Brohm but what they got was the same old boring and pathetic offense. The defense had what was likely their worst game of the season as the Falcons annihilated the Bills 31-3. Brohm completed 17 of 29 passes for 146 yards in the loss. He also threw two interception and was under intense pressure all game long. Matt Ryan threw for 250 yards and three touchdown passes. The game was put away after Marty Booker scored on a 12 yard TD pass followed three plays later by an 11 yard fumble return for a score by Lawrence Sidbury to give Atlanta a 24-3 lead. The Falcons were forced to play all four downs on offense in the second half because of injuries to their punter and kicker and it actually worked to their advantage as the Bills injury riddled defense collapsed down the stretch. Bills Blitz.

Another Offensive Lineman Hurt: Another game, another injury to the offensive line. Jonathan Scott was knocked out of the game in the first quarter with a right leg injury. He was replaced by Andre Ramsey. Drayton Florence hurt his lower leg and left the game for a while but returned. Ellis Lankster replaced him. Fred Jackson left the game for a short time with a left hand injury but he quickly returned. Injury Page.

Brohm Will Start: It's official, Brian Brohm will make his NFL debut as the starter today against Atlanta. Ryan Fitzpatrick and Trent Edwards are inactive because of ankle injuries. Fitzpatrick isn't even healthy enough to act as the emergency QB. The Bills put TE Joe Klopfenstein in that role. Also inactive because of injuries are Josh Reed, Todd Johnson, and Bryan Scott. Drayton Florence will play, he missed practice on Thursday and Friday because of an illness. Nic Harris will start for Scott at linebacker. James Hardy is active for the first time since being activated off of the PUP list midway through the season. The other inactives are: Jamon Meredith, and Chris Ellis.

Shanahan Out: The pipe dream of Mike Shanahan taking over as the Bills coach next year appears over. The Buffalo News is reporting that Shanahan told the team a week ago that he was taking his name out of the running for the job. It has been assumed he will end up in Washington since Bruce Allen has taken over as the GM there. The Bills will likely turn their attention towards bringing in a big name or hot shot director of football operations and let him choose his next head coach.


Saturday December 26, 2009


Reed Out: Josh Reed has been ruled out of tomorrow's game against the Falcons. He did not travel with the team after missing practice on Friday with an ankle injury. This should give James Hardy a chance at some playing time as well as Roscoe Parrish who plays in the slot where Reed normally lines up.

Short At Corner: The position with arguably the most depth on the Bills could be challenged tomorrow. With Terrence McGee out for the season and Drayton Florence ill this week there is a possibility the Bills will play with their fourth and fifth corners in Reggie Corner and Ashton Youboty. They won't even be able to use Donte Whitner in the slot on passing downs much as he will need to stay at safety with Jairus Byrd being put on IR. The good news is Florence is expected to play but if he can't things will get interesting.


Friday December 25, 2009


Three Out: Trent Edwards, Bryan Scott, and Todd Johnson have been ruled out of Sunday's game. Ryan Fitzpatrick and Drayton Florence lead the list of questionable players. Fitzpatrick is a gametime decision while Florence has missed the last two days of practice because of an illness. Josh Reed has been added to the report as questionable with an ankle injury. Injury Page.

Fitz A Gametime Decision: Ryan Fitzpatrick did not practice again on Christmas Day which makes it almost a certainty that Brian Brohm will be making the start on Sunday. Fitz did make a few throws in individual drills and Perry Fewell said it will be a gametime decision but all signs point to Brohm under center.


Thursday December 24, 2009


Fitz Still Has A Shot: Ryan Fitzpatrick missed practice again for a second straight day but did some light tossing before practice. He was doing much better today according to Perry Fewell and he is still day to day. Brian Brohm took first team reps once again today but they will wait and see if Fitzpatrick can practice tomorrow. James Hardy and Drayton Florence missed practice because of illnesses but both are expected to play. Injury Page.

Bills Look To Future: There is a reason to watch Sunday's Bills game against the Falcons despite the fact both teams have been eliminated from the playoff picture. The Bills may begin to look towards the future. It isn't because they aren't trying to win it is because of injuries. Nevertheless everyone is intrigued about probably seeing Brian Brohm under center. James Hardy is expected to see his first action since suffering a torn ACL last December. Complete Preview.


Wednesday December 23, 2009


Fitzpatrick Not Ruled Out: Perry Fewell would not annoint Brian Brohm the starter on Sunday. He did say he took most of the reps today but he's not ruling Ryan Fitzpatrick out at this point. He says Fitzpatrick is feeling better today and they will just go along day to day before they have to make a decision at gametime. He did say that it is either Fitzpatrick or Brohm. Fitzpatrick took mental reps today and said if he can take physical reps Friday that would be good. He did rule Trent Edwards out for this week but said he won't rule him out yet for the finale although he admitted it's not likely he will be available.

Byrd Having Surgery: Perry Fewell said they decided to place Jairus Byrd on the injured reserve because he was just getting worse. He aggravated the groin injury on Sunday and they consulted with Byrd, the doctors, and trainers and decided this was the best decision to make. Byrd is wasting time though as he will undergo surgery to repair the region again. The groin issue is related to sports hernia surgery he had in the offseason. Injury Page.

Schobel Considering Retirement: Aaron Schobel spoke to a couple of reporters after practice today including the reporter from AP and said he's considering retirement after this season. He said he will go home to Texas after the season before deciding on if he'll come back next year. He is 32 years old and signed through the 2013 season. He said he really doesn't know what his future is and is worried he may have slowed down a bit this year. His seven sacks are his most since 2006. When Perry Fewell was asked about it he said he hasn't talked to Schobel about it and then quipped he can't retire. Do you think Schobel should retire? Take our poll on our homepage and let us know.

Brohm Gets First Team Reps: Brian Brohm will be starting at quarterback for the Bills on Sunday against the Falcons. He was taking the first team reps in practice as it was just him and Gibran Hamdan taking reps. Hamdan told reporters that Brohm is the starter. Ryan Fitzpatrick was out their today but he was on the sidelines and did not practice because of his ankle injury. Also sidelined today were Justin Jenkins, Todd Johnson, and Bryan Scott who will likely miss the game with a concussion. Injury Page.

Byrd On IR: Jairus Byrd became a club record 18th player to go on injured reserve as the team shut him down as he has had an ongoing groin injury. The team has brought back a former player to take his place. They have signed LB Josh Stamer who was a special teams stalwart in his five years in Buffalo that ended in 2007. The team added LB Ryan Manalac to the practice squad. He was with the team this summer. Depth Chart.

Hamdan Or Brohm? Since the Bills released Gibran Hamdan to sign Brian Brohm wouldn't it be a surprise to see Hamdan lining up under center on Sunday if Ryan Fitzpatrick can't go? Maybe, maybe not. We know Trent Edwards will be unavailable and it is likely Fitz won't go either so you would think Brohm would start but Hamdan has much more experience in the offense than Brohm so the Bills may end up going with the man they cut over the man they signed. Neither has ever taken an NFL snap. Perry Fewell should update the QB situation today and it will be interesting to see who takes the first team reps. Who do you think should start? Take our poll on our homepage and let us know!


Tuesday December 22, 2009


McGee To IR; Hamdan Re-Signed: As expected Terrence McGee became the club record tying 17th player to go on injured reserve. He will have surgery tomorrow on his rotator cuff injury. His spot on the roster was taken by Gibran Hamdan who was expected to be re-signed because of the injury situation at quarterback. Depth Chart.

Brohm To Start? The Buffalo News is reporting that league sources say that Brian Brohm is likely to start at quarterback Sunday against the Falcons. Trent Edwards reportedly has a high ankle sprain which would end his season with just two games left. Ryan Fitzpatrick reportedly had crutches in his locker. If they are both out another quarterback would have to be signed. That could be the recently cut Gibran Hamdan since he knows the offense. The Buffalo News and AP reports that Terrence McGee will have season ending surgery on his injured shoulder tomorrow to repair a damaged rotator cuff. Injury Page.

Fewell Playing To Win: In his press conference yesterday, Perry Fewell said that he will dress the 45 players that gives them the best chance to win. That means he won't play young players like James Hardy, Stevie Johnson, Chris Ellis, and Brian Brohm unless he thinks they can help him win. He is not interested in developing for next season while he continues his audition for a permanent head coaching job with the Bills or another NFL team.

Thomas Wants To Get Involved: On his radio show on WGR yesterday, Thurman Thomas re-iterated that he'd like to be more involved with the team and he has met with Russ Brandon about helping out with the future of the team. He said he's not like Jim Kelly and doesn't want to be an owner. He wants to be part of what he called will be a "big splash" happening at One Bills Drive. He feels it is likely he will be involved in the changes with the Bills and feels Ralph Wilson is ready to give up some control again to a football guy that will help turn the team around.


Monday December 21, 2009


Final Recap: The more things change the more they stay the same. History repeated itself on several levels in yesterday's 17-10 loss to the Patriots. Here's our final recap of the game. Gameday Recap.

Edwards, Fitzpatrick Both Hurt: Fans clamoring to see Brian Brohm may get their wish out of necessity. Fans knew Trent Edwards suffered an ankle injury yesterday but what didn't come out until today was that Ryan Fitzpatrick also hurt his ankle in the loss to the Patriots. Perry Fewell said he didn't know how serious either ankle injury is and he will check both QBs out tomorrow and then they will have to wait and see if either will be able to practice on Wednesday. He said he does have a plan if they can't go. Bryan Scott has been diagnosed with a concussion. Terrence McGee hurt his shoulder in the loss. He is being re-evaluated today. Injury Page.

Bills Hold Brady In Check: There were a few interesting stats from Sunday's loss to the Patriots. Tom Brady usually kills the Bills but he was held to a season low in completions with 11, attempts with 23, and yards with 115. The Patriots had an impressive stat of their own. They held the Bills to one offensive touchdown or less for the 17th time in the last 20 meetings between the two teams. It's no wonder the Patriots have won 18 of the games in the decade.



---
News Archives index
Latest News Section
Archives Library
Back to Bills Daily Homepage