Bills End The Season With A Win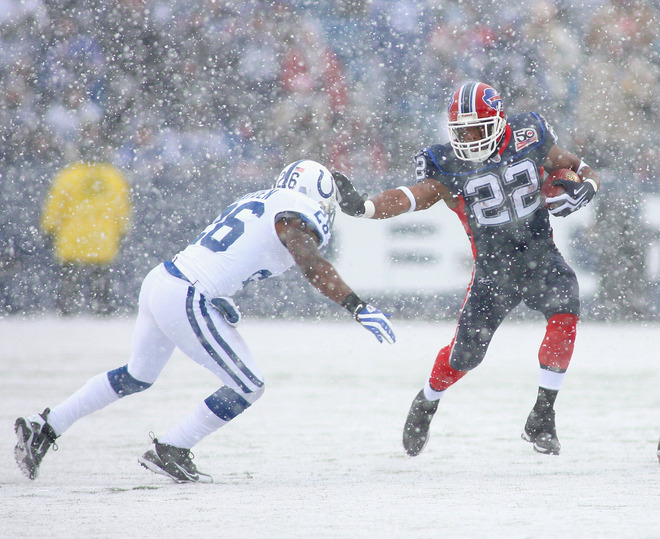 Gameday Grades: Fred Jackson ran over the Colts in leading a solid offensive effort that was executed perfectly for the weather conditions. The defense did it's job shutting down the Colts running game to just 25 yards rushing. That is going to be the difference when playing in a snowstorm. It is well reflected in our position by position look at the win over the Colts. Gameday Grades.

Bills Blitz: Fred Jackson ran for 212 yards and caught one of three Ryan Fitzpatrick touchdown passes as the Bills beat the Indianapolis Colts subs 30-7 at snowy, windy, and frigid Ralph Wilson Stadium. Jackson went over the 1,000 yard mark for the season. Fitzpatrick hit Jackson for an 11 yard touchdown pass, Lee Evans for a 21 yard score, and Terrell Owens for a 41 yard touchdown all in the first half. Fitzpatrick threw for 155 yards and threw no interceptions. The Colts didn't start some players and pulled their other starters early in the 2nd quarter. Bills Blitz.

Whitner Sits: The Bills made it through the season finale with no new injuries on the surface. That is something that did not happen in the first 15 games of the season. Donte Whitner did not play as he was sick. Cary Harris started in his place at safety which is a position he hasn't played before in the pros. Injury Page.

Seven Inactive With Injuries: The Bills were able to full their inactive list out with injured players. Eight players were ruled out on Friday but two went on injured reserve. Trent Edwards, Bryan Scott, Jonathan Scott, Josh Reed, Steve Johnson, and Andre Ramsey are all still on the active roster but ruled out for the game. Ashlee Palmer is also inactive he was doubtful with an ankle injury. Gibran Hamdan will be the emergency third QB and Ryan Fitzpatrick will start at quarterback as expected.

Report: Bills Met With Cowher: Chris Mortensen is reporting that the Bills held a secret meeting with Bill Cowher last week and the report says the meeting was very productive. Adam Schefter reports they will interview Perry Fewell tomorrow. He also says Charlie Weiss is not a candidate for head coach and to look for Cam Cameron to possibly become a candidate.

Snow And Cold For Finale: A game in Buffalo in January will have weather that you expect. There is a 60% chance of snow showers at kickoff with snow becoming more steady throughout the afternoon. The Bigger issue will be the wind and the cold. The temperature at kickoff should be about 15° with winds out of the West Northwest at 21mph putting windchills at below zero.


Saturday January 2, 2010


Billick, Rivera On Bills Radar: Now that Buddy Nix is in place, and the Bills awful season ends tomorrow, rumors are beginning to surface fast and furious regarding the Bills coaching search. San Diego Chargers LB coach Ron Rivera is supposedly getting an interview. That can happen next week since the Chargers will be on a bye week as the number two seed in the AFC. Rivera was a hot coaching candidate a few years back as defensive coordinator of the Bears. Reports also say that the Bills are expected to interview Brian Billick next week. He is a candidate that satisfies some fans interest in a big name as the next head coach. He is a Super Bowl winning coach who led the Ravens for nine seasons with four playoff appeareances in all. Jets offensive coordinator Brian Schottenheimer is also expected to get an interview.

Another Roster Move: In a move that was not a surprise the Bills placed their team record 21st player on injured reserve. Todd Johnson was one of eight players declared out yesterday he went on IR to make room for practice squad linebacker Ryan Manalac. The team was down to just four healthy linebackers on the depth chart before his signing.

Last Hurrah For Some: Tomorrow's season finale has been overshadowed by the promotion of Buddy Nix to GM and the fact that the Bills will be playing with nothing more than a semi-pro team thanks to 20 players being on injured reserve. Add to the fact that the Colts will treat it like a preseason game what is left to look for tomorrow? One thing will be to see how many fans show up for a meaningless game in frigid conditions. Another will be to say goodbye to Terrell Owens who almost certaintly will be playing his last game in Buffalo. You could also look to the sidelines to say goodbye to Josh Reed. He is injured and not playing in what could be his final Bills game. He would like to return but is an unrestricted free agent and knows it is out of his control with the changes in the organziation. If 2010 is an uncapped year as expected, negotiations on a new CBA are not going well, then these two may be the only two that are unrestricted. That is because in an uncapped year you need six years of service for unrestricted free agent. Many players across the league that would have been free will now be restricted including Keith Ellison, Richie Incognito, George Wilson, Ashton Youboty, and Joe Klopfenstein.


Friday January 1, 2010


Roster Move Made: The Bills made a roster move as expected to address the dwindling numbers at offensive tackle. With just two players healthy at the position they have activated Nick Hennessey, who has been on the practice squad all year long. They have placed Nic Harris on injured reserve to make room for him on the roster. Harris had already been ruled out of this week's game. Depth Chart.

Eight Out; Fitz To Start: The Bills have ruled out eight players from Sunday's finale because of injuries. Perry Fewell said officially that Ryan Fitzpatrick will start Sunday after practicing fully today. The Bills will only have two healthy offensive tackles with Andre Ramsey and Jonathan Scott out. Kirk Chambers and Jamon Meredith will have to go all the way at tackle unless the team makes a roster move. The other issue is outside linebacker with Nic Harris and Bryan Scott out and Ashlee Palmer doubtful. That will thrust Jon Corto or Josh Stamer into the starting lineup. Injury Page.

Thomas, Kelly Involved: It appears Thurman Thomas and Jim Kelly are getting their wish and will be more involved in the football operation under the leadership of Buddy Nix. Both Hall of Fame players were at the introductory press conference and spoke to the media. They both indicated that Nix said he will look to them for help and get their opinion on issues. Thomas indicated he may have a role in scouting. Nix definitely is a Kelly and Thomas guy as they both played during Nix first stint in Buffalo. They both wholeheartly endorsed the move saying he knows football and the fact that he's not a big name doesn't matter. Kelly said he will sit down with Russ Brandon and Buddy after the season to see what his role will be but he reiterated he doesn't want to coach. He has already had numerous discussions with Brandon and reminded the media he has been employed by the Bills since his retirement in an ambassador role. Whether that role changes or not is to be determined.


Thursday December 31, 2009


Fewell A Candidate: Buddy Nix said Perry Fewell is a candidate who will get interviewed for the head coaching job. He feels coaches come in all different styles and not one style is more successful than others. He does feel a coach with previous head coaching experience is important but not a must. He doesn't know how long the coaching search will take but he knows the quicker the better. He knows there is a list but he hasn't been involved up until now.

Wilson Says Nix Can Do The Job: Wilson said to the fans that may be disappointed by this hiring that Buddy has the resume to do this job. He isn't looking for big names he's looking for someone who can get the job done and he thinks he can but it won't happen immediately. Wilson feels they build the team through the draft and it will take time. He also said they are not that far away they need some good drafts and hire the right coach but the number one thing is they have to be lucky. He hopes the fans will understand that just bringing in someone who is a big name, it doesn't guarantee he will be successful.

Wilson Introduces Nix As New GM: Ralph Wilson as at the press conference and introduced Buddy Nix as the new general manager. He said he really needed someone that was familiar with all the aspects of football and the fans and himself wanted someone to run the football operations. Wilson said Nix will hire the new football coach and will oversee the entire operation connected to football. Russ Brandon's has been promoted to CEO from COO as he will still oversee all aspects of the operation including football. Russ reports directly to Wilson like he has done and Wilson called it a promotion but it is unclear how his responsibilities will change. Wilson and Brandon interviewed two other internal candidates and they believe Nix was the most qualified because of his time as an Asst. GM in San Diego. John Guy is believed to be one of the candidates since they needed to interview a minority candidate for this position.

Nix Excited For Opportunity: Buddy Nix spoke after Wilson and said this job was not what he had in mind when he came back to the organization in February. He said he is very excited for the opportunity. He called it perfect timing and it is obviously important who they hire as head coach. He said all he's ever done is football and this is the only title he has not held. He said he's has successes and failures and along the way he learned what to do and what not to do and he expects to work seven days a week if that is what it takes to turn things around. He said he's not the smartest man in town and will tell them when he doesn't know. He says he isn't worried about his legacy all he wants to do is anything he can to help them win a game. He said they are not that far away, nobody is in this league because it's watered down. He said it's about winning in the long run not what gets done today. He said he knows everyone is disappointed by his hiring but it is like draft grades give him time and he will succeed. Nix said he will evaluate the entire operation before deciding on the futures of personnel including John Guy and Tom Modrak.

Fitz Looks Ready: Ryan Fitzpatrick took the majority of snaps in practice today as his ankle responded well to yesterday's workout. He said he was sore but nothing unexpected happened and he made it through the workout fine today. He's expected to be ready to start on Sunday. Steve Johnson and Andre Ramsey were added to the injury report after they were both injured in practice and couldn't return. Injury Page.

Nix Promoted To GM The Bills have reportedly promoted Buddy Nix to General Manager. He had been the college scouting director. The 70 years old is just another in a long line of internal promotions and it doesn't represent a cleaning of the house. He is given a lot of credit for the rebirth of the San Diego Chargers when he worked under A.J. Smith from 2003-2008. The team will have a press conference at 2:30.

Press Conference at 2:30pm: The Bills have called a press conference for 2:30pm today. This is unusual day and time for a press conference and nobody seems to know yet what it is about. It could be nothing or it could be something major. Stay tuned for updates.

Glorified Exhibition Game: It was tough writing the preview to Sunday's season finale since it is nothing more like a glorified exhibition game with the Colts likely to take their starters out of the game very early. Does it give the Bills a chance? Probably not. Complete Preview.

Fitz Workout Today Big: Perry Fewell has yet to name a starting QB for Sunday's finale but did admit Ryan Fitzpatrick gives him the best chance to win. It all comes down to today's practice, if Fitzpatrick gets through today's workout ok after taking most of the first team reps yesterday he is expected to get the nod. He feels good and all signs point to him being ready to be under center. Many think Brian Brohm should start anyway but Fewell wants to win his last game as interim coach and will play his best players. Who do you think should start at QB? Take our poll on our homepage and let us know!


Wednesday December 30, 2009


Blackout Lifted: There will be no blackout of Sunday's game as Time Warner Cable has agreed to buy the remaning tickets that aren't sold by kickoff. As of Monday there were 2,500 tickets remaining and sales are definitely not brisk for this game with the Colts only playing their starters probably a quarter or so.

Game Fines: Donte Whitner tweeted today that he was fined $7,500 for taunting Roddy White at the end of a pass play. He was perplexed by the fine considering he wasn't even penalized for the play. Fred Jackson was fined $5,000 for have the black lines under his eyes read 'D-3' for his division 3 roots. He was perplexed by the fine since he has been doing this for three years.

Fitzpatrick Takes First Team Reps: Ryan Fitzpatrick was officially limited in practice but did take the majority of first team reps as his ankle appears significantly better meaning he could be available to start on Sunday. Eight players in all did not practice including Nic Harris which would create another big hole at linebacker if he can't go with Bryan Scott already ruled out. Fellow LB Ashlee Palmer was limited with an ankle injury. Jonathan Scott is sidelined with his ankle injury meaning rookie Andre Ramsey is likely to make his first start on Sunday. Marcus Stroud also sat with a back injury. Injury Page.

Front Office Update: With the season mercifully coming to an end it will be an exciting offseason in Buffalo. Various internet reports continue to surface so we will address some of the rumors here. NFL.com is reporting that the Bills will begin a new coaching search next week now that the top guys have turned them down. Buffalo Sports Daily contradicts this report by saying that Bill Cowher now is interested in the Bills job but it may be if he can't land a job in Tampa or Carolina. John Fox is expected to stay on as the Panthers coach. A source close to Cowher told Sal Capaccio, the man who broke the T.O. to Buffalo story, that the two sides are talking or will be talking soon. The Buffalo News says the Bills have turned their attention to bringing in a football operations person first and they will let him pick the next head coach.

Team Staying In Family? Sal Capaccio's report also says that sources close to several NFL coaches say the Bills ownership situation is one of the most stable in the NFL. The report also says that Ralph Wilson's family is committed to Buffalo and that Ralph is completely committed to bringing a winner to Buffalo.


Tuesday December 29, 2009


Byrd Makes Pro Bowl: The Bills had one player make the AFC Pro Bowl squad unfortunately he won't be able to play because of injury. Rookie S Jairus Byrd was selected to play in Miami the week before the Super Bowl. He is currently on injured reserve which doesn't preclude him from playing in the game but since he just underwent surgery for a torn labrum in his hip yesterday he won't be ready to play in the game. The selection of the rookie is still quiet an accomplishment as he became the first Bills rookie to be selected since 1984 when RB Greg Bell went.

Final Gameday Recap: The Bills went down to Atlanta on Sunday and got thoroughly outplayed in all aspects of the game. It was a total domination from Atlanta's first offensive play that went for a touchdown to the final gun. Here's our final recap of the terrible loss. Gameday Recap.

Monday December 28, 2009


Fitzpatrick May Be Back: Ryan Fitzpatrick may be able to practice on Wednesday and Perry Fewell will not make his decision on who will QB the season finale until he sees Fitzpatrick work. He was very close to being activated on Sunday but he was not going to start. He worked out on the field before the game and did some things well. They do expect him to practice on Wednesday. Trent Edwards will not be ready to play on Sunday. Perry Fewell said today he thought Brian Brohm played better as the game went on and did real well on the 11 play drive to a field goal. Bryan Scott has also been ruled out for Sunday's game. The players were given today off. Injury Page.

Tickets Remain: The Bills have a chance at having their first non-sellout in the past two years for the finale against the Colts. 2,500 tickets remain as of this morning and there is little motivation for fans to buy the tickets now that the Colts aren't undefeated anymore. They have until 1pm Thursday to sell the game out or else it would be blacked out in Western New York.

Weiss A Candidate? WIVB-TV is reporting that the Bills have contacted Charlie Weiss about the head coaching opening and he is interested in discussing it. Weiss was let go as the coach of Notre Dame after a 6-6 season. It has been widely speculated that he would end up back in the NFL as an offensive coordinator.



---
News Archives index
Latest News Section
Archives Library
Back to Bills Daily Homepage