Bills Blown Out By Miami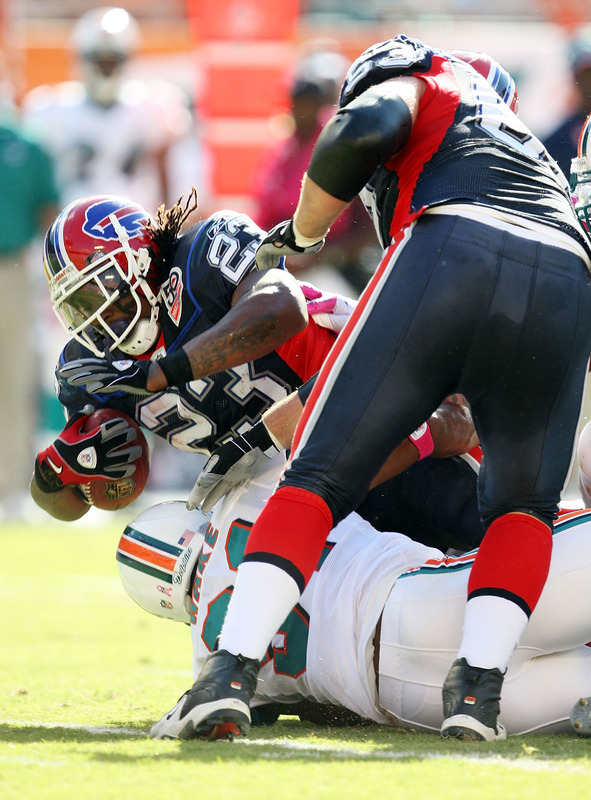 Bills Suffer No New Injuries: One positive of the game was the fact that the team came through the game in decent shape. That was still the case today as Dick Jauron addressed the media and said there were no new significant injuries. He did say all the players that missed the loss to the Dolphins are considered week to week. Injury Page.

A Funny Look At A Bad Situation: Things are awful at One Bills Drive right now. The team is 1-3 and the quarterback seems to officially be a bust while the coach is on the thinnest ice there could be for a coach. Tony Bogyo sometimes is pessimistic when commenting on the team. This week he decides he is just going to make fans laugh and give them a way to get through these dismal games. Complete Story.

Dismal Performance: The Bills had a dismal performance yesterday in Miami as everyone knows by now. The Bills gave up long touchdown drives in the 2nd and third quarter and gave up 31 points in a 24 minute span of the game. Here's the complete ugly recap of a terrible loss. Gameday Recap.


Sunday October 4, 2009


All Units Failed: It was a terrible game by all three units. The defense got six sacks but were run over for 250 yards. The offense couldn't move the ball and turned it over three times. Special teams made a few nice returns but missed a field goal and gave up a few nice returns. A total team failure resulted in another division loss and another loss to another 3-4 team. Gameday Grades.

Bills Routed By Dolphins 38-10: Trent Edwards threw three interceptions one was returned for a touchdown, another setup a touchdown as Miami routed the Bills 38-10. Buffalo could do nothing offensively and the defense had no answers for Miami's wildcat offense that ran up and down the field against an overmatched, banged up Bills defense. Miami took a 17-3 lead at halftime on Ronnie Brown one yard touchdown run. They then would hold the ball for nearly 12 minutes of the third quarter and score two touchdowns on a pass from Chad Henne to Brian Hartline and a one yard run by Ricky Williams to go up by four touchdowns after three quarters. Edwards hit Josh Reed for a short touchdown pass early in the fourth quarter. Bills Blitz.

Johnson Hurt: Spencer Johnson left the game in the 2nd quarter with an apparent left leg injury. He did return in the second half. Eric Wood was banged up in the first half but he returned. Injury Page.

Injuries Highlight Inactives: The Bills inactive list is filled with players that are hurt as Paul Posluszny, Bryan Scott, Donte Whitner, Demetrius Bell, and John McCargo. Chris Ellis is also inactive because of a family emergency. The team is also without Leodis McKelvin who is now on injured reserve. The only healthy inactive is Steve Johnson. Gibran Hamdan is the emergency third QB as usual.

Ellis Loses Mother: The family emergency that has Chris Ellis away from the team is the death of his mother. Bills Daily sends our condolonces to his family.

The Heat Is On: It may be the first game in October but the heat is on in sunny South Florida. The temperature at gametime will be around 86°. The humidity will make it feel like 95°. It will be partly cloudy with winds out of the East at 12mph. The temperature should dip into the low 80s by the end of the game. They get a break by a few degrees because the game is at 4pm instead of 1pm.


Saturday October 3, 2009


No Ellis: The Bills announced this evening that Chris Ellis won't be available for the game against Miami because of a family emergency. No details were given on what that emergency is. Ellis has been inactive for the first three games but the chances of him being active tomorrow were high because four players that are active have been ruled out and the team is thin on the defensive line already.

Injuries Give Rookies A Shot: . This is a good week to get re-acquainted with the Bills rookies as many of them will be on display front and center tomorrow when the Bills take on the Dolphins. Seven of the eight players picked made the squad and all of them may see action with several having important roles. Eric Wood and Andy Levitre have been starting since opening day. Aaron Maybin has been used in passing situations but may need to play more thanks to the heat and the injuries in the middle that may cause Chris Kelsay inside on a few plays. Jairus Byrd will get his first career start in place of Donte Whitner. Shawn Nelson is back from an injury and will see his role increase as the number two tight end and a passing threat. Nic Harris has only been used on special teams so far but may see some playing time at his natural position of safety thanks to two injuries at the position. Ellis Lankster has been inactive for all games this year but will likely be active for the first time because of the season ending injury to Leodis McKelvin. He will likely only see the field at corner if there is another injury but could see time on special teams. Draft Page.


Friday October 2, 2009


Four Ruled Out: The Bills have ruled out John McCargo, Donte Whitner, Demetrius Bell, and Bryan Scott from Sunday's game against the Dolphins. All four players did not practice this week and join Paul Posluszny on the sidelines along with recently IR'd Leodis McKelvin. The starting safeties will be George Wilson on the strong side and Jairus Byrd at free. Drayton Florence starts for McKelvin. Jonathan Scott will move to left tackle while Kirk Chambers will start at right tackle. Kyle Williams practiced fully and is expected to play as is Shawn Nelson who missed last week's game with a shoulder sprain. Injury Page.


Thursday October 1, 2009


Nelson Practices Fully: The injury news got a little better for the Bills today. Shawn Nelson practiced fully after practicing on a limited basis on Wednesday. Kyle Williams took part in practice but was limited. He's battling a groin injury. None of the other injured players practiced at all. Injury Page.

McKelvin On IR: The Bills have placed Leodis McKelvin on injured reserve ending his season. McKelvin fractured his fibula in the loss to the Saints. The roster spot freed up was taken by Marshawn Lynch who had to be added to the 53 man roster this afternoon. Front Office Page.

Bills Look To Get Back On Track: The Bills look to even their record at 2-2 and try to win a division game for the first time since 2007 as they go to Miami to face the winless Dolphins who are desperate for a win. Both teams have injury concerns as Miami will be starting Chad Henne since Chad Pennington was lost for the year last week. The 2nd year player will be making his first career start. The Bills will likely be without 75% of their starting defensive backfield. Complete Preview.



---
News Archives index
Latest News Section
Archives Library
Back to Bills Daily Homepage