Bills Lose To Saints 27-7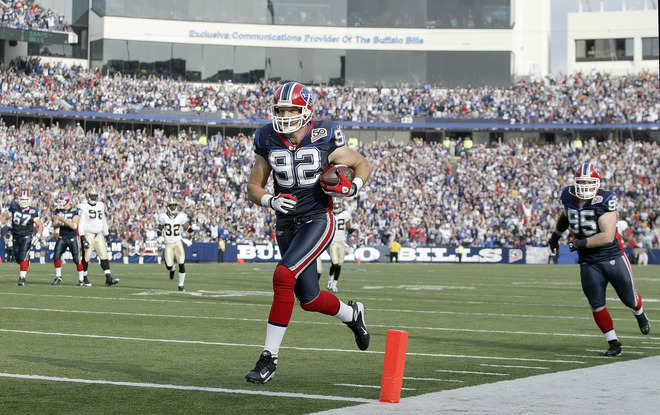 No. 1 Doesn't Matter To Lynch: Marshawn Lynch addressed the media upon his return to the team today. He said he's glad to be back and is happy how productive Fred Jackson has been in his absence. He said it doesn't matter who is the number one running back and that they will get 200% production out of the backfield with him and Jackson. He says he has no preconceived notions about playing time now that he's back. It was hard not being around the atmosphere of the game and the team. He stayed in constant contact with Fred. He says he's always hungry and it's time to eat. He stayed in Buffalo and worked out in area gyms as he tried to stay away from as many fans as possible. He thinks he's ready to jump back into action and it's time for him to go to work.

Jauron Presser: Dick Jauron held his usual post mortem press conference today. It was a tough loss and he tipped his hat to the Saints. Too many penalties were a killer. He said it has to hurt to lose or else they are in the wrong profession. They need to get past it to get ready for Miami on Sunday and he thinks they will since they are a resilient bunch. They had their chances they just didn't take advantage of it. He doesn't feel Trent Edwards is too tentative.

Lynch Is Back: Dick Jauron feels it's a huge boost having Marshawn Lynch back. It will help since they have overloaded Fred Jackson. He expects to evenly distribute the workload. Adding a player of his caliber on a team that is pretty beat up will help them.

Whitner Having Surgery; McKelvin' Leg Broken: Donte Whitner will have surgery on his injured thumb and they will go week to week with his injury. Leodis McKelvin has an even more serious injury as his fibula is fractured. Drayton Florence is the likely replacement according to Dick Jauron. They will no more on Wednesday on the injury to the ankle of Bryan Scott. He is at the doctor today. Demetrius Bell has a groin injury, no futher update on his injury at this time. Injury Page.

Gameday Recap: The game yesterday got ugly in the fourth quarter. It was ugly throughout for the offense but the defense did what they could to keep the Bills in the game until they faltered to a great fourth quarter ground attack of the Saints. Gameday Recap.


Sunday September 27, 2009


Offense Wastes Defensive Performance: The defense played much better than the 27 points they gave up. They played inspired ball for three quarters holding the Saints to just their opening touchdown drive and a field goal after a turnover. The offense could do nothing all game as Terrell Owens didn't catch a pass for the first time since 1996 and they scored zero points. The Saints won a game for the first time over a year when Drew Brees did not throw a touchdown pass. Gameday Grades.

T.O. Short In Locker Room: Terrell Owens spoke to the media after the game and was very short with his answers constantly repeating that he is just going with the plays that are called whether he likes them or not. He didn't want to answer things and got nasty with reporters saying they were going to twist whatever he says. He did not comment on the fact that he didn't catch a pass after 185 straight games with a reception.

Bills Lose 27-7: In a game that was suppose to feature lots of scoring, one great offense, and one decent offense it turned out to be a defensive struggle for most of the game before the Saints pulled away for a 27-7 victory. The Bills defense came ready to play early and held the Saints high powered offense to just 10 points through three quarters. The Bills could do nothing offensively though as they were held without any points and eventually the defense tired in the fourth quarter. Buffalo's only touchdown came on a deja vu play that had everyone flashing back to last year's opener. Brian Moorman pulled the ball up on a fake field goal attempt and threw to a wide open Ryan Denney for a touchdown that tied the game in the second quarter. The Saints went up 10-7 when they were held to a field goal following a Roscoe Parrish fumbled punt return. It stayed that way until the fourth quarter when Pierre Thomas scored two touchdowns in between a field goal for the Saints. Bills Blitz.

McKelvin Aggravates Injury: Leodis McKelvin did start the game but he didn't finish it. He left in the 2nd quarter after re-aggravating his fibula injury. Demetrius Bell left in the fourth quarter with an apparent groin injury. Donte Whitner left late in the game with a thumb injury and he went straight up the tunnel. Bryan Scott suffered an ankle injury. Injury Page.

Reed, McGee, McKelvin All Active: Good news for the Bills as both starting cornerbacks are active for the game. Leodis McKelvin and Terrence McGee will give it a go despite being banged up. Josh Reed will also give it a go despite being listed as questionable with an ankle injury. John McCargo, Shawn Nelson, and Paul Posluszny are inactive because of injuries. Also inactive are: Ellis Lankster, Justin Jenkins, Jamon Meredith and Chris Ellis. Gibran Hamdan is the third QB.

Clearing Skies For Game: It is going to be a rainy tailgate today as showers are expected throughout the early afternoon hours in Orchard Park. The skies are expected to clear up later in the day and it should be partly cloudy by gametime with a temperature of 66°. Winds will be out of the West Southwest at 13mph.

Hargrove Returns: Many people are coming back to Ralph Wilson Stadium today including former head coach Gregg Williams as the Saints defensive coordinator. Safety Pierson Prioleau, CB Jabari Greer, and DT Anthony Hargrove. The former Bills defensive tackle says he has nothing but respect for the Bills organization that stood by him while he was having off the field troubles. He spent a year in rehab and is now healthy and getting reps in the Saints defensive line rotation.


Saturday September 26, 2009


No Bell For Saints: The Bills are banged up heading into tomorrow's game but the Saints are also hobbling. They have five players listed as out for the game including RB Mike Bell and WR Lance Moore. Bell has been their main running back but they do get the projected starter back this week as Pierre Thomas is expected to carry the load. Injury Page.


Friday September 25, 2009


Nelson, McCargo Doubtful: Earlier in the week it appeared like Shawn Nelson would play and John McCargo wasn't injured. Now they are the two players most likely not to play this week, they are both listed as doubtful after not practicing today. The Bills would be down to two tight ends if Nelson can't go as Derek Fine and Jonathan Stupar would have to carry the load. Terrence McGee is questionable and Leodis McKelvin is probable so it appears at least one of them will be able to go. Josh Reed is also questionable. Injury Page.

Cornerback Injuries At Bad Time: It couldn't be a worse week for the Bills to be dealing with injuries to their top cornerbacks. Terrence McGee was very limited on Thursday with an ankle injury. Leodis McKelvin is still slowed by a fibula injury, but according to Dick Jauron, he was moving a little better than McGee. If both of these guys are out it leaves the trio of Ashton Youboty, Drayton Florence, and Reggie Corner to face the high flying passing attack of Drew Brees. 7th round pick Ellis Lankster may be pressed into action. The other big injury is to Josh Reed who did some work later in yesterday's practice but may not be able to go this week. Geoff Hangartner continues to be limited in practice but will likely be ready to go. Injury Page.


Thursday September 24, 2009


Bills Face Great Offense: The challenges for the defense just keeps getting tougher. This week the best offense in the league comes to town as the Saints have scored 93 points in two games. It could be a very high scoring affair especially with New Orleans getting plenty of chances on offense with the Bills playing in the no huddle. Complete Preview.


Wednesday September 23, 2009


Hangartner, Reed Sit: WGR is reporting that Geoff Hangartner and Josh Reed did not practice today but neither is suppose to miss Sunday's game. Reed has a quad injury and Hangartner has a back issue. Drayton Florence, Shawn Nelson, and Leodis McKelvin all practiced. Injury Page.

Lindell Honored: Rian Lindell has been named Special Teams Player of the Week. He went 4 for 4 on field goal attempts in the win over the Buccaneers.

Player Added: The Bills added a player to the practice squad today. They signed OL Andre Ramsey. He fills the open spot vacated when Jonathan Stupar was promoted to the active roster. Ramsey played at Ball State and was an undrafted free agent signee of the Seattle Seahawks this offseason. He was released before the start of the season.


Tuesday September 22, 2009


Shouman's Season Over: Derek Schouman became the second Bill to go on injured reserve. The knee injury suffered against the Buccaneers has ended his season. The team has promoted Jonathan Stupar from the practice squad for a second time in three weeks. Stupar will likely be on the active roster the rest of the year. Derek Fine becomes the starter and 4th round pick Shawn Nelson should log even more playing time if he's healthy. He strained his shoulder against the Bucs but says he's ok. Front Office Page.

Bills Sign Tackle: The Bills have announced that they ahve signed tackle Jamon Meredith off of the Packers practice squad. He was reportedly being groomed to be a starter in Green Bay. He was a fifth round draft pick this year out of South Carolina. The team placed Brad Butler on injured reserve to make room for him. He is expected to backup at guard and tackle while Jonathan Scott remains the starter at right tackle. The team also swapped practice squad players releasing former fifth round pick Alvin Bowen and replacing him with another fifth round linebacker. Former Ohio State backer Marcus Freeman was drafted by the Bears. Depth Chart.



---
News Archives index
Latest News Section
Archives Library
Back to Bills Daily Homepage