Bills Rebound In Home Opener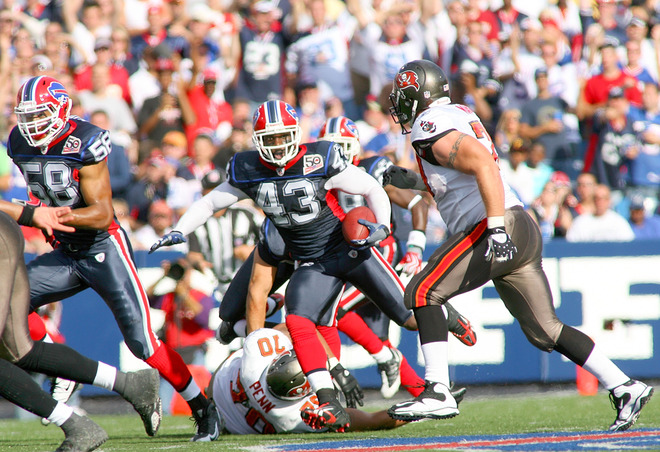 No Charges: The Erie County DA has decided not to press charges against the two teenagers that vandalized Leodis McKelvin's lawn last week. They said it is based party on the wished of the victim.

Offense Looked Confident: The offense looked very confident and really had a nice gameplan mixing it runs and the deep passing game nicely. The defense did it's part with two big interceptions and doing a great job stuffing the run. The grades are definitely high this week. Gameday Grades.

Whitner's Home Robbed: A week after someone vandalized Leodis McKelvin's lawn a bigger security issue happend. On gameday Donte Whitner returned home to find out that his house was robbed. Reports say $400,000 in jewelry were stolen. Whitner wouldn't comment too much on the robbery but says he's disappointed it happened and feels it is totally unrelated to McKelvin's incident.

Butler Out For Year: Dick Jauron confirmed during his press conference today that Brad Butler will need surgery on his knee and he's out for the season. The coach said the team will be looking for veteran tackle help that his available. Jauron did not update everyone on the other three injured players from yesterday. Shawn Nelson did tweet that his shoulder is ok and he's looking forward to playing the Saints next week. Derek Schouman was doing a bit better after the game and walking around which is a good sign after being carted off. Leodis McKelvin left with an ankle problem Injury Page.

Nice Rebound Win: The Bills had a nice rebound win from the Monday night loss. They took their shots downfield and Fred Jackson had a career day running the football as the offense looked sharp most of the day. If it wasn't for Jackson's fumble this game could have been a laugher. Check out our complete recap of the 33-20 win over Tampa Bay. Complete Story.


Sunday September 20, 2009


Bills Win 33-20: Trent Edwards completed 21 of 31 passes for 230 yards including touchdown passes of 32 yards to Lee Evans and 43 yards to Terrell Owens. Rian Lindell hit all four field goal attempts in the win. The biggest play of the game was Donte Whitner's 76 yard interception return for a touchdown.Our Bills Blitz is up complete with our gameballs, goats, views, turning point, and player of the game. Our grades and in depth recap will be up tomorrow. Bills Blitz.

Four Injuries In Win : The Bills suffered four possible serious injuries in the win over the Bucs. Brad Butler and Derek Schouman both suffered knee injuries. Leodis McKelvin left in the first half with an ankle injury and Shawn Nelson left with a shoulder injury. The injuries to Schoman and Butler seem to be the most serious. The team played most of the second half with one tight end. Injury Page.

Beautiful Day For Opener: It should be a beautiful day for football and the celebration of the 50th anniversary team today. It should be mostly sunny at the start of the game and staying dry with a gametime temperature of around 73°. Winds will be light at about 8mph out of the southeast. The crowd and players should be pumped since they need to put last week's loss behind them. The home opener is always a little louder and the crowd will really get pumped up at halftime when the 50th anniversary team is introduced.

8 On Peliminary List: Eight people with ties to the Bills are on the peliminiary list for nomination to the Pro Football Hall of Fame next year. Those players are Cornelius Bennett, Larry Centers, Kent Hull, Chuck Knox, Andre Reed, Fred Smerlas, Chris Speilman, Darryl Talley, Steve Tasker.


Saturday September 19, 2009


Follow Us On Twitter: For those of you that have accounts don't forget to follow us twitter. When we update Bills Daily we send a message on twitter to let you know! Also we do some commentary during the game. This week we are going to the home opener in Tampa Bay and we will be tweeting from Ralph Wilson Stadium!


Friday September 18, 2009


McGee Signs Extension: The Bills have seen three very good cornerbacks leave in free agency the past few years and weren't about to let a fourth go. The team announced today that Terrence McGee has signed a contract extension with the team. Terms were not disclosed but AP is reporting it's a four year extension. The Bills kept their biggest name free agent off the market. McGee told the team's official website that it feels good to have long term financial security and the deal allows him to focus more on football and making it to the playoffs. He made it clear to the team that he wanted to re-sign with them and not test the market. He wanted the deal done before the season started but it took a bit longer than that. He said he's comfortable in Buffalo and didn't want to go through the routine of finding another team. He feels the team is on the rise and about to make it to the playoffs and this is where he wants to be. He feels they have the guys to be one of the top secondaries in the league.

McGee Says He'll Play: During his interview with the team's website after signing his new contract, Terrence McGee says his back is still a little tight but he'll be alright and will play on Sunday. He's officially listed as questionable. For the Bucs, WR Antonio Bryant is listed as doubtful as he's battling a knee problem. Injury Report.

McGee Questionable: It appears that the Bills could be without one cornerback but get another one back on Sunday. Terrence McGee missed practice today with back spasms. He is listed as questionable. On a positive note, Derek Fine, Chris Kelsay, Aaron Schobel and Drayton Florence all practiced fully and should be able to go. If McGee can't go, Florence would likely start with Reggie Corner playing the nickel role. Injury Page.

McKelvin Did Give Affidavit: The story continues to change regarding the vandalism incident at Leodis McKelvin's house. The Buffalo News say they have seen the affidavit from McKelvin that says he wants the teenagers prosecuted. They are not in custody and the DA is still going over the evidence in the case.

McKelvin Not Pursuing Charges? WBEN radio in Buffalo now reports that Leodis McKelvin is not pursuing charges against the two teenagers that vandalized his lawn. His agent told the radio station that he is unaware that McKelvin gave an affidavit to the Erie County DA's office.


Thursday September 17, 2009


McKelvin Gives Affidavit: It appears like Leodis McKelvin has changed his mind and will press charges against the two teenagers that vandalized his lawn. He gave a sworn affidavit to the Erie County DA's office. The investigation is ongoing and the DA has not decided yet if they will press charges. They also do not need McKelvin's permission to charge the youths.

Schobel Held Out As Precaution: Dick Jauron said that Aaron Schobel has a sore back and he was held out today as a precaution. Chris Kelsay, Drayton Florence, and Derek Fine were limited. Jauron would not say whether or not he thought the banged up players would be ready to play on Sunday. For the Bucs, WR Antonio Bryant missed practice today with a knee injury. Injury Page.

Kelsay Practicing: Chris Kelsay is back on the practice field this morning in hopes of playing this weekend. He has a bruised knee suffered against New England. One defensive end is back while another is sidelined. Aaron Schobel did not practice a day after practicing fully. He has a back ailment. Injury Page.

Stupar Back On Practice Squad: As expected the Bills have signed Jonathan Stupar to the practice squad. This move was expected after he was on the active roster last week but did not play. He had to clear waivers before being put back on the squad. Front Office.

Bills Looking For First Win: The Bills enter their home opener with a chance at a much needed win against a young Buccaneers team. The Bills must avoid a hangover from the tough loss as well as a short work week. The fans will be fired up and the players may be closer than ever as a team. That should addd up to a Bills victory. Complete Preview.

McKelvin Won't Press Charges: As expected, Leodis McKelvin has declined to press charges against the two teenagers who vandalized his lawn. The names of the two people were not released because of their age but they live in McKelvin's neighborhood. He said yesterday he did not want anyone arrested for the act. It is now up to the Erie County DA's office to decide what to do next.


Wednesday September 16, 2009


Owens Speaks: Terrell Owens didn't speak to the media after the game Monday night but he did talk to his teammates and said there is a lot of talent on the team and they need to just go out and play. He did say that Trent Edwards missed some opportunities and they need to go deep more this week. He made it a point however to say that didn't cost them the game since they were leading by 11 with five minutes to go.

Teenagers Confess To Vandalism: It didn't take long for the people responsible for the vandalism of Leodis McKelvin's lawn to be caught. Two teenagers are in custody and have confessed to the crime. The police now will ask McKelvin if he'll press charges. That is not likely after earlier comments by McKelvin where he said he doesn't want anyone arrested for this.

Schobel Added: The Bills have added Aaron Schobel to the injury report despite the fact that he practiced fully today. The Bills would only say it's a back ailment. Four Buccaneers did not practice today. Injury Report.

Poz Out Six Weeks: Paul Posluszny is expected to be out about six weeks after undergoing successful surgery to repair his broken arm. Dick Jauron said today he hopes he's back before the middle of the season. Chris Kelsay is listed as day to day with a knee bruise although reports say he will miss this week's game. He says he will test the knee on Thursday and hopes to play this weekend. Drayton Florence and Derek Fine both practiced on a limited basis today. Injury Report.

McKelvin Ready To Move On: Leodis McKelvin said when he noticed the vandalism on his lawn he was angry but was also laughing a bit at what was done. Reports say the score of Monday night's game and the male anatomy were painted on his lawn. McKelvin said the fans have been great and feels this is an isolated incident. He even went as far to say he doesn't want anyone arrested for doing it.

Buggs The Man: Dick Jauron said in his media day press conference that the plan now is to start Marcus Buggs at middle linebacker. He likes the way he plays hard and fast. He's quick and tough and handles the checks well since he's been in the system for over a year. He was on the practice squad last year. He called it a great chance for him to show himself. They will get other people ready to play in case of more injuries. One option is to play Keith Ellison in the middle and Nic Harris at his outside linebacker spot.

More Consistency Needed: Dick Jauron said he has never been disappointed by the players' attitudes and effort. He just said they need more consistency from everyone. On the incident involving the vandalism of Leodis McKelvin's lawn. He called it unfortunate and the police are handling it. He's happy to be home and they need to do something to give them something to be excited about. If they do that, their fans are better than most.

Jenkins In; Stupar Out: The Bills have re-signed Justin Jenkins and placed Jonathan Stupar on waivers. The move was expected as Stupar was signed last week since the Bills were down to two tight ends. This may mean they expect Derek Fine to return this week. Stupar will likely go back on the practice squad when he clears waivers. Depth Chart.

Losing Inevitable? It is tough being a Bills fan as they seem to rip out your heart at every turn. A lot of fans were feeling uneasy about the game Monday night even after Fred Jackson raced into the end zone to give them an 11 point lead with just over five minutes remaining in the game. This team always finds a way to lose and they found another way on Monday night. Tony Bogyo once again talks about how hard it is to be a Bills fan in his latest article. Complete Story.

McKelvin's Lawn Vandalized: The front lawn of Leodis McKelvin was vandalized following the loss to the Patriots. McKelvin had the crucial fumble that led to the Patriots winning score in the final minute. The players are now concerned about their safety after some idiot crossed the line between a football game and real life. Hamburg police confirmed the vandalism but did not give any details.

Kelsay Out At Least This Week: AP is reporting that Chris Kelsay suffered no ligament damage to his knee but will miss at least this week's game against the Buccaneers. He has what is being called as a knee bruise. Injury Page.



---
News Archives index
Latest News Section
Archives Library
Back to Bills Daily Homepage