Another Monday Night Heartbreaking Loss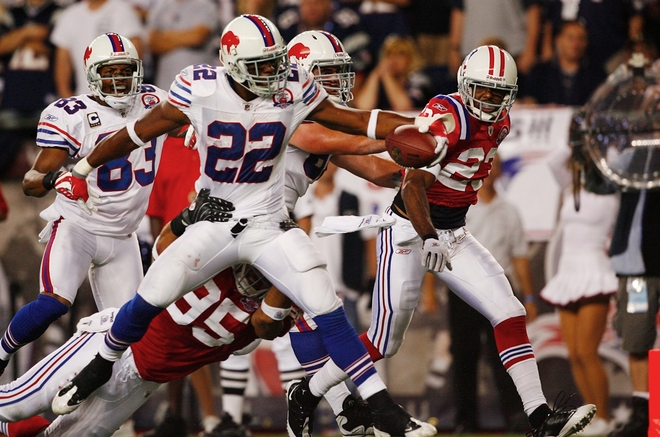 Play Calling Wasted: The play calling seemed good in the devastating loss last night. It was wasted thanks to the Bills collapse in the final minutes. Re-live the loss if you dare with a recap by Bills Daily newest gameday columnist. Ahmed Dhorajiwala. Complete Story.

Gameday Grades: Special teams actually may have cost the Bills the game in the devastating loss to the Patriots last night 25-24. Leodis McKelvin's 2nd fumble cost the Bills the game as the Patriots scored 12 points in 1:16. Check out our position by position look at the loss. Gameday Grades.


Monday September 14, 2009


Nightmare In Foxboro: The Bills found another heartbreaking way to lose to the Patriots. Another heartbreaking way to lose on Monday night and another heartbreaking way to lose 25-24. Fred Jackson scored on a 10 yard screen pass to give the Bills a 24-13 lead with 5:32 to go. How would the Bills blow it? They allowed the Patriots go 81 yards in 11 plays in just over three minutes. Leodis McKelvin then fumbled the ensuing kickoff when the Bills had no blockers back as they were prepared for an onside kick. The Patriots then easily scored and stopped a last minute attempt at the old Stanford-Cal play to give the Bills another devastating, pull your heart out loss. Check back in a little bit for our Bills Blitz complete with our gameballs, goats, views, turning point, and player of the game. Bills Blitz.

Poz, Kelsay Hurt: Paul Posluszny went into the locker room for x-rays after injuring his heavily bandaged left arm. It was the same arm he broke in New England two years ago. Dick Jauron said that it is a broken bone but not as serious as two years ago. Chris Kelsay hurt his left knee but he was walking under his own power. Neither player returned. Marcus Buggs replaced Posluszny and Ryan Denney replaced Kelsay. Injury Page.

Inactives: The Bills list of inactives includes two injured players as Derek Fine and Drayton Florence won't go. The rest of the inactives are: Kirk Chambers, Ellis Lankster, Chris Ellis, Ashlee Palmer, and Steve Johnson. It is a bit of a surprise that Chambers is behind Jonathan Scott on the depth chart even though Scott beat him out originally for the backup tackle job. Gibran Hamdan is listed as the emergency third quarterback. For the Patriots Wes Welker will play. He was listed as questionable with a knee injury.

Stupar Called Up: The Bills needed a third tight end for tonight's game so they have activated Jonathan Stupar from the practice squad. To make room they released Justin Jenkins. It is likely that once Derek Fine is healthy, Stupar will go back to the practice squad and Jenkins may get re-signed. Depth Chart.

Kelly Travels With Team: Sal Maiorana of the Rochester D&C reports that Jim Kelly traveled with the club to New England and will be on the sidelines for tonight's game. It isn't unusual to see Kelly on the sidelines for home games, especially prime time games. On the sidelines on the road makes you wonder if he is involved in the play calling or the tweaking of the offensive system with his close friend Alex Van Pelt at the helm. Who better to help with the no huddle?

Fire Drill Disturbs Bills: Aaron Maybin tweeted this morning that he was awoken from a good sleep by a fire drill at the team hotel this morning. Some may wonder if Bill Belichick had anything to do with this.

Follow Us Tonight On Twitter! It is finally here, after a tumultous offseason and preseason the regular season is here. People have already left the Bills for dead but they are 0-0 as they head to New England for as rough an opening opponent as they could get. Bills Daily will have complete coverage. We will have the inactives before the game. Our injury page will be updated just after the game is over. We will be debuting our new Bills Blitz column that will include our signature gameballs and goats shortly after the game ends among other new features. Our exclusive position by position grades will also be available after every game. Your one stop shopping for all this is our gameday homepage. This year you can also follow us on twitter during the games. If you have a twitter account follow Bills Daily and we will give our comments during the game. We also send all Bills Daily news updates to twitter.


Sunday September 13, 2009


The Waiting Game: The opening Sunday of the football season is always a lot of fun. It is a bit different for Bills fans this year since they open on Monday night. So today is a day to sit by the TV and watch some of the other teams slug it out while waiting for the Bills season to begin in New England tomorrow night at 7pm.


Saturday September 12, 2009


Florence, Fine Out: The Bills have ruled Drayton Florence and Derek Fine out for Monday night's game against New England. Fine did some limited work in practice today while Florence seems to be regressing as he did not workout today after doing some work on Thursday. Spencer Johnson is listed as probable after he practiced fully today. For the Patriots, Sammy Morris and Shawn Springs practiced today and have been listed as probable. Injury Report.

Runyan Visits: The Bills confirmed that Jon Runyan did visit with the team yesterday. Former Colt tackle Michael Toudouze was also reportedly in as the Bills brought in a bunch of low level free agents yesterday. Runyan said he's done visiting with teams after talking to the Chiefs, Bills, and Eagles. He said his knee came through the workouts fine and he's ready to join a team. He figures he won't be signed until next week, that is when veteran contracts are not guaranteed.

Six Captains Named: The players have chosen their captains for the season. The two offensive captains for the second year in a row are Lee Evans and Trent Edwards. Evans has been captain all four years that Dick Jauron has had the players vote on it. Brian Moorman also enters his fourth year as a captain and leads the special teams along with George Wilson for the second year in a row. The defensive captains are Paul Posluszny and Kawika Mitchell, they are both first time captains.


Friday September 11, 2009


Fine, Florence Sit: Derek Fine andDrayton Florence both will likely miss Monday night's opener. Neither practiced on Friday after Florence did some very limited work on Thursday. The team hopes Spencer Johnson will be able to go as he is practicing. Injury Page.


Thursday September 10, 2009


Bills Looking At Runyan? Pro Football Talk is reporting that free agent veteran tackle Jon Runyan is visiting with the Bills tomorrow after meeting with the Eagles citing a league source. Besides Buffalo and Philadelphia, the Chiefs are also reportedly interested in him. Runyan is coming off of microfracture knee surgery and has been cleared to play.

Florence Returns: Drayton Florence returned to practice today after being out four weeks with a sprained knee. He is hopeful to play on Monday night but he was limited according to Chris Brown of the team's website. Spencer Johnson is also back on the field but Derek Fine remains sidelined. Injury Page.

Owens Joking: Terrell Owens said he was joking when he said he had to deal with the no huddle offense. He quickly laughed after making that statement to the Boston media. He said the no huddle was wearing him out since he missed most of the preseason.


Wednesday September 9, 2009


Edwards Has Input: Trent Edwards spoke took part in media day today and said he likes the gameplan for this week. He thinks it will work because they did what was needed. He loved that the he and the coaching staff had input in Alex Van Pelt's plan. This seemed to be a dig at Turk Schonert who reportedly did like input from anyone else. Edwards feels the young offensive line will be ready to go and that even when they make mistakes they will respond in a positive way. He doesn't think all the changes in the last week will be a distraction because the players won't let it be one.

Owens Speaks Out: The regular season is here and it's time for Terrell Owens to begin talking. In his media day conference call with the Boston media Owens was asked about the no huddle offense and he said he doesn't really like it but he has to live with it. When asked about this week's game he said he'll bring his spy camera to the game. A shot at the Patriots spygate scandal which they were caught filming practices. Do you think the Patriots need help from bulletin board material?

Team Excited About The Challenge Ahead: Dick Jauron held his usual weekly media day press conference at One Bills Drive today. He said he's excited about the oppportunity and they know it is a huge challenge. He said they have had three really good days of practice. The questions came quickly about the release of Langston Walker. There were many reasons for the move but Jauron did say his level of play wasn't what they needed. He admitted communication is critical along the offensive line but says it is really good with the young corps since they are very smart.

Bell Practicing: Demetrius Bell returned to practice today after missing two weeks with a back injury. His return coincides with the release of Langston Walker. Bell is now the starting left tackle. Injury Page.

Monumental Challenge: The Bills face a nearly insurmountable challenge on Monday night when they face the Patriots. They have never won at Gillette Stadium and have lost 11 in a row to New England. We don't think there is anyway they can win this. Check out our game preview on our newly launched 2009 gameday homepage! Complete Preview.


Tuesday September 8, 2009


Bills Release Walker: In another bizarre move the Bills released Langston Walker and re-signed Kirk Chambers. It appears the Bills were looking to trade Walker so they kept him on the 53 man roster. They were not pleased with his play this summer and decided to release him. Demetrius Bell will start at left tackle. The former 7th round draft pick was inactive for 15 games in his rookie season last year and did not get in to the finale which was the only game he was active. That means the team will be starting essentially three rookies on the offensive line. What do you think of the move? Take our poll on our homepage and let us know what you think. Depth Chart.

Players Off: The players are now in the regular season routine which means Tuesday is a day off. Many players will still watch film today. They get deeper into preparing for New England tomorrow during the weekly media day practice sessions. Key players and the head coach will meet with both teams beat reporters on this day every week. Chris Kelsay was back in Buffalo and practiced yesterday. Drayton Florence, Demetrius Bell, and Derek Fine all did some work on the side. Dick Jauron is hoping everyone practices on Wednesday. Injury Page.


Monday September 7, 2009


Tough Time For Bills Fans: It has been a very volatile week at One Bills Drive with player cuts, practice squad signings, and oh yeah... the firing of the offensive coordinator 10 days before the season. Not to mention an emergeny meeting with the owner in Detroit. Yes, it's a tough time to be a Bills fan and for many people the luster is off and they aren't as excited as they have been in the past. Tony Bogyo gives us his take on where his head is at as a Bills fan heading into this year. Read his article and then let us know where your head is by taking our poll on our homepage. Complete Story.

Kelsay Still Out: Chris Kelsay was not on the field when the team practiced yesterday. He remains home with his family after his daughter had a surgical procedure. Also not practicing yesterday were Drayton Florence, Spencer Johnson, Demetrius Bell, and Derek Fine. Johnson has a thigh contusion suffered in the game on Thursday night. It was a bit tight so they held him out, he should be ok. They hope Florence returns to the field on Wednesday. He has missed a few weeks with his knee injury. They hope to get Fine and Bell back this week as well. The team practices today, they have their normal weekly day off tomorrow, and begin the work week practice schedule on Wednesday. Injury Page.

Offensive Changes Taken In Stride: The Bills held their first practice since the firing of Turk Schonert yesterday. Alex Van Pelt said the scheme will not be changing but the play calling will take on his personality. He will call the game from the booth and have Ryan Fitzpatrick radio the plays into Trent Edwards' helmet. Edwards said he was surprised by the change but they need to move forward now and that he has a great relationship with Van Pelt. He also talked about his close relationship with Dick Jauron and said he let him know what he thought about the offense when Jauron called him to tell him about the move.

Jauron On Meeting: Dick Jauron confirmed that a meeting took place in Detroit on Saturday and said it was a really good meeting and a really good day. He said while Wilson knew Van Pelt very well he didn't know him as a coordinator and wanted to talk about the direction of the offense.



---
News Archives index
Latest News Section
Archives Library
Back to Bills Daily Homepage